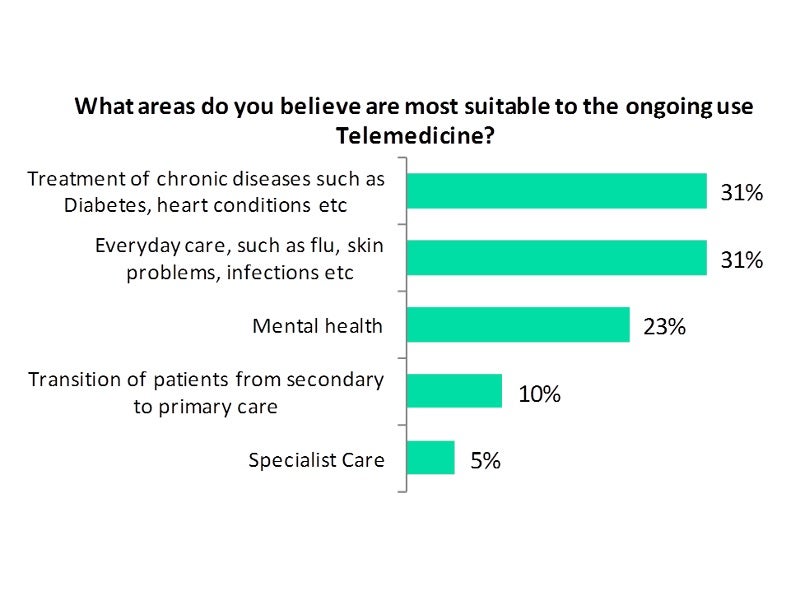 Telemedicine has enabled patients to remain in contact with their doctors during the social distancing and lockdown measures implemented to curb the spread of COVID-19 pandemic. Telemedicine may be suitable for some ailments, but not for all diseases.
Verdict has conducted a poll to assess the areas for which telemedicine is most suitable to use during the COVID-19 outbreak.
Analysis of the results shows that telemedicine is being found suitable for treating not only common ailments but chronic diseases as well.
An equal number of respondents (31%) noted that telemedicine can be used to treat chronic ailments such as diabetes and heart diseases as well as common ailments such as cold, flu, skin problems, and infections.
While 23% of the respondents felt that telemedicine can be used for treating mental health problems, 10% opined that it can be used for the transition of patients from secondary to primary care. A minority 5% of the respondents felt that telemedicine can be applicable in specialist care services.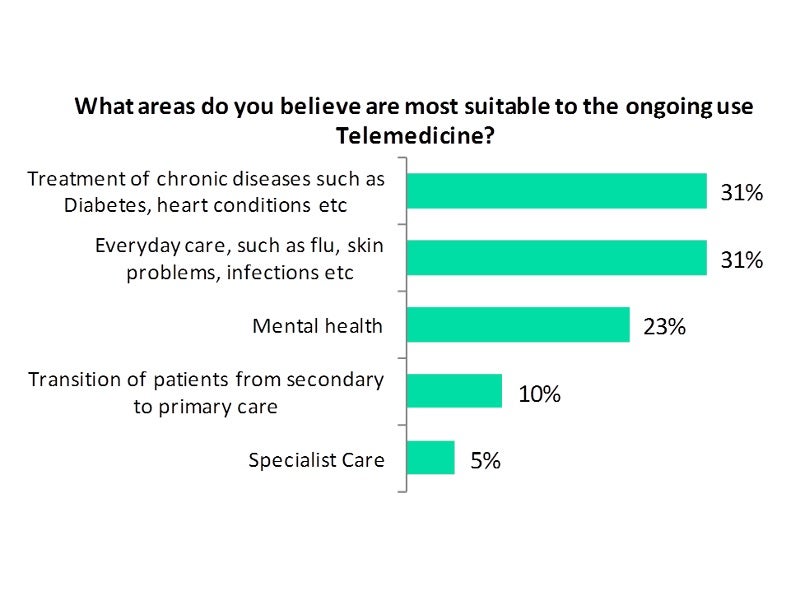 The analysis is based on 468 responses received between 30 April and 18 May.
Use of telemedicine during the COVID-19 pandemic
Out-patient consultations in many hospitals have remained closed due to the COVID-19 pandemic prompting patients to seek virtual consultations through telemedicine.
Patients with chronic diseases such as diabetes, hypertension, asthma and chronic hypothyroidism, which require regular check-ups, have been using telemedicine more frequently during the COVID-19 pandemic due to imposed lockdowns, and the same could continue as hinted by the poll.
Telemedicine has also witnessed a rise in adoption among pregnant women who are at more risk of infections. Elderly patients, individuals with neurological conditions and diseases that weaken the immune systems are also adopting telemedicine.
In most cases, one-on-one consultations for such indications are not a constraint prompting patients to opt for telemedicine services. Sensors placed on individuals with neurological conditions, for example, can provide all the necessary details to help doctors monitor their patients.
GlobalData's forecast of the telehealth market and challenges to adoption
COVID-19 has boosted the global telehealth market, which is expected double over the next three years, according to GlobalData. Telemedicine is more accessible and less costly compared to face-to-face consultations. It also helps patients with mobility issues and people located in rural regions.