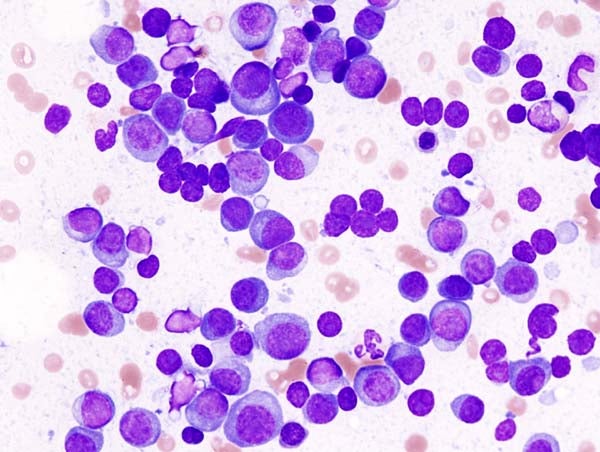 Combining Janssen's Darzalex (daratumumab) with Celgene's Revlimid (lenalidomide) and dexamethasone (Rd) increased progression-free survival (PFS) of newly diagnosed multiple myeloma patients ineligible for autologous stem cell transplants.
In a Phase III MAIA trial carried out by French, Belgian and US researchers and funded by Janssen, the risk of disease progression or death was 44% lower for the Darzalex-Rd combination than the current standard of care Rd alone.
After 28 months of treatment, a reported 240 patients died or experienced disease progression, 26.4% of which were in the triple combination group and 38.8% in the Rd group.
Overall response rate for Darzalex-Rd was 92.9%, compared to 81.3% for Rd. The addition of Darzalex to the combination therapy caused complete response to nearly double from 24.9% to 47.6%.
The study found that 24.2% of the Darzalex-Rd group had results below the threshold of minimal residual disease, whereas only 7.3% of the Rd group achieved these results.
Lead author and investigator of the study from Service des Maladies du Sang, Hôpital Claude Huriez, Lille, Thierry Facon said: "We continue to see scientific evidence through Phase III studies that support the use of daratumumab in combination with standard of care regimens.
"As multiple myeloma can become more complex at each relapse, it is important to select an optimal upfront therapy. Results from the MAIA study suggest that this daratumumab combination therapy should be considered for patients with multiple myeloma who are transplant ineligible upon diagnosis."
Darzalex is the only CD38-directed antibody approved for multiple myeloma. It is approved in combination with Rd for patients who had undergone at least one line of prior therapy.
Janssen vice-president of clinical development and global medical affairs Craig Tendler said: "The MAIA study findings demonstrate a consistent and clinically meaningful treatment effect when Darzalex is incorporated into standard backbone regimens, such as lenalidomide and dexamethasone, for the initial treatment of patients with multiple myeloma who are transplant ineligible."
"We have submitted applications to global health authorities in support of the MAIA data and look forward to working with regulators in the hope of bringing a new combination regimen to patients diagnosed with multiple myeloma."