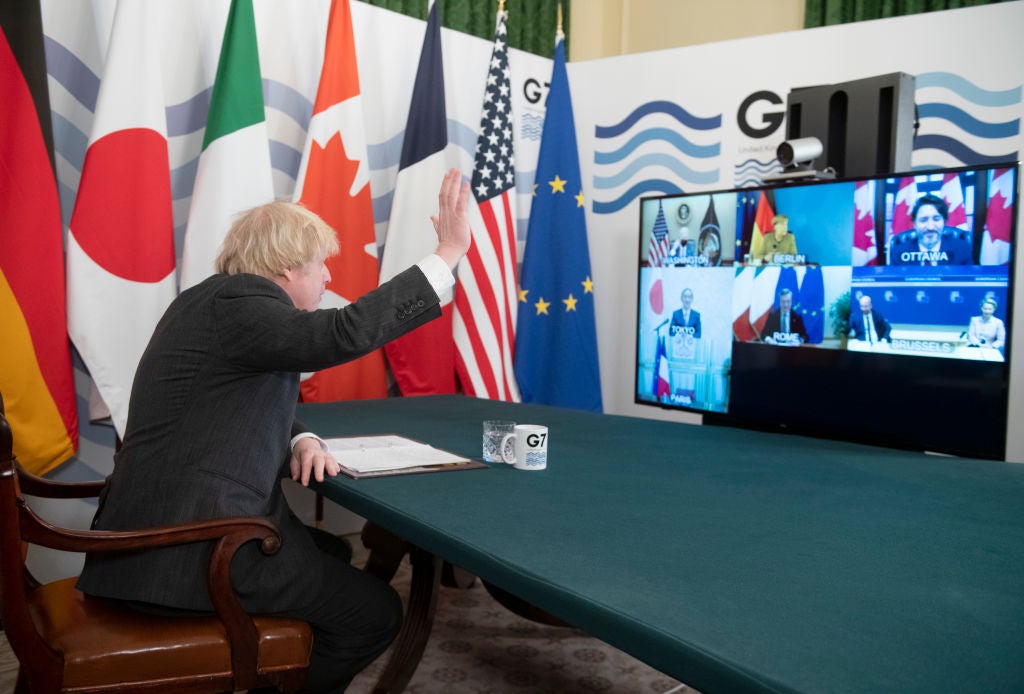 UK Prime Minister Boris Johnson will pledge to donate surplus Covid-19 vaccines to poorer countries today at a virtual G7 meeting.
Johnson will also use the meeting to back a new target to develop new vaccines in 100 days for future emerging diseases; it took approximately 300 days for the Covid-19 vaccines to be developed and brought to market. According to the Guardian, Johnson will ask the UK's chief scientific officer to work with international partners on how to cut the development time of vaccines to tackle healthcare emergencies.
The UK's move comes after French President Emmanuel Macron proposed yesterday that between 4% and 5% of European vaccine stocks will be sent to poorer nations, particularly those in Africa. Macron said his plan had the backing of German Chancellor Angela Merkel.
The Financial Times has reported that newly inaugurated US President Joe Biden and other leaders will also use the G7 summit to vow to boost sharing of vaccine doses with the developing world.
It remains unclear when the dose-sharing would happen, and how many doses will actually be shared by individual countries.
There has been significant criticism of richer countries ordering huge numbers of doses through bilateral deals. Through advanced purchase agreements, the UK, for example, has secured access to 400 million doses of various Covid-19 vaccines, which is enough to vaccinate the country's population with two doses, three times over.
This has created an inequitable situation where although tens of millions of Covid-19 vaccine doses have been administered, this success is largely in developed countries – in particular the US and UK.
One solution suggested has been for rich countries and vaccine producers to better support the COVAX facility – a Covid-19 vaccine procurement mechanism for low and middle-income countries set up by the World Health Organization, the Coalition for Epidemic Preparedness Innovations, and Gavi, the vaccine alliance. The facility aims to secure access to two billion doses of approved vaccines by the end of 2021.
According to the Financial Times, a UK Government official said over half of the UK's excess doses will go to the COVAX facility. Johnson will also use the G7 meeting to call on rich countries to increase their funding commitments to COVAX; the UK has pledged £548m to the facility, while the US has promised $4bn.
There are further suggestions that European Commission President Ursula von der Leyen will use the G7 summit to announce plans to double the EU's financial contribution to COVAX to €1bn, while Biden will make $2bn of the US's pledged funding available immediately.
The G7 is an organisation consisting of seven of the world's richest countries – Canada, France, Germany, Italy, Japan, the UK and the US – as well as the European Union (EU).
Pharma companies have been signing agreements to supply vaccine doses to COVAX. On 18 February, Novavax signed a memorandum of understanding with Gavi to cumulatively supply 1.1 billion doses of its Covid-19 vaccine candidate, NVX-CoV2373, to COVAX. The vaccines will be produced and distributed by Serum Institute of India (SII), with the latter's involvement linked to an existing agreement between SII and Gavi to supply 200 million doses of either the AstraZeneca or Novavax vaccines.
Novavax CEO and president Stanley Erck said: "We are proud to partner with all the COVAX collaborators and Serum Institute of India to provide global public health leadership and ensure that all countries have broad access to NVX-CoV2373."
AstraZeneca signed an advanced purchase agreement with COVAX in December for 170 million doses of its adenovirus vaccine, which was developed with the University of Oxford. Johnson & Johnson also signed a deal with COVAX for 500 million doses of its candidate in December, while Pfizer and BioNTech committed to supplying 40 million doses to COVAX.