At GlobalData, we track the positive and negative drivers that impact market access​ at the country level. Through our comprehensive analysis of market access events around the world, we have highlighted 78 risk events in 2021, which is similar in scale to 2020. Europe has again been a major place of disruption in terms of pharmaceutical market access, although other regions remain on our radar due to planned policy changes. The below map shows the distribution of risk events highlighted in our monthly bulletins and provides main themes for each region.
Number of 2021 risk events with positive or negative impact on market access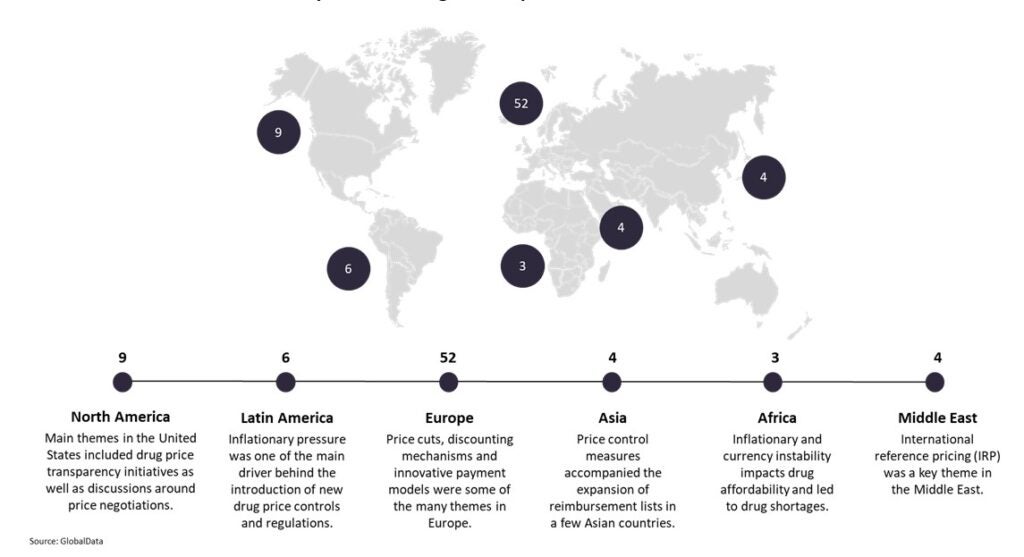 2021 ends with an unprecedented high level of market access risk
As we start 2022, the global market access environment has reached an unprecedented high level of risk. GlobalData observed varied trends in market stability (economic, business, and political risk) across the markets, mainly driven by government responses to the coronavirus disease 2019 (COVID-19) pandemic. The deteriorating financial situation in certain markets was also a main driver of risk, which is particularly seen in Turkey with its currency crisis and Argentina's ongoing economic crisis.
Top trends for 2022
Looking at 2022, cost-containment policies remain a key threat to pharmaceutical firms, but new themes such as the importance of ESG and compulsory licensing are emerging as well. The following themes are set to be at the forefront over the next 12 months:
Inflationary and currency instability will continue to impact drug affordability. Inflationary pressures on the cost of raw materials, active ingredients, and intermediates is driving pharmaceutical price growth worldwide, and there is no short-term signal that a turning point lies ahead. ​This is set to drive the introduction of new price controls and regulations in affected countries.
Pricing is becoming a sustainability issue that ESG investors are increasingly mindful of. In the US, there are growing expectations that the Institute for Clinical and Economic Review's (ICER) guidance may in the future form a component of pharma companies' evaluations against ESG targets, with investors potentially putting pressure on companies to align prices with ICER guidance. ​
Pressure to facilitate the granting of compulsory licenses during the COVID-19 pandemic is set to persist as concerns that other therapeutic categories may be under threat is growing.
2022 will see continued increasing use of health technology assessments (HTAs), with new countries, including Peru and Slovakia, planning an introduction of HTA processes in their healthcare systems in the short to medium term. Joint clinical HTA and procurement alliances are intensifying, notably in Europe.
Ensuring access to the latest disruptive innovations, including orphan medicines, is proving to be very complex for payers due very high price tags and uncertainties surrounding effectiveness. Real-world evidence is thus set to play a growing role, especially as part of accelerated access pathways and conditional reimbursement mechanisms, but also as part of risk-sharing agreements.
Regulations in favor of price transparency are multiplying at the country and regional level, and price cuts and discounting mechanisms are certainly on the horizon again for 2022.
Delays in debt repayment are a key concern for the industry, with arm wrestling ongoing in many countries to obtain repayment from payers.
Mastering international reference pricing (IRP) rules remains key to optimizing launch sequencing and product revenues at a global level. With close to 100 countries around the world making use of IRP, the domino effect is now spreading to a growing number of emerging markets as well.
Lastly, pro-biosimilar and generic policies remain a powerful cost containment tool to unlock significant savings, with new countries formalizing the substitution process and counting on therapeutic reference pricing to drive prices down.