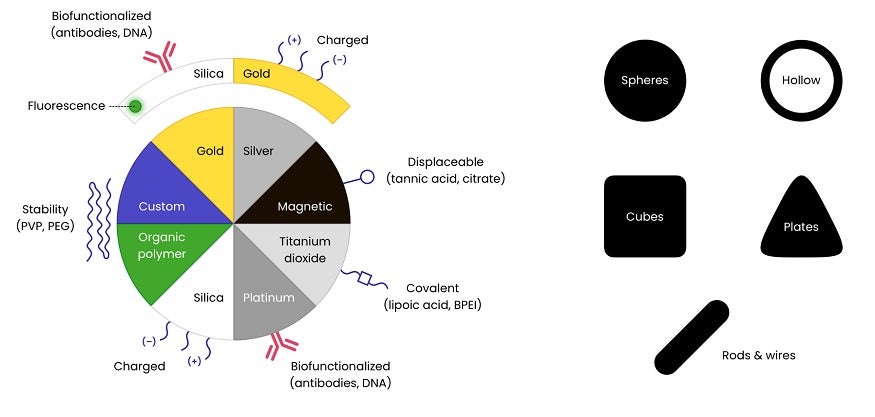 Fortis Life Science's multi-disciplinary team of scientists are experts in producing custom nanoparticles to meet our client's needs. We can create custom nanoparticles for applications such as drug delivery, optical sensors and consumer products using materials, composites and formulations with tailored characteristics.
Nanoparticle customisation capabilities
Fortis offers a wide range of customisation options that can be designed and synthesised to meet your requirements. These include:
Composition: Our scientists are experienced in synthesising a variety of metals, oxides, semiconductors and polymeric nanomaterials. We offer support in process optimisation, scale-up, and ISO/cGMP-compliant manufacturing of an existing protocol, as well as developing new chemistry to create your desired material.
Size: We stock a wide range of particle sizes and can create custom sizes on demand. Many of our metal nanoparticles can be fabricated with nanometer control at sizes of up to 200nm. In addition, we can produce polymeric, metal oxide particles and core/shell constructs in sizes of up to 1µm.
Surface: Fortis' standard gold and silver nanoparticles are available in several different anionic and cationic capping ligands. We can also fabricate nanomaterials with specific functional groups, polymers, biomolecules, and inorganic coatings. Precisely controlled silica coatings can be applied to most of our particles.
Concentration: If you require solutions with a high optical density, or concentrated as an additive for composites, we can offer our techniques for processing and stabilising particles at high concentrations. Using UV-visible spectroscopy and ICP-mass spectroscopy, we can accurately measure material concentration and extinction coefficients.
Optical properties: Fortis' team can alter the absorbance and scattering of materials across the visible and infrared spectrum by changing the morphology and composition of the nanomaterials. We can also incorporate fluorophores for light emission at desired wavelengths, as well as attach reporter molecules to provide strong Raman signals.
Thin films and composites: By maintaining control over surface chemistry and particle stabilisation, we can incorporate materials into various water-based or organic resins to form well-dispersed composite materials. We also use custom-designed equipment to spray and deposit nanomaterials as uniform thin films onto large substrates, as well as attach nanoparticles to textile fibres.
In addition to custom nanomaterial synthesis, Fortis' expert technical support team can discuss contract research and development, scale-up development, and contract manufacturing. If you wish to learn more about these services or anything similar, please contact us via the 'Make an Enquiry' form on this page.