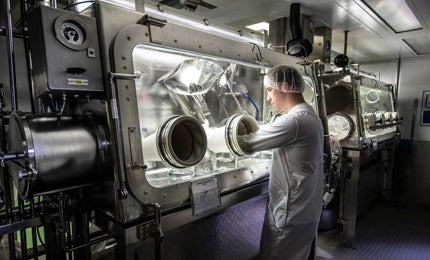 Parenteral cytotoxic agents are sensitive drugs to handle and produce.
Using a restricted access barrier system (RABS) for commercial manufacturing helps BioPharma Solutions to maintain a high level of containment while products are being manufactured.
This technology maintains the integrity of the molecule, improves product sterility and ensures the safety of line operators.
Dealing with high potency molecules, including antibody-drug conjugates (ADCs), requires a facility that has experienced operators, equipment and systems, as well as robust standard operating procedures, training and risk assessments.
The company's facility in Halle/Westfalen, Germany has several manufacturing areas with an independent air supply and waste disposal systems, including 100% waste collection.
The Halle and Bielefeld facilities are certified by SafeBridge that conduct both parenteral drug substance synthesis and parenteral drug product manufacturing and testing.
At the expanded cytotoxic contract manufacturing facility in Halle/Westfalen, Germany, all cytotoxic parenteral needs are handled at one manufacturing facility, which allows BioPharma Solutions to create efficient processing solutions to fit a specific compound.
A focus on cytotoxics helps to manage capacity and flexibility, which are critical for maintaining a reliable product supply.
For cytotoxic molecules, BioPharma Solutions provides a range of capabilities, including:
Liquid and dry-powder filling
Clinical and commercial-scale lyophilisers
Sterile crystallisation
Flexible compounding areas
Disperse systems
The company also offers:
Formulation and subsequent filling / lyophilisation of colloidal drug carriers such as liposomes, micelles, nanoparticles and microemulsions
A technology portfolio that includes homogenisation, including piston-gap, microfluidization and membrane extrusion, diafiltration, organic solvent distillation, liposome direct and remote loading and sterilising filtration
Integrated support services for cytotoxics include technology transfer, analytical and microbiological services, stability storage, packaging and kitting, lyophilisation cycle development and engineering and regulatory support.
BioPharma Solutions has experience with antibody-drug conjugates (ADCs), small molecules, biologics and liposomal systems.