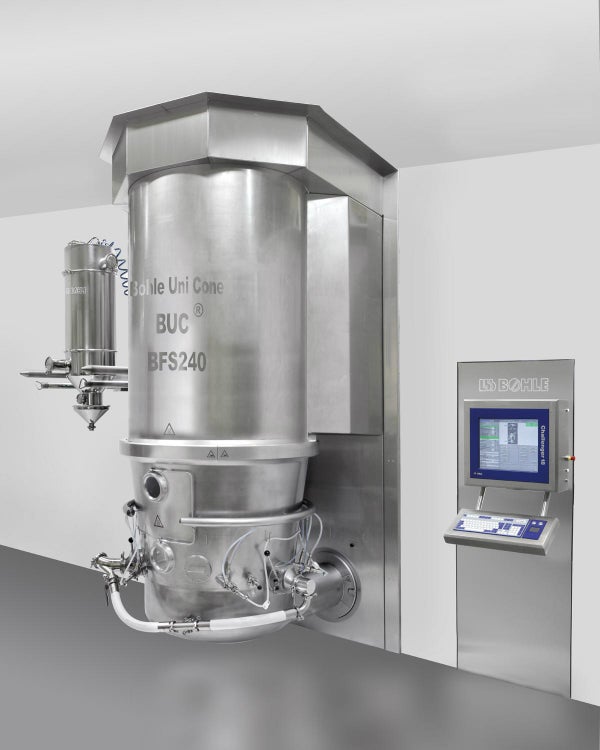 Using a tangential fluid bed system represents state of the art technology in pharmaceutical manufacturing for particle coating, granulation and drying.
With the innovative Bohle Uni Cone BUC®, complete fluidization is assured which leads to high coating uniformities and high yields in the final product due to the absence of particle twinning.
L.B. Bohle developed the Bohle Fluid Bed Systems with tangentially mounted spray nozzles and the Bohle Uni Cone BUC®. This equipment is available for batch sizes ranging from 1 to 500 kg.
Built-in 12 bar shock-resistant execution, organic and water-based processes are always accessible. Short product transfer times and effective cleaning offer opportunities for additional savings in production time and costs.
By design, all size fluid beds are geometrically similar which enables an easy scale-up procedure. Dust-free suction and discharge of the product bowl are performed using a newly developed patented multi-functional valve directly above the distributor plate.
The overall design of the BFS types results in substantial ergonomic benefits, which means major advantages in cleaning and processing in comparison to other existing fluid bed systems on the market. In addition, the low position of the valve allows easy operator access. Bohle Fluid Bed Systems contain fewer gaskets, valves and vents, which makes cleaning fast and easy.
All Bohle systems utilize a very efficient use of space.
Benefits:
Inline sieving and product transfer
12 bar pressure shock resistant – optimum conditions for containment applications, no effect on environment in case of accident
Integration of PAT, NIR and WIP
Filter cleaning by patent – patented diffuser
Electrical drop-down filter movement
Filter cartridges with spindle drive
InTouch HMI: the powerful user interface
Vacuum changing removable bottom plate