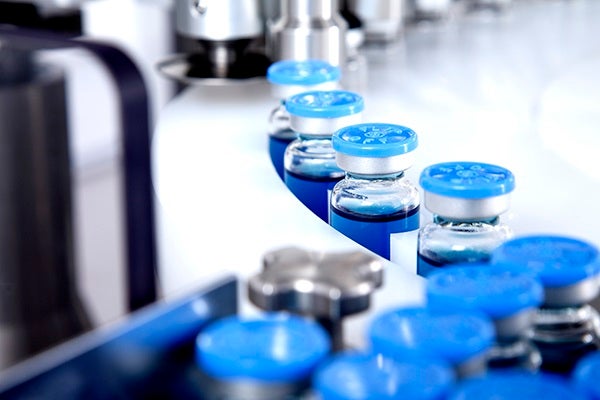 Fortis Life Sciences specializes in the development and manufacturing of devices and drugs with nanomaterial components. We are experts in the fabrication and scale-up of nanomaterials for use in products that require ISO 13485:2016 and cGMP-compliant quality systems.
If you are looking for support with nanoparticle manufacturing, our team can offer assistance from start to finish, including proof of concept clinical trials, scaled production or cGMP manufacturing. Our wide-ranging expertise means we can offer expert advice throughout the manufacturing process.
GMP Development
One of the challenges of GMP manufacturing is determining the appropriate controls required to minimize risk at each stage of the development process.
For each customer, we collaboratively develop a GMP manufacturing plan that implements stage-appropriate controls required for FDA compliance while minimizing project time and costs.
Our Manufacturing Facility
Our cGMP compliant facility is specifically designed for the fabrication, scale-up, and analysis of nanomaterial based devices and drugs. Cleanroom spaces are designed to accommodate projects that range from early stage feasibility to scaled production of clinical injectables.
Our lab space includes 8,000 ft2 of R&D and production labs, a BSL-2 safety lab and low humidity dry room, as well as an ISO 8 cleanroom with chemical fume hood. All our processes and procedures comply with ISO 13485 and FDA guidelines.
Our Production Capabilities
At Fortis Life Sciences we have completed over a thousand custom projects ranging from self-healing aerospace composites to targeted cancer drug delivery. We work closely with each client to fully understand their needs and the requirements for the end application so that we can optimize quickly while keeping aligned with the customer's goals. In most cases we're able to maximize our chances for success by bringing the client's end metric in-house.
By having the analytical measurements readily available to determine if both the nanoparticle fabrication and integration are successful, we can rapidly iterate the nanoparticle chemistry and processing to help achieve the end-goal quickly and reduce overall development costs.
Get in touch via the 'Make an Enquiry' form to find out how we can help accelerate the development and commercialization of your regulated product.