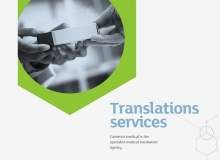 We have a passion for breaking down communication barriers through translation for more than 120 languages.
We understand that people can be different depending where they are from, which is why our translation services is not just about changing words into another language, it's about converting messages.
We work with professional translators in more than 70 countries. We have built a network of language professionals with sector specific experience to get right to the heart of a brand's local audience and deliver high impact messaging. We also provide a free consultancy service offering advice to new clients on how to get the greatest return on investment from your translation project.
We are primarily a marketing communications translation and localisation agency, but we also work with healthcare, technology and energy sector clients.
When it comes to language projects, we've got it covered. And that translates to peace of mind for you. Brands work with us to become a global success story.