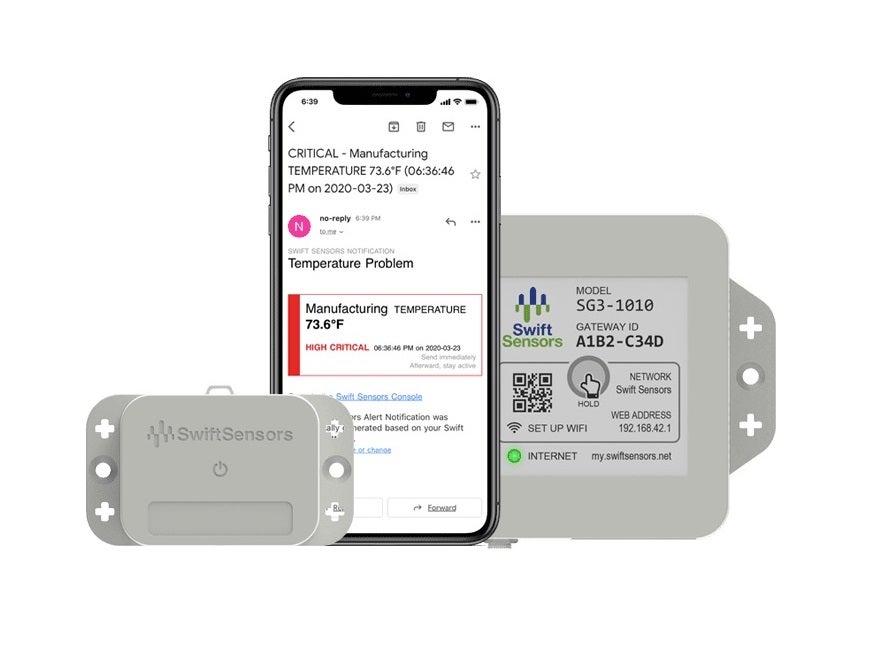 The Swift Sensors Wireless Laboratory Monitoring Evaluation Kit contains a wireless ambient temperature and humidity sensor, a wireless remote temperature sensor, a wireless remote ultra-low temperature sensor and a gateway to get you up and running with everything you need to start monitoring your medical refrigeration units.
SS3-101 Wireless Ambient Temperature and Humidity Sensor
SS3-105 Wireless Remote Temperature Sensor
SS3-110 Wireless Remote Ultra-Low Temperature Sensor
SG3-1010 Gateway
With the evaluation kit, you can experiment with temperature sensors for monitoring the laboratory room temperature as well as the temperature of a standard medical cooler and an ultra-low medical freezer (-100C).
The gateway receives measurement data from the sensors and transmits it to the Cloud via WiFi, Ethernet, or cellular modem. The gateway uses advanced encryption to protect your data and network.
With the Swift Sensors Cloud-based software, you can view your measurements in real-time, set thresholds to define ranges for normal operation, and configure notifications to alert people when measurements go out of range. You can define a group of users who get alerts based on the severity of the measurement excursion.
The Swift Sensors software automates daily temperature logging and reporting. Instead of asking your busy staff to check and log temperatures multiple times a day, let the software do that for you and keep your staff focused on more important customer-facing activities. The reports are generated on-demand with all of the data complete, accurate, and tamper-proof to satisfy CLIA and other regulatory reporting requirements.