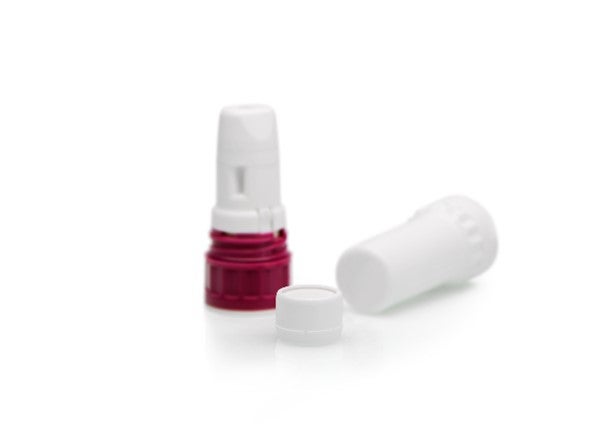 Medical devices and diagnostic applications have one thing in common: they are sensitive to moisture. And they need special desiccant expertise to remain dry and safe throughout a long shelf-life. Hence, pharmaceutical and medtech manufacturers require partners who can deliver everything from a single source – proven design and development concepts, robust manufacturing processes, and long-term experience.
Generally, the molecular mobility within the device increases in parallel with the increase of free moisture, and so does the rate of degradation. Since molecular mobility is directly related to the moisture content of the formulation, increased moisture content naturally leads to an increased rate of reaction. In the worst case, the efficacy of drugs is reduced, or the analytical results are falsified, which can lead to an incorrect medication and impede successful therapy.
Any serious CDMO should clarify the desiccant requirements – integrated or drop-in – beforehand and also be able to deliver the adequate solution.
Sanner is the pioneer in desiccant integration in Europe and offers complete solutions from a single source, especially for moisture-sensitive drug-device combination products:
Integrated Desiccant Solutions
Drop-In Solutions
Compounds
The Sanner Atmo Guard System® relies on a simple principle: making the packaging as tight as possible, identifying sorbent requirements, predicting drug stability, and selecting the right desiccant for testing. Sanner has an excellent reputation in the market for providing desiccant solutions at a top cost-efficiency ratio for pharmaceutical packaging as well as for medical devices. On top, get more value from an expert in both disciplines: high precise injection moulding and desiccation.
Sanner's holistic approach to drug device combination products is unique in the market. Despite our desiccant competence, Sanner is designing and manufacturing devices and diagnostic products. The In-house tooling know-how for the best component designs for scalability is as well essential as our long-term expertise in high-precise injection moulding and cleanroom manufacturing.
The amount of humidity that penetrates the device is decisive for the stability of a moisture-sensitive drug. Around 65% of humidity ingress can be attributed to the plastic body. Weak spots can be the wall, as well as the sealing surfaces.  Therefore, this kind of devices should have a good Design for Manufacturing and Design for Assembly concept. A holistic approach like Sanner's Idea-Design-Product Process ® that takes all aspects of moisture ingress into account and that involve DfmA aspects right from the beginning is indispensable.