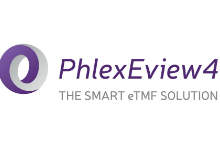 PhlexEview 4 is the latest version of Phlexglobal's electronic trial master file (eTMF) management technology.
Now with more capabilities to optimise trial master file (TMF) management, PhlexEview 4 adds intelligent new ways of working designed specifically to enhance the user experience, maximise efficiency, facilitate compliance, and improve oversight.
PhlexEview is a secure, private cloud eTMF system, which may be accessed anytime, anywhere. Profile-restricted security enables sponsor, site, and contract research organisation (CRO) users to create, collaborate, approve, and store documents within the system.
PhlexEview has been developed to readily accept paper or electronic documents via a secure chain of custody, which ensures traceability through a robust audit trail.
Quick and easy to implement, PhlexEview is the eTMF system choice of over 10,000 worldwide users. PhlexEview is built to provide support across the TMF process from planning through to archiving.
This fully validated 21CFR Part 11 compliant eTMF system meets the latest regulatory requirements for creating, approving, storing, and managing clinical trial documents for on-the-spot inspection readiness.
The system's key features include:
Wizard-driven eTMF completeness – Phlexglobal's eTMF provides proactive study management through real-time oversight. Driven by a study start-up wizard, dashboards provide overall completeness status for trial, country, and site TMFs
Unique intelligent placeholder technology – The system defines where documents in the TMF are expected and drives completeness metrics. It automatically matches documents created to the correct placeholder and fulfills pre-indexed placeholders by drag and drop, sending a paper document, or initiating a document authoring process
Event-driven document management – The eTMF proactively manages on-going trial events and creates a placeholder in the appropriate section
Customisable landing page dashboards – The system selects user-specific configured dashboards of interest to you and dynamically filters results. It is completely configurable per user, and includes TMF completeness
Flexible TMF service models – With flexibility to optimise resource allocation, the eTMF assigns work to either your resources or Phlexglobal's. It includes trained TMF resources provided by the company to optimise TMF processing. In addition, it features fully automated, technology-enabled tracking of tasks to facilitate collaborative document query management and reporting
Full query management – The system raises, reviews, and resolves document queries. It automatically generate a placeholder for documents to be replaced
Why choose PhlexEview?
Sleek, user-friendly interface with personalised views of mission-critical TMF data
Fully scalable to optimise global performance
Profile-driven restricted security access to support the needs of sponsors, CROs, sites, and inspectors
Centralised TMF documentation with visibility globally 24/7
Automatic duplicate document identification
Side-by-side document comparison
Document linking and folders to create relationships between documents
Bulk export of documents and metadata
Streamlined quality control workflows enabling highly efficient quality review of document content and metadata simultaneously
Author documents from templates
Document approval with 21 Code of Federal Regulations (CFR) Part 11 compliant eSignature