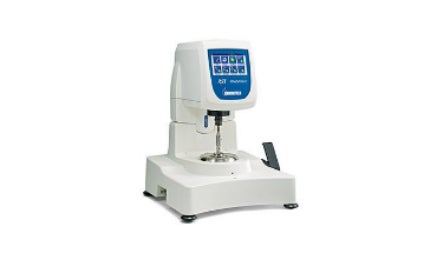 RST-CPS Touch Rheometer is one of the most popular instrument choices for R&D in the pharmaceutical industry.
Cone / plate geometry with open plate design for easy sample placement enables a range of small sample sizes (<4mL) and rapid temperature control using Peltier.
The instrument performs quick profiling of flow behaviour, including direct measurement of yield stress and creep.
RST-CPS has the broadest measurement capability of any Brookfield viscometer or rheometer, ranging from water-based solutions to thick paste-like mixtures.
In addition, the rheometer offers controlled rate and stress measurement. Available with coaxial cylinder measurement geometry, the rheometer offers powerful flow characterisation tools including ramp, loop, and single point testing.
RST Rheometer accommodates high throughput required by quality control laboratories. It also offers flexibility required of research environments and provides cost-effective operation for various laboratory applications.
The rheometer analyses comprehensive flow behaviour, and features a spindle barcode for auto spindle recognition.
Quick and easy automatic or manual gap settings, as well as a user-friendly LCD touch screen with graphical display are also available.
In addition, 11 memory slots for structured multi-step test programs are provided and auto spindle identity recognition. Rheo 3000 software is available for PC control and data management.
The new RST series of touch screen rheometers offers the quickest and most comprehensive rheological...