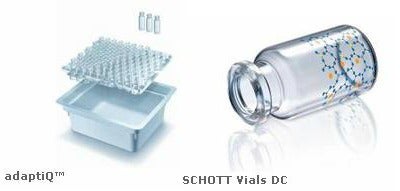 SCHOTT's current innovations include adaptiQ™ ready-to-use vials and SCHOTT Vials DC.
adaptiQ™
Ready-to-use vials
The only solution on the market that allows the vials to remain nested throughout the entire fill & finish process
More freedom with a leaner process, improved quality and more flexibility
More quality, flexibility and efficiency and improved cost of ownership
Glass-to-glass contact avoided completely throughout fill& finish process
For further information please click here.
SCHOTT Vials DC
Verified glass surface homogeneity for a significantly reduced delamination risk
Superior inner surface homogeneity
Chemically tested and verified – routinely inspected by SCHOTT Delamination Quicktest
Quick to market – no re-registration necessary when replacing conventional SCHOTT Vials with SCHOTT Vials DC
For further information please click here.