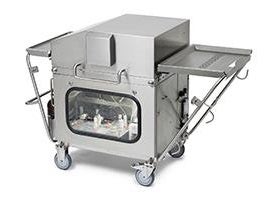 Malvern Panalytical's Zetasizer AT brings the dynamic light scattering (DLS) technology of the Zetasizer Nano to the process development and manufacturing arena, enabling real-time monitoring of nanoscale particle processes online.
The Zetasizer AT is a fully-automated nanoparticle characterisation system, delivering lab quality results online and in a timely manner for process optimisation.
Key features include:
The ability to monitor processes involving nanoscale particles or droplets in real time such as homogenisation
Ability to track changes in particle size with time and determine when the end point is reached
Automated sampling system facilitates sample extraction, degassing and dilution to the required concentration minimising operator input
Sampling system designed to minimise sample consumption
Easy transfer of laboratory DLS methods to online system
Utilises Malvern Panalytical's universal interface for system integrators (Malvern Link II)
Below are the forthcoming shows that will exhibit Malvern's pharmaceutical solutions in 2020. Conferences and...