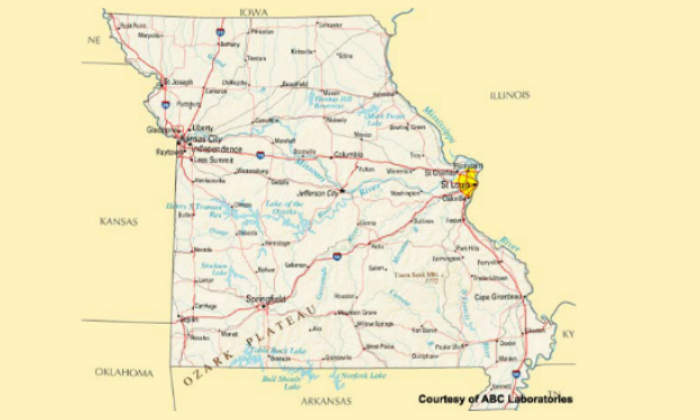 The new ABC facility is situated just southwest of Columbia.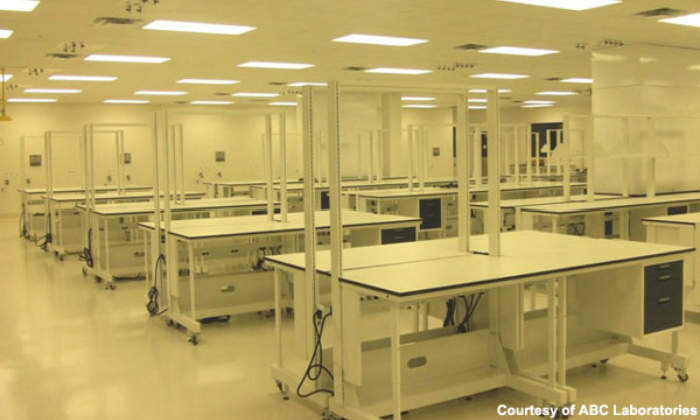 The lab space has been outfitted and as of June 2008 is being occupied.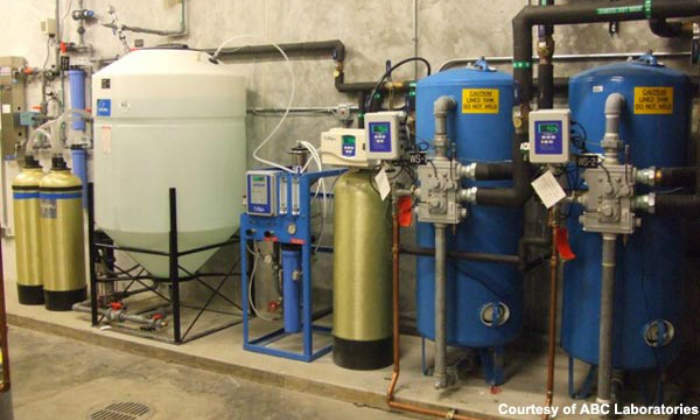 There is a central services arrangement at the new ABC facility.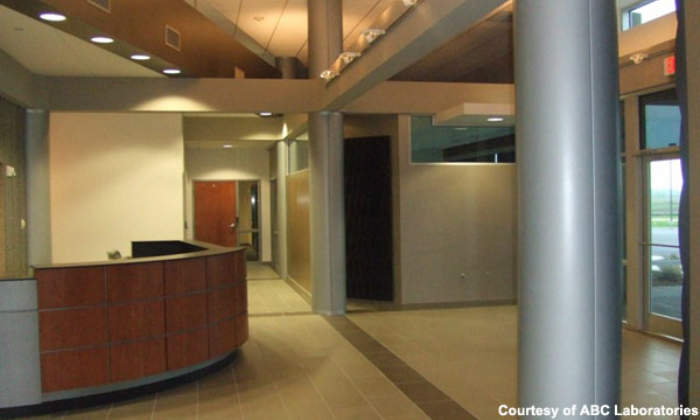 The facility has 20ft-high ceilings and as much natural light as possible is being channelled into the building.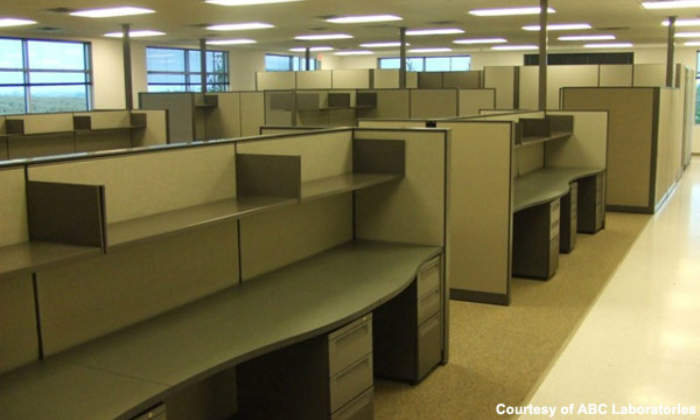 The new building has 30,000ft² of office and 60,000ft² of laboratory space.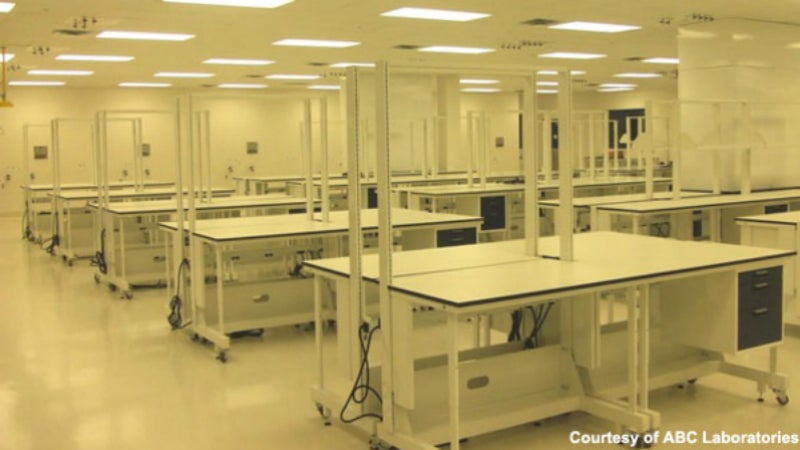 Analytical Bio-Chemistry (ABC) Laboratories Inc is a major privately owned contract research organisation in the US. The company is a fully GLP and CGMP-compliant product development partner, which has been active in the pharmaceutical and chemical industries since 1968. The company marked its 40th anniversary in 2008.
ABC Laboratories provides a range of expert analytical chemistry services and product development from initial product and process development through to clinical trials and post-commercialisation activities. In May 2006, the company decided to transfer its pharmaceutical service activities from its original site to a custom-constructed, 90,000ft² laboratory in the Discovery Ridge Research Park. The new facility was inaugurated on 23 September 2008.
The ABC Laboratories is park's first tenant, and has leased a plot from the University of Missouri for 99 years at a cost of $15m. The existing 56-acre campus has been retained and the facilities refurbished to remain as the centre of the company's chemical services division.
The facility has doubled the company's capacity and has offered ABC the space it requires for the growth up to 2012.
Facility
Facilities include a new CGMP analytical services unit for method development and a range of CMC-related studies. There is a separate GLP laboratory to expand drug metabolism and pharmacokinetics and bioanalytical testing services, which support clinical development from Phase 0 micro-dosing studies using radio-labelling synthesis through to Phase III clinical trials.
The building has 60,000ft² of analytical lab and support space and 30,000ft² of office space. Each lab module has an accompanying office outside, and the lab space is mobile, allowing research equipment to be moved to make way for new equipment or expansions.
"Each lab module has an accompanying office outside, and the lab space is mobile."
The building has been positioned to allow an additional 33,000ft² to be added if required. There are four labs at the building's core, with 25 fume hoods for ventilation. In addition, there is a storage suite to set up a wide range of controlled environmental conditions for pharmaceutical product stability testing, a central power centre for the control of electrical, ionised water and high-purity gas piping, a 1,600ft² blast-resistant chemical storage room, equipped with 8in-thick concrete walls and an 5,000gal underground containment tank.
ABC is keen on transparency, so there is an interior window system for tours around the facility. Natural light is maximised by perimeter windows, and there are additional security and environmental features such as occupancy sensor lights, card readers to monitor employee location, chemical and stain-resistant Medintech flooring and Trespa work surfaces. The computer server room has a specially designed HFC 125 fire support system, which uses chemical-charged bottles to suck the oxygen from the room in the event of fire.
Expansion
In 2009, ABC Laboratories began a $4.5m renovation and expansion project which was completed in August 2010. The expansion included renovation of 27,000ft² of laboratory and administrative space of the company's chemical services division.
"In 2009, ABC Laboratories began a $4.5m renovation and expansion project."
In addition, a 10,000ft² laboratory was constructed and a number of small and old structures around the campus were removed. Fire suppression, communication and building management systems were installed during the modernisation, as were modern lighting, electrical, heating and ventilation and air conditioning systems.
Contractors
ARCO Construction was the main general contractor, and also provided civil engineering services. Groundbreaking occurred in March 2007. The architect for the project was ACI Boland Architects, and $10m of the contract went to local contractors. Other contractors included:
A and H Erection (structural steel assembly)
Boone County Millwork (door furniture and doors)
Central Concrete (concrete supply)
Chillicothe Iron Steel (structural steel)
Columbia Glass and Mirror (glazing supplies)
Christensen Construction (asphalt paving/road construction)
CLEL Containers (container services)
Environmental Engineering (mechanical services)
Hullet Heating and Air Conditioning
Johnson Decorating (window treatment)
Meyer Electric
Midstate Petroleum (underground waste storage tank)
Missouri Builders Service (architectural facade sheet metal)
Negwer Materials (drywalling supply)
Philips Grading (earthwork and foundation services)
Rost Landscaping
Smarr Garage Doors (dock doors)
Tiger Fencing (security installations)
Watkins Roofing (roof and drain installation)
Woodley Building Maintenance.
Financing
The Boone County Commission has awarded ABC Laboratories a $1.55m rebate on property taxes over a ten-year period for the new facility. The concession is part of an effort to attract manufacturing businesses to the region.
"The Boone County Commission has awarded ABC Laboratories a $1.55m rebate on property taxes over a ten-year period."
The county is using a tax incentive known as the Chapter 100 policy. This means that the county issued revenue bonds to allow the company to finance $15m in equipment, land and buildings.
The agreement means that the county effectively owns the property and is leasing it back to ABC Laboratories, making it exempt from taxes.
ABC Laboratories pays 50% of what it would have paid in taxes to the county for ten years, and its full share of the county commercial property surtax, which is 61 cents per every $100 of assessment. The company must create 50 jobs over the next ten years to receive the full benefit; projections indicate the new facility will provide at least 250 jobs.
ABC Laboratories will also reassign credits on state taxes it will receive through the Business Use Incentives for Large-scale Development (BUILD) programme to the city. The BUILD programme allows the Missouri Development Finance Board to grant tax credits to "reduce necessary infrastructure and equipment expenses" for extensive business projects that demonstrate a need for funding.