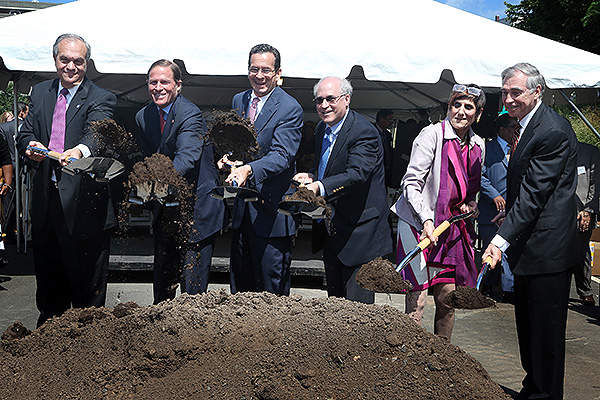 Alexion Pharmaceuticals broke ground on its new headquarters in June 2013. Credit: Business Wire.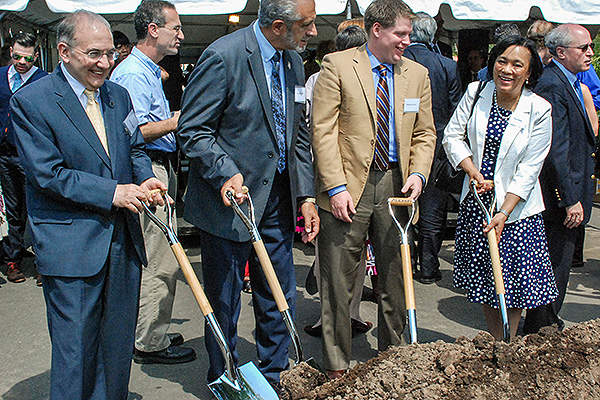 The ground-breaking ceremony was attended by State Senator Toni Harp. Credit: Connecticut Senate Democrats.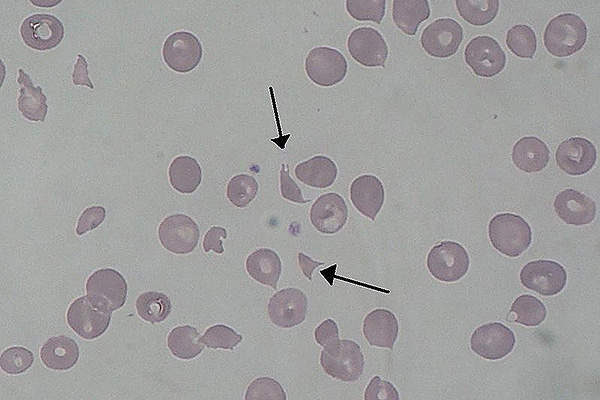 Soliris (eculizumab), Alexion's main therapeutic product, is approved for the treatment of atypical haemolytic-uremic syndrome. Credit: Paulo Henrique Orlandi Mourao / Kenyon College.
In June 2013, US-based pharmaceutical company Alexion Pharmaceuticals began building its new global headquarters.
Located on College Street in New Haven, Connecticut, the headquarters includes a sophisticated laboratory and an office building. The building was opened in February 2016.
The building's construction was sponsored by the city of New Haven, the State of Connecticut and the US Department of Transportation.
By 2017, the building is expected to provide employment for 200 to 300 people.
Details of Alexion Pharmaceuticals' headquarters in New Haven
Alexion's new headquarters is located on a 12-storey building with a total floor space of around 500,000ft².
The building includes a separate parking garage with 600 to 800 spaces. The existing 400 employees at Alexion's previous facility in Connecticut were transferred to the new headquarters.
The new laboratory at the headquarters is used for developing life-transforming therapies for patients with severe and life-threatening disorders.
Construction of Alexion Pharmaceuticals' headquarters in New Haven
A ground-breaking ceremony to mark the start of construction was held in June 2013. The ceremony was attended by New Haven Mayor John DeStefano, Connecticut Governor Dan Malloy and other dignitaries of Alexion Pharmaceuticals.
Contractors involved with Alexion Pharmaceuticals' corporate facility
In June 2013, Virginia-based real estate company Winstanley Enterprises was awarded a $100m development contract for the facility. The scope of the contract included building a laboratory and office building for Alexion to accommodate its new headquarters.
The contract also covered the refurbishment of the College Street Bridge and pedestrian and bike improvements, as well as access to the neighbouring Air Rights garage.
Financing for Alexion's New Haven headquarters
"The total expected investment for the headquarters' construction is $140m."
The total expected investment for the headquarters' construction is $140m. The Connecticut state government has contributed $51m to the project under its Department of Economic and Community Development (DECD) First Five programme.
The financial assistance is being provided as a ten-year loan of $20m at a 1% interest rate for five years. It also includes around $25m for industrial sites reinvestment tax credits and a $6m grant for the laboratory construction and equipment.
Between $16m and $20m will be rebated under loan forgiveness schemes if the promised 200 to 300 permanent jobs are created by the project.
Sustainability profile of Alexion's New Haven headquarters
The headquarters building was built using eco-friendly methods and is designed to obtain Leadership in Energy and Environmental Design (LEED) Silver environmental standard certification.
Marketing commentary on Alexion Pharmaceuticals
"The headquarters building was built using eco-friendly methods."
Alexion Pharmaceuticals is an international biopharmaceutical company currently based in Cheshire, Connecticut.
The company is engaged in innovating, developing and commercialising life-transforming therapeutic products for severe and ultra-rare disorders. It employs around 1,700 people across 50 countries worldwide.
Alexion operates a manufacturing facility in Rhode Island and offers product services to patients in 50 countries.
The company's therapeutic product portfolio includes the sole marketing drug Soliris (eculizumab), approved by both the US Food and Drug Administration (FDA) and the European Medical Agency (EMA) for the treatment of patients with paroxysmal nocturnal haemoglobinuria and atypical haemolytic uremic syndrome indications.