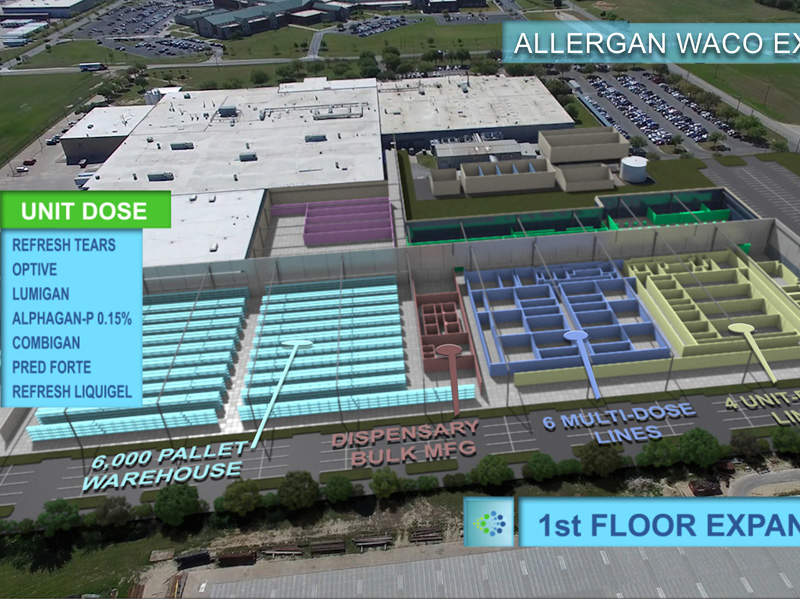 Allergan's facility expansion involves the addition of a raw material dispensary, bulk formulation suite, ten new production lines and warehousing space. Credit: Allergan.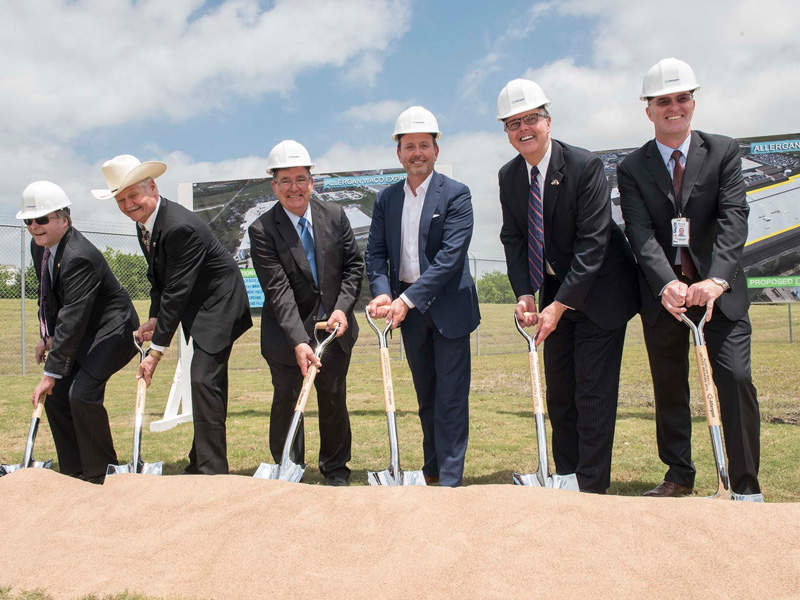 A ground-breaking ceremony for the expansion project was held in April 2016. Credit: Allergan.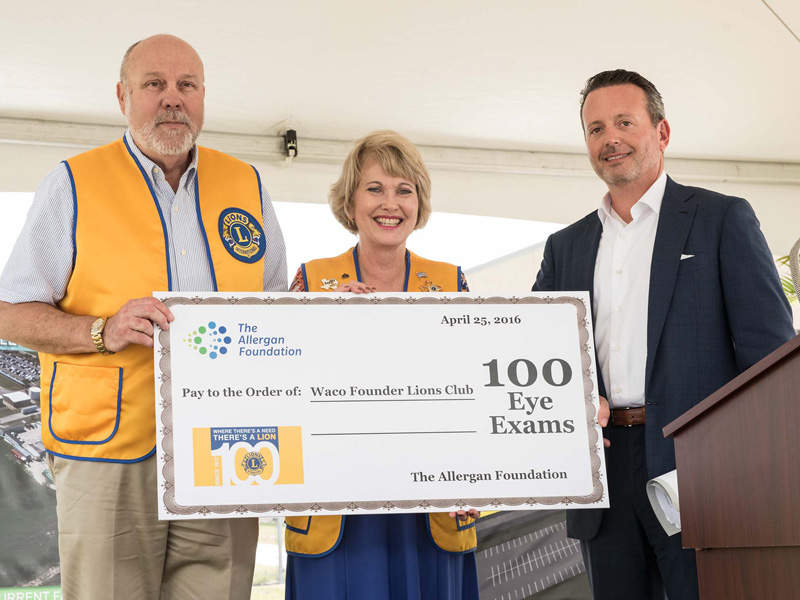 The Allergan Foundation announced a donation of 100 eye exams to Waco Lions Club in April 2016. Credit: Allergan.
Ireland-based pharmaceutical company Allergan, which produces eye-care and dermatological products, began an expansion of its manufacturing facility in Texas Central Park in Waco, Texas, in April 2016.
The expansion is expected to be completed by 2020 and includes the addition of 322,000ft² of manufacturing space, a bulk formulation suite, ten new production lines, and warehousing space.
Details of the Allergan facility expansion project
The existing Waco facility opened in 1989 with a 69-acre campus and 407,000ft² (37,000m²) total floor space.
Allergan's plans for the facility expansion cover three storeys. The first storey will have 220,620ft² of floor space, including a 6,000ft² pallet warehouse, a raw material dispensary, bulk-manufacturing, six multi-dose lines, and four unit-dose lines.
The second and third storeys will be mezzanine levels, with the second covering an 86,534ft² floor space, including a utility area and bulk compounding.
The expansion also includes the addition of utility support areas, 4MD packaging lines, cafeterias and lockers. A testing laboratory will also be installed, together with additional production capacity to meet increasing product demand.
Production is expected to double after the work is complete, allowing more than 40 different product formulations to be manufactured at the plant.
Allergan's facility originally had 681 full-time employees. This expansion is expected to create 100 initial job opportunities and another 150 potential opportunities. Vacancies will be created for chemists, microbiologists, process engineers, and production and maintenance technicians.
Product portfolio of the Allergan facility in Waco
Allergan's Waco facility produces eye-care and dermatological products, including Restasis® (Cyclosporine Ophthalmic Emulsion) 0.05%, Latisse® (bimatoprost ophthalmic solution) 0.03%, and a US Food and Drug Administration (FDA) approved treatment for eyelash growth.
Once the expansion project is complete, the facility's capabilities will also include ophthalmic multi-dose aseptic filling, plastic component manufacturing, ophthalmic ointment filling and ophthalmic unit dose filling.
The facility's bulk compounding unit produces ointments, suspensions, emulsions and solutions. The multi-dose and unit fillings produce Refresh Tears, Optive, Lumigan, Alphagan P-0.15%, Combigan, Pred Forte and Refesh Liquigel.
Benefits of the expansion project to the local economy
The expansion of Allergan's Waco facility will require an estimated investment of $200m.
According to Tom Kelly of the Baylor Centre for Business and Economic Research, the expansion will bring multiplier effects by adding $380m to the Central Texas (CT) economy during construction.
In the first year of construction, Allergan's capital investment, together with operations on the CT economy, is projected to increase to $522.3m. During the remaining period, the average annual economic impact of new capital investment will increase to $72m.
Marketing commentary on Allergan
Based in Dublin, Allergan is engaged in the development, manufacturing and commercialisation of branded pharmaceuticals, generic, over-the-counter medicines (OTC) and biologic products.
The company operates across 100 countries and its product portfolio includes treatments for the central nervous system, eye care, medical aesthetics, gastroenterology, women's health, urology, cardiovascular and anti-infective therapeutic categories.