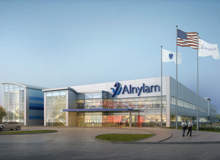 Alnylam Pharmaceuticals is constructing a new drug substance manufacturing and cGMP warehouse facility in Norton, Massachusetts, US. The company broke ground on the $200m facility in April 2016.
The project is part of Alnylam's expansion plans aimed at increasing its manufacturing capacity. When fully-operational in 2018, the facility will produce the company's RNAi therapeutics and help it to become a commercial stage company.
Products manufactured at the Norton facility will be sold across the world. The facility will initially generate 150 new full time jobs at Norton, which is expected to increase to 300 in the future.
The cGMP manufacturing facility is expected to be commercially operational in the second half of 2020.
Details of Alnylam's new manufacturing facility
The three-storey plant will house several production lines, GMP warehouse, as well as office space.
Alnylam's new state-of-the-art Norton facility will occupy an area of approximately 200,000ft² (18,580.6m²) on a 12-acre site. It will be responsible for developing innovative therapeutics based on RNA interference.
RNAi therapeutics developed by Alnylam will target a number of illnesses including TTR, haemophilia, hepatic porphyrias, beta thalassemia, hypertension and liver infections.
Development of the facility involved various levels of discussions with the contractors to develop a building plan, which met Alnylam's specifications. The company ensured that the plan appropriately included machines used in its manufacturing process.
Machinery used by Alnylam is similar to that used in the production of small molecules. RNA synthesis, which requires advanced purification techniques, will be used to produce drugs at the facility. An appropriate building plan was therefore required to meet this requirement.
The new facility will include a number of green initiatives including the use of recycled water to reduce its environmental footprint.
Location details of Alnylam's Norton facility
Alnylam surveyed a number of sites worldwide before deciding on the Norton location. The proximity of the facility to its headquarters in Cambridge will help the company to cut operational costs and also enable its management to monitor the production process.
Locating in Massachusetts also enables Alnylam to capitalise on the region's innovative economic environment and skilled workforce. Further, the Norton town council is providing Alnylam with a $7m tax break over a period of 13 years for the project.
Alnylam has rented a small site in Cambridge to initially produce its lead drug, Patisiran, which is used for the treatment of a rare neurological disease. The company will also use third-party manufacturers for back-up production capacity.
Alnylam's remaining drugs will be produced at the Norton facility. Having its own manufacturing facilities will enable the company to establish a strategic supply chain for its products.
Contractors involved
"Locating in Massachusetts also enables Alnylam to capitalise on the region's innovative economic environment and skilled workforce."
Jacobs Engineering Group was awarded the engineering services and procurement contract for the project in August 2016.
Gilbane is serving as the construction manager for the project.
A/Z was contracted to serve as the Building Information Modeling (BIM) Coordinator during the construction of the facility.
Hereva is the project manager responsible for supervising the design and engineering and supporting the environmental permit process.
Albireo Energy won a contract to design and install a customised building management system for the biopharmaceutical manufacturing facility.
Marketing commentary on Alnylam Pharmaceuticals
Alnylam Pharmaceuticals is a global leader in the development of novel therapeutics based on RNA interference and translation of RNAi as a new class of medicines. The company was founded in 2002 to focus on RNAi therapeutics for genetically defined targets to treat life-threatening diseases.
RNAi therapeutics, which is a new approach towards treating diseases, is a natural process of gene silencing that occurs in plants and mammals. RNAi therapeutics use this natural process and inhibit the creation of disease-causing proteins.
Alnylam has established investigational RNAi therapeutics in major strategic therapeutic areas namely genetic medicine for the treatment of rare diseases, cardiometabolic for liver expressed disease targets in dyslipidemia, hypertension and type 2 diabetes, and hepatic infection disease for infections such as hepatitis B and D virus infections.
The company aims to have ten such drugs in the pipeline in various stages of clinical programmes. It also aims to roll out the first product from the Norton facility in 2018, and has set the goal of having at least three commercial products by 2020. It already has two drugs in phase III trials.