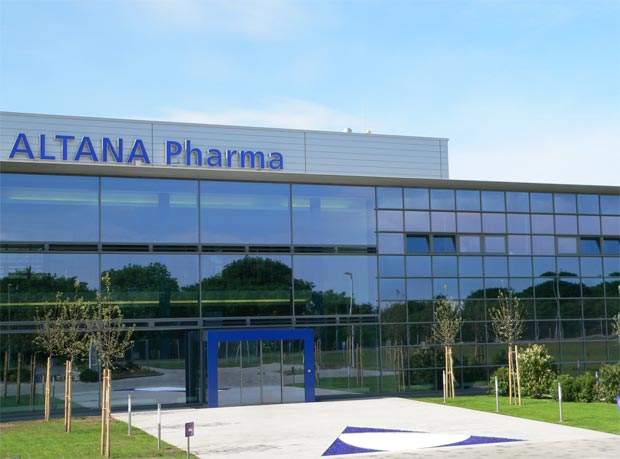 The finished Altana pharmaceutical building,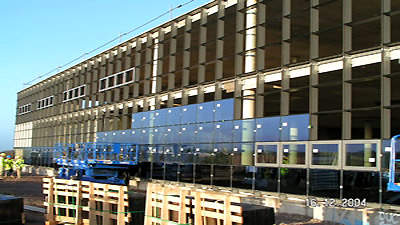 The Altana pharmaceutical plant under construction.

Pantoprazole is one of the most successful drugs ever to have come out of a German laboratory.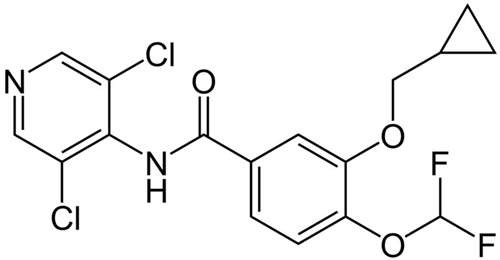 Roflumilast has enormous potential for the treatment of COPD and Asthma.
The Altana Pharma solid dosage plant in Carrigtwohill, County Cork, Republic of Ireland, is owned by Gilead Sciences. Gilead acquired it from Nycomed in 2007.
Nycomed obtained the manufacturing facility as part of a €4.6 billion acquisition of Altana Pharma and its entire pharmaceuticals business in December 2006.
The Cork facility was completed in October 2005, and officially opened in July 2006. The plant is currently used to produce tablets and capsules for worldwide pharmaceutical markets.
Altana Pharma chose the 11ha site at the IDA Business and Technology Park because of the economic incentives offered by the Irish government, the excellent central location offered by Carrigtwohill in County Cork and the availability of a well-educated potential workforce. The 14,000m² plant required an investment of €67m and received planning permission from the county of Cork in late 2003, with construction work commencing in January 2004.
The campus consists of a tablet production building, quality control laboratories, administration building, canteen facilities and warehousing and utilities buildings. The new facility is one of the company's major global manufacturing sites and
its only site outside Germany that focuses on worldwide tablet supply.
"In December 2006 Altana Pharma was sold to the Danish company Nycomed for a purchase price of €4.6bn. "
The site produces tablets containing Pantoprazole (Protium), a fully approved treatment for acid-induced gastrointestinal conditions and oesophagitis. In addition, the plant also produces tablets with Roflumilast (Daxas), a drug for the treatment of chronic pulmonary obstructive disease (COPD) and asthma.
Roflumilast was included as a new treatment option by COPD management guidelines in January 2011 after completion of Clinical Development Phase III studies. The facility produces three billion tablets per year. The German tablet plant is in Oranienburg.
Change of ownership
Gilead Sciences had planned to expand European operations by building a €60m manufacturing site in Grange Castle Business Park, West Dublin. However, the company changed its plan and acquired the Nycomed manufacturing plant in County Cork for €33.9m in August 2007.
Pantoprazole production at Carrigtwohill has been unaffected. Pantoprazole is produced as a bulk active pharmaceutical ingredient by Zydus Altana , a joint venture of Altana and Cadila Healthcare based in Thane, in Maharashtra, India. The Altana name is being retained and the branding of the products is unaffected.
Contractors and construction
The preliminary design, permitting / licensing and fire engineering was carried out by ARUP Cork. The plant was designed by Meier Architekten of Germany. The construction for the plant was carried out by a joint venture of Cleary and Doyle Contracting
Ltd (Wexford, Ireland) and Ed Zueblin (Germany). The construction contract was worth €33.8m. Imtech NV (Gouda, Netherlands) provided and installed the cleanroom facilities, the air conditioning, climate technology, purified water system and building management system.
The plant is a paperless one with Werum Pharma installing its PAS-X pharma software to provide a full manufacturing execution system (MES) with electronic batch recording and full traceability throughout the production and packaging of the produced tablets.
The plant was constructed on the IDA Business and Technology Park, with the site infrastructure being prepared for the new plant between December 2003 and January 2004 by ARUP and Sorensen Civil Engineering in a contract worth €2m. This required the installation of 1.5km of service road, sewer and water mains and service utility ducting.
Pantoprazole
" Since its market launch 11 years ago, more than 300 million patients have been treated with Pantoprazole."
Pantoprazole (Protium) is available in almost 100 countries worldwide. It is used for the treatment of acid-induced gastrointestinal diseases, such as gastroesophageal reflux disease (GERD).
The aim of therapy is to heal the lesions, achieve sustained freedom from symptoms and improve the quality of life for patients.
Pantoprazole is available in both intravenous and oral forms. Since its market launch 11 years ago, more than 300 million patients have been treated with Pantoprazole.
The high global demand makes pantoprazole currently the most successful patent-protected medicine from German research laboratories. Thanks to its impressive product profile, Pantoprazole is now market leader in 13 countries.
Roflumilast
Roflumilast (Daxas) is an anti-inflammatory medicine for the treatment of patients with Chronic Obstructive Pulmonary Disease (COPD). Chemically the drug is a phosphodiesterase type-4 inhibitor (PDE4), which is being co-developed by Altana AG and
Pfizer Inc (US) and Tanabe Seiyaku (Japan) as a treatment for COPD and late-stage chronic asthma. This is an orally administered treatment that only needs to be taken once-daily.
The drug has been approved in European Union and Canada. Roflumilast will also be launched in other markets.. It is forecast that the COPD market will double in size by 2011, due to an ageing population and new product launches. This means that Roflumilast has the potential to become a blockbuster product.