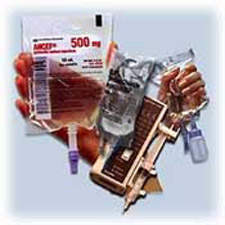 The Bloomington plant manufactures pre-filled syringes, vials and cartridges for the packaging of vaccines and drugs.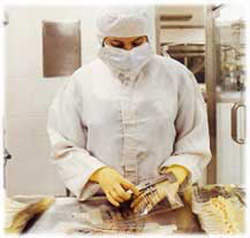 The pre-filled syringe production facility consists of 24 modules that include formulation, preparation and supporting utility rooms.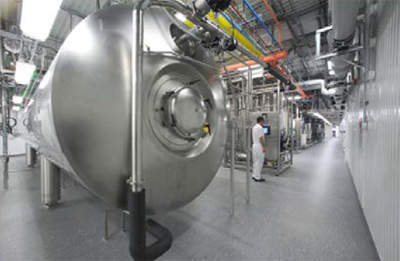 Production equipment area.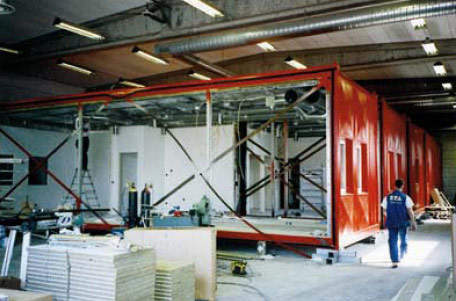 Skid/module being fabricated.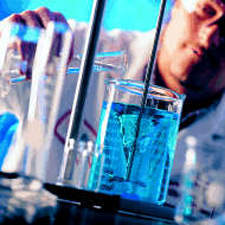 Research and development in formulation.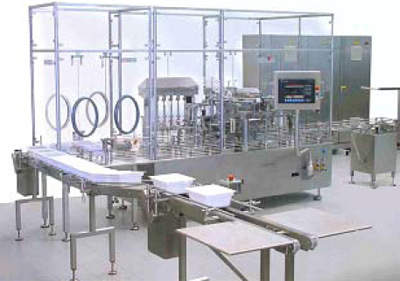 High-speed syringe filling line.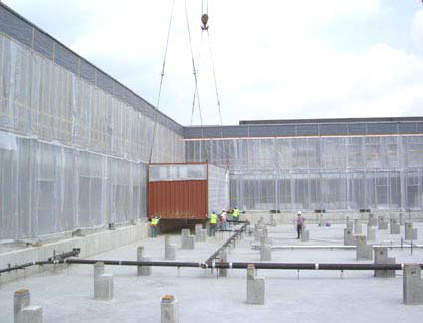 Module being put in place on prepared foundations at the Phase IV extension.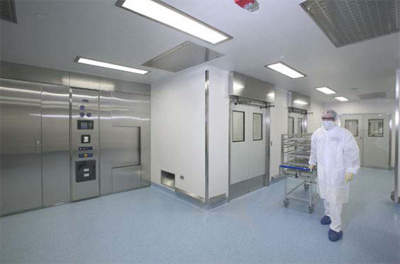 Completed prep room at the new extension.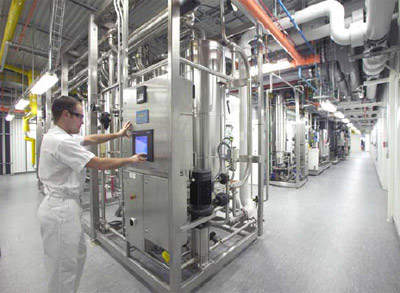 Separate services area.
Baxter BioPharma Solutions is a contract manufacturer of pre-filled syringes, vials and cartridges for the packaging of vaccines and drugs to treat chronic conditions such as rheumatoid arthritis and multiple sclerosis.
The company invested $125m (in stages over seven years from 2003) on an expansion of its manufacturing and packaging facilities located in Bloomington, Indiana, US.
The phase IV 162,000ft² extension was completed in 2006 provided much needed additional capacity for the provision of parenteral contract manufacturing and packaging services to small and medium pharmaceutical and biotech companies. Out of the 162,000ft², the manufacturing area comprised 37,500ft², with the rest alloted to packaging and warehousing.
The expansion increased manufacturing capacity of pre-filled syringes from 100 million to 200 million per year.
The basic design was completed in March 2003 and then in June 2003 Baxter announced plans for the expansion that would result in 700 more new jobs – 400 as a direct result of the expansion and 300 coming from normal business growth – by 2006. By June 2004, one year after the expansion announcement, the company had already added approximately 300 employees to its original workforce of 560.
Performance qualification (PQ) for the extension began in January 2004, and was completed in April 2005. The overall detail design and construction schedule was 17 months. After completion of operational qualification (OQ), performance qualifications and media fills were performed in only 4 months by BPS, resulting in the facility being passed as satisfactory by the FDA in June 2005.
The total project schedule from design to licensing was 22 months. The new capacity was ready for new client product launches in early 2006. The expansion programme required an investment of $116m.
Construction and contractors
The facility was designed by Raymond Professional Group and the general contractor for construction was the Turner Construction Group. Pharmadule of Sweden was responsible for the design and building of the process facility, which was built on a modular basis. Pharmadule fabricated and preassembled the modules at their facility in Sweden before shipping them across to Baxter for final assembly.
A modular approach allowed for the quick installation of the manufacturing unit. The extension required the demolition and clearance of some existing buildings around the site, and then construction of the new buildings of the extension. Baxter broke ground for the new buildings in April 2003 and topping out occurred in April 2004. Modules fabrication began in October 2003 and they arrived on site by August 2004. Their installation was complete by September 2004 and reassembly of the facility was completed by October 2004.
For the packaging facility the developer was the Koll Development Company of Dallas, Texas. The architect was Odle McGuire & Shook of Indianapolis and the construction was carried out by Weddle Bros Construction Company of Bloomington.
The process equipment was provided by the following suppliers: water pre-treatment system provided by US Filter, two clean steam generators were supplied by Kemiterm Getinge. The reverse osmosis (RO) tank was supplied by Zetterström. A still was supplied by Kemiterm Getinge. The water for injection (WFI) loop and systems was supplied and installed by Pharmadule. Process automation was the remit of Pharmadule/Orbitec. A WFI-tank of 25m³ was provided by Zetterström.
A clean steam system was supplied by Pharmadule. Getinge supplied three autoclaves and a terminal steriliser for the facility. Two clean-in-place (CIP) systems were supplied by Pharmadule. Carrier and Holland Heating supplied 13 air handling units (AHUs) for the heating ventilation and air conditioning system (HVAC) system.
Voltec supplied the control system and building management system for the HVAC. Particle monitoring systems were supplied by Climet. Meter Toledo supplied two scales. Pharmadule supplied and installed seven heating cooling skids.
The blister packaging and the new filling lines were supplied and installed by Optima Packaging Group of Germany in conjunction with INOVA.
A machine vision system to track syringe accountability was designed and developed by Frakes Engineering of Indianapolis.
The automated inspection system to detect syringe defects was designed by Eisai Equipment of Hackensack, New Jersey.
Manufactuing capacity expansion
Baxter BioPharma Solutions is a contract manufacturer of pre-filled syringes, vials and cartridges for the packaging of vaccines and drugs to treat chronic conditions such as rheumatoid arthritis and multiple sclerosis. Sterile product dosage forms include solutions, suspensions and lyophilised powders of biologic, biotech, vaccine and protein pharmaceuticals.
The new expansion has increased the manufacturing capacity for pre-filled syringes from 100 million to 200 million per year. The new facility also provides for both clinical development and commercial manufacturing using insoluble formulations. It is believed up to 50% of new drugs currently in development are insoluble; Baxter has developed and licensed a suite of novel drug delivery technologies to address these insoluble formulations.
Manufactuing and packaging facilities
The expansion has provided a new syringe-filling line capable of filling 35,000 syringes per hour (using the new INOVA Pac-Systeme technology). In addition there is an additional vial filling line, a lyophilisation suite, new research and development laboratories as well as additional QC/QA laboratories.
The blister packaging and the new filling lines were supplied and installed by the Optima Packaging Group GmbH of Germany in conjunction with INOVA. The new lines can aseptically formulate product and fill syringes as well as provide terminal sterilisation, plunger rod and back stop insertions. The systems allow the filling of a range of syringe and vial formats including (Becton Dickinson) BD HYPAK SCF glass syringes (0.5ml to 20ml) and BD READYFILL syringes (1ml to 5ml).
One of the key attributes of the new machine that has increased throughput from 300 syringes per minute to over 500 syringes per minute is the tub handling system, which now handles tubs in parallel instead of serially. The increased throughput of the filler has also saved considerable capital costs on the project, by alleviating the need for two machines and additional clean space and gowning room.
The facility uses an ERP/MRP enterprise planning system from Oracle to facilitate the tracking and management of material throughout the manufacturing process, providing accountability of product from raw materials through packaging. The platform features a production-scheduling program that can monitor and anticipate potential problems. The system is 21 CFR Part 11 compliant.
A machine vision system that was designed and developed by Frakes Engineering of Indianapolis is used to track syringe accountability. Filled syringes are counted in a nested configuration, resulting in a printed label with barcode and human-readable lot numbers, tub numbers, and count information. The system is tied into the ERP system, and production information is stored in the compliant historian for lot tracking.
In addition to the innovative vision system, an automated inspection system designed by Eisai Equipment Co of Hackensack, NJ is used to inspect for defects in syringes. The inspection system can distinguish defects such as particles in the solution, as well as glass and plunger defects. The system is capable of inspecting 300 syringes per minute.
The final advancement incorporated into the Phase IV expansion is a sophisticated final packing line, which provides for automated 'kitting' assembly of final products for different client requirements. For example, the line can combine a syringe, a lyophilised vial, an insert, reconstitution/mixing devices and alcohol pads all automatically. All of the packaging, inspection and downstream handling lines were included as parts of the new packaging plant, building G.
Finance and incentives
Baxter BioPharma received $21m in tax incentives, including $6.8m from the State of Indiana, $13.8m from Monroe County and $140,000 in road infrastructure improvement from the city of Bloomington.
In addition, the Indiana Department of Commerce awarded the company $5.9m in tax credits over a ten-year period beginning in 2004,as well as $400,000 in training grants and $500,000 for infrastructure improvement. The Indiana Department of Workforce Development has also awarded a $50,000 grant to train IT personnel.