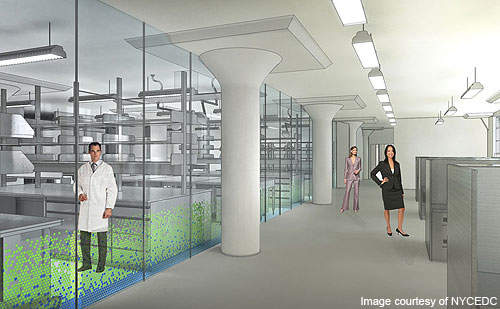 Architectural rendering of BioBAT corridor.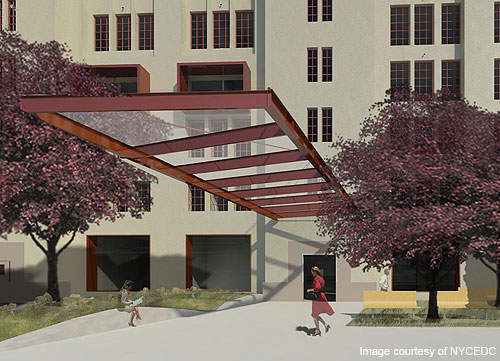 BioBAT center entrance.
Exterior of the building.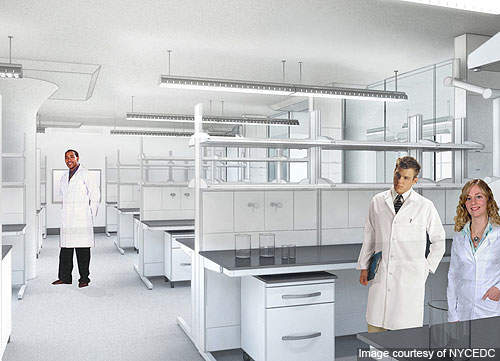 Rendering of a laboratory.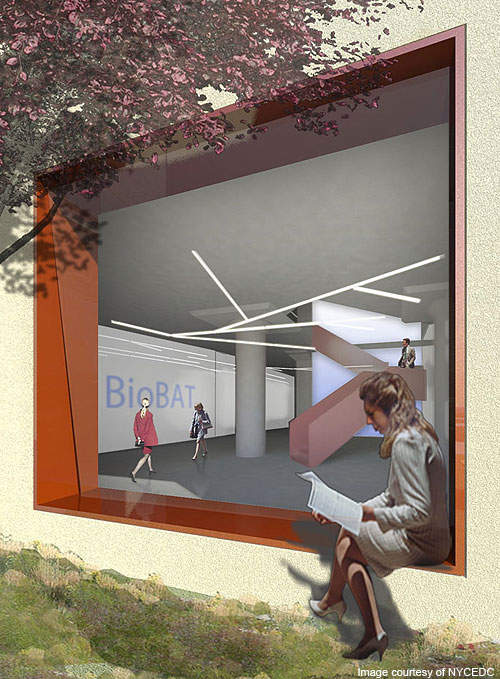 BioBAT lobby.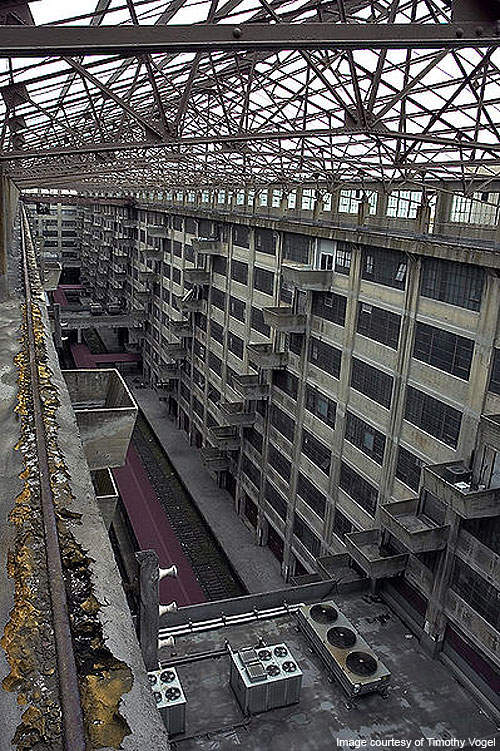 Brooklyn Army Terminal atrium building.
BioBAT, a research and biomanufacturing project, is a non-profit partnership between New York City Economic Development Corporation and the State University of New York Downstate Medical Center through the SUNY Research Foundation. Also called the New York Science and Technology Center, the proposed project will be developed at the Brooklyn Army Terminal (BAT), a 97 acre, two building complex located on the Brooklyn waterfront.
Construction of the $60m project had begun by the end of 2010. The project is expected to create over 1,000 full time jobs.
The centre will provide life science research, development and manufacturing space to multiple tenants ranging from start up to late stage companies. Every year, universities in New York City churn out nearly 20 early stage bioscience companies that fail to secure space. The project aims to support such companies associated with nine of New York City's premier academic medical and research institutes. The project will additionally provide space to companies that are looking to relocate to New York from other states.
In 2008, the International AIDS Vaccine Initiative became the anchor tenant, occupying 36,000ft² on the eighth floor of the building, for its AIDS Vaccine Design and Development Laboratory. The first tenant for the new BioBAT facility will be Apath, a company focusing on Hepatitis C research in SUNY Downstate's incubator in Brooklyn.
"The first tenant for the new BioBAT facility will be Apath."
Project development
The project will be developed in a phased manner.
Construction work was originally scheduled to start in 2009 but was stalled due to the global financial crisis.
Phase one of construction, involving 56,000ft² of space including three floors (the dock level, level one and level two), will be completed by 2011. Phase one will also include infrastructure and base building work, and the development of an energy source for power. The second phase of development will involve the construction of modular wet lab space, office space and necessary support systems including HVAC, plumbing and electrical systems.
Building A
The bioscience center will occupy 500,000ft² of Building A, the first building within BAT's 4m ft² of building space. Building A is an eight-storey building that has remained idle for several years.
This facility will house research laboratories, research support facilities, commercial offices and manufacturing areas. Tenant spaces from 5,000ft² to 56,000ft² will be available for bioscience research, manufacturing, universities and non-profit research organisations.
Finance
The project is being financed through city and state funds. Approximately $12m has been invested by New York City. State funding amounts to $48m.
"The project was originally contracted to Phase 3 Properties, a San Diego-based developer."
The initial funding will be directed towards infrastructure upgrades and to prepare the initial space for renting. Additional funding will be generated through tenant rents and federal tax credits.
In addition, in June 2010, the project received a $2.5m grant from the US Economic Development Administration (EDA) to renovate a section of Building A. The EDA grant will be used towards the project's second phase.
Contractors
The project was originally contracted to Phase 3 Properties, a San Diego-based developer. The company, however, left the project in 2009 as it was unable to secure the required funding.
The city is looking for a replacement construction and leasing manager.
BAT
Formerly known as US Army Military Ocean Terminal or the Brooklyn Army Base, the Brooklyn Army Terminal (BAT) was constructed in 1919 and served as the largest US military supply base during World War II.
Designed by renowned architect Cass Gilbert, the terminal shipped 85% of army equipment and personnel. It was sold to New York City in 1981. Following a large scale $127m renovation, the terminal was transformed into a commercial industrial complex by 2001. Space at BAT is leased and managed by the New York City Economic Development Corporation.