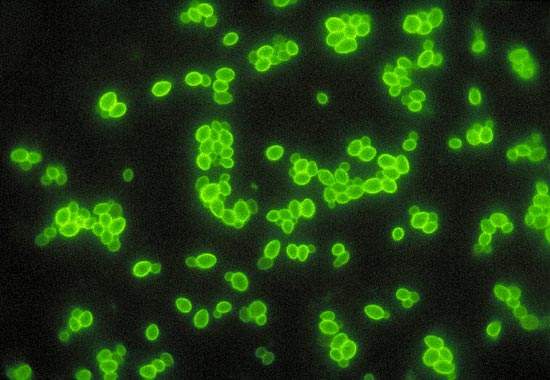 Yeast cells visualised with a fluorescent dye.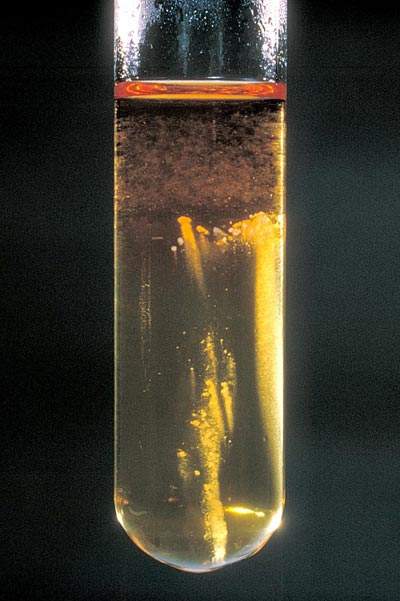 Bacterial culture prior to inoculation to large-scale.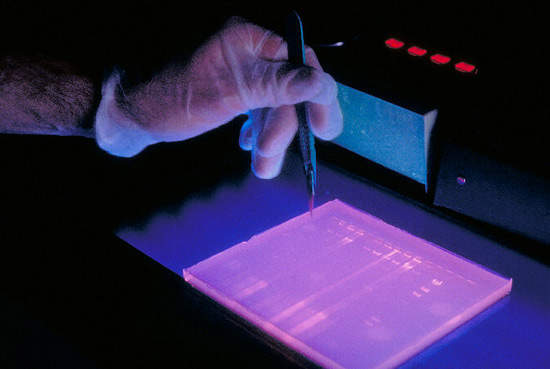 Checking DNA profile of new cell line.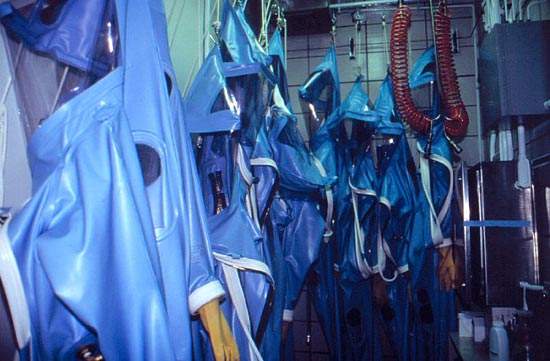 Level 4 microbiological containment suits.
The National Biomanufacturing Centre (NBC) is a biotech plant constructed on a 60,000ft² plot on the Estuary Commerce Estate in Speke, near Liverpool, UK.
Construction of the new facility was the UK government's response to a 1999 report that cited a chronic lack of facilities for the production of small-scale biopharmaceuticals in the UK at that time.
In 2000, Professor Julian Crampton (Liverpool University) proposed the construction of a small-scale biomanufacturing facility in Merseyside. In 2001, a government pharmaceutical industry competitiveness task force reported "that biopharmaceutical manufacturing technology should be a key focus".
The NBC proposal received initial funding from the Department of Trade and Industry (DTI). This was followed by support from Bionow, the Northwest Development Agency's (NWDA) biotechnology programme. Construction of the NBC started late in 2003 and the centre was structurally complete in May 2005.
National biomanufacturing centre operators
Eden BioDesign was awarded the contract to operate the NBC. Eden BioDesign is an offshoot company of Eden Biopharm, a biopharmaceutical product development and manufacturing consultancy, based in Ellesmere Port, Cheshire.
"NBC was a response to a 1999 report citing a chronic lack of small-scale bio-pharmaceutical facilities."
Eden BioDesign was appointed because of its extensive expertise in biopharmaceutical manufacturing, from process design to manufacturing of licensed biotech products.
Dr Crawford Brown, chief executive of Eden BioDesign, said: "Our goal will be to rapidly establish the NBC as the leading European facility for the design of biopharmaceuticals and the manufacture of these innovative medicines for pre-clinical research and clinical trials."
Eden BioDesign also contributed £2m to the upkeep of the NBC.
Facility design at Speke
The NBC facility was designed as a single-storey modular building to facilitate easy access and communication. This made it easier to install equipment and will also allow easier updating or extension of manufacturing facilities in the future. The facility floor area is approximately 4,100m².
The plant has three GMP suites with the ability to manufacture biopharmaceutical products from mammalian, microbial and viral sources. The suites have been designed to bio-containment (ACDP and ACGM) category 2 and are fully compliant with the latest EU and US GMP guidelines.
There are also three process development suites, with dedicated upstream and purification areas and equipment fully capable of producing preclinical material and formulation facilities.
The facility will be able to carry out GMP manufacturing Phase I and II but will use a partner for GMP Phase III manufacturing.
There are also fully equipped quality control and analytical development laboratories for biopharmaceutical batch release and in-process testing. For the storage of raw materials, media and products there is an extensive cold room and both ambient and cryostorage warehousing facilities.
"In November 2008 Eden Biodesign announced it was securing three contracts worth a combined value of $2.97m."
Timelines
Construction of the NBC started at the end of 2003 and the centre was structurally completed in May 2005. The fitting out of the centre continued through 2005 and was opened in February 2006 following validation to cGMP standards and the required commissioning of equipment.
The plant has gone through its final checks and was ready in mid-2006 to start manufacturing products. By May 2007 the NBC had been cleared by the Medicines and Healthcare products Regulatory Agency (MHRA) to produce investigational medicinal products for use in clinical trials.
Onyvax contract
In April 2006 Eden Biodesign and Onyvax Limited, a biotechnology company developing novel cancer therapies, announced a commercial agreement where Eden will supply cGMP clinical manufacturing services to Onyvax for its cell vaccine programme in ovarian cancer.
The NBC Access Fund, a £2.7m fund launched by the Northwest Regional Development Agency (NWDA) will provide supporting finance for the programme which will take place at the NBC. It is the first programme to be awarded financial support. The access funding allows Onyvax to take advantage of the leading development and manufacturing expertise of Eden Biodesign, which was appointed by the NWDA to run the NBC.
The NBC opened for business in February 2006 and will become Europe's leading biopharmaceutical design centre.
"In April 2006, Onyvax Ltd announced Eden Biodesign would supply cGMP services for its cell vaccine programme in ovarian cancer."
Anthony Walker, of Onyvax, commented: "This agreement marks an important step in the development of Onyvax's pipeline. This ovarian cancer vaccine is based on the same technology as Onyvax-P, the company's lead product for prostate cancer that has generated encouraging results in Phase IIa clinical trials. We hope to roll out the technology to a range of other cancers over the next few years and hope to start clinical trials in ovarian cancer in 2007/2008."
Dr Linda Magee, NBC project director for NWDA, also commented: "We are delighted to be delivering genuine practical assistance to UK biotechs in meeting the stringent requirements for manufacture of clinical products through the support of the NBC programme.
Onyvax has an exciting product technology that could in future deliver huge benefits to cancer patients worldwide."
NBC new contracts
In November 2008 Eden Biodesign announced it was securing three contracts worth a combined value of $2.97m. The contracts cover a combination of development and manufacturing services and are expected to lead to significant further sales.
Two of the deals are with new clients, one based in Asia and the other in Europe. The third contract is for a new therapeutic with an existing UK client.
Other deals include:
Heptacure, an ongoing project to develop a biomanufacturing process methodology for a new two-in-one hepatitis vaccine (February 2008)
Cancer Research in August 2007 for consultancy, process development and manufacturing services for two gene therapy products: Ad-hTR-NTR for advanced intra-abdominal cancer and Ad.CP62 for head and neck cancer
Borean Pharma for the manufacture of preclinical amounts of the new anti-cancer drug candidate, MBP-DC-SIGN, (based on the Mannose-Binding protein (MBP) platform)
University of Birmingham to develop and produce novel therapeutic candidates for treatment of autoimmune diseases such as MS and rheumatoid arthritis
University of Manchester Intellectual Property (UMIP) to provide services for development of a drug for treating macular degeneration and cancer
ImmBio development and manufacturing services for a leading influenza vaccine programme (May 2007)
Expansion plans
In June 2008 Eden Biodesign confirmed it would be expanding to the US with the announcement of a new facility in the highly coveted biotech hub, Research Triangle Park in North Carolina.
The new plant will build on the strong track record of Eden Biodesign in the UK and offer a range of cell/line development and early process development services.
"Onyvax has an exciting product technology that could in future deliver huge benefits to cancer patients worldwide."
NBC designers and contractors
The NBC design and construction team included five different companies. Gleeds was the project manager and was responsible for quantity surveying and cost management.
The Fairhursts Design Group was the principle architect. Faber Maunsell was the mechanical and engineering consultant. Arup were responsible for the structural engineering, civil engineering and process engineering and was the main contractor for the construction.
Weatherwise was responsible for the building 'outer skin' providing standing seam and single ply membrane roofs along with Kingspan Optimo flat panel walls with the required windows, curtain walling, louvres and doors.
The validation consultants were SembCorp Simon-Carves. The building project management was shared with the Liverpool Land Development Corporation.
NBC finance and employment
A £9.74m grant was agreed from Merseyside's Objective One programme for the NBC, £3m having already been invested by the DTI. The majority of the remaining funding came from the NWDA.
Bionow was instrumental in raising and coordinating the project funding of £34.25m from both private and public sources during 2002.
The NBC project has also included an access fund of approximately £2.7m to assist qualifying Merseyside and UK Small and Medium Enterprises (SMEs) to purchase services from the centre. More than 100 temporary construction jobs were created during the facility construction. Although the facility employs only 100 staff directly, it is estimated that more than 850 jobs will be created by companies investing in the area as a result of the facility.