Biopolis is a biomedical research and development hub in Singapore. Credit: Jeff Liou / Shutterstock.
The Biopolis development project is being undertaken by JTC Corporation. Credit: lucarista / Shutterstock.
Phase six of Biopolis will address the demand from biotech start-ups. Credit: Jeff Liou / Shutterstock.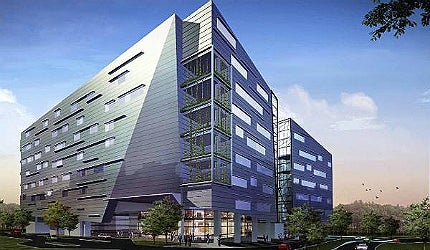 Biopolis is a custom-built biomedical research and development (R&D) hub at One-North, Buona Vista, Queenstown, Singapore. Covering 183ha of land, the hub is aimed to benefit a range of disciplines.
The development is situated adjacent to the National University of Singapore, the Institute of Technical Education, Singapore Polytechnic, the National University Hospital, the Singapore Science Park, and the Ministry of Education and Fusionopolis (an R&D centre dedicated to electronics and technology).
The Biopolis campus was created to provide space for biomedical research that could promote collaboration between private companies and public scientific or educational bodies. Biomedical sciences (BMS) accounts for 6% of Singapore's gross domestic product (GDP), and BMS manufacturing output in the country stands at more than S$23bn ($17.3bn).
The Biopolis development project is being undertaken by JTC Corporation (formerly Jurong Town Corporation), a government agency that champions sustainable industrial development.
Phase one and two of Biopolis
The first phase of Biopolis' development was carried out by JTC, which was appointed in September 2000, and required an investment of more than S$500m. Opened in 2003, the phase one complex has a cluster of seven sky-bridge connected buildings, each one 8-13 storeys high. The phase one complex has 185,000m² of floor space and can house more than 2,000 employees.
The seven buildings have been named Chromos, Helios, Centros, Genome, Matrix, Nanos and Proteos. Chromos and Helios are used by biomedical companies from the private sector, with the other five buildings used by public-sector biomedical research agencies from the Agency for Science, Technology and Research (A*STAR).
The second development phase consists of two additional seven-storey buildings, Neuros and Immunos (for research into neurology and immunology). It was opened in 2006 at a cost of $70m and offered a further 37,000m² of floor space.
Tenants of the complex include pharmaceutical companies such as GlaxoSmithKline and Novartis, as well as the biotech firms SingVax and CombinatoRx. Biotech company Austrianova is located in the 'biopreneur' lab at A*STAR's Bioprocessing Technology Institute.
Biopolis third phase details
Construction on Biopolis' third phase began in April 2008 and was completed in January 2011. This phase added two buildings, Synapse and Amnios, measuring 41,505m² in total. It has rendered space for laboratories, research facilities, offices and retail operations. The buildings are each five to seven storeys high and share two interconnecting basement levels.
The estimated investment for the development, excluding land premium and rent, comes to around $100m.
The third phase is intended to extend basic research activities into other segments of translational and clinical research, as well as medical technology research, to tap into synergies within the Biopolis cluster.
The architectural design maximises the use of daylight, while the facade reduces direct sunlight on the building and minimises heat gain. The building's green features include a courtyard garden, sky garden and energy-efficient lighting, including T5 fluorescent and LED lights.
Details of phases four and five
In January 2010, JTC announced the fourth phase of Biopolis' construction, which included improvements to lab design for clinical trial support.
The construction of this phase was estimated to cost between $80m and $100m, raising Biopolis' total cost to $700m.
JTC announced the fifth phase of Biopolis in June 2010, with the intention of catering to increasing demand for biomedical research. This phase comprises twin towers spread across a 9,621.4m² area, providing a gross floor area of 46,182m².
Phase five features a 1,000m² ready-made laboratory, known as Shell-Plus. The laboratory consists of basic lab facilities and finished vinyl flooring.
Construction of the fourth and fifth phases was completed in 2013. The fourth phase added the Singapore Innovation Centre, owned by multinational company Procter and Gamble, which has a floor space of 32,000m². Phase five added 46,000m² of floor space to Nucleos for pre-clinical trials.
Details of phase six
In November 2019, Singapore's Senior Minister of State for Trade and Industry Koh Poh Koon announced that Biopolis phase six would be built by mid-2022 to address demand from biotechnology start-ups.
Biopolis' sixth phase is due to include 35,000m² of business park space for biomedical research and related activities, with another 6,000m² for office and retail use. The development aimed to 'liven up' the One North community by adding activity spaces, fitness corners, and a park with a playground.
To accommodate biomedical start-ups, 2,000m² of Biopolis space will be fitted out as semi or fully-furnished laboratories. These will be equipped with lab benches, waste drainage and exhaust provisions.
JTC launched the two-envelope concept and price tender for Biopolis phase six in August 2019, and closed the tender at the end of the year.
Contractors involved
JTC awarded Biopolis' third phase to Singapore-based company Crescendas Group under a design-build-own-operate basis, with a 30+30 year lease. Crescendas Bionix, a member of Crescendas Group, is the vehicle for the project. The consultants for this phase of the project were Singaporean infrastructure company Jurong Consultants.
Major sub-contractors for the project included Jurong Consultants, structural engineer Parson Brinckerhoff, landscape consultant Tinderbox Landscape Studio, and ESD consultant Building System and Diagnostics.
In May 2011, Singapore-based real estate company Ascendas was awarded the construction contract for the project's fifth phase for a value of $87m.
In March 2020, JTC awarded the concept and price tender for the project's sixth phase to HB Universal Pte Ltd, a subsidiary of property company Ho Bee Land.