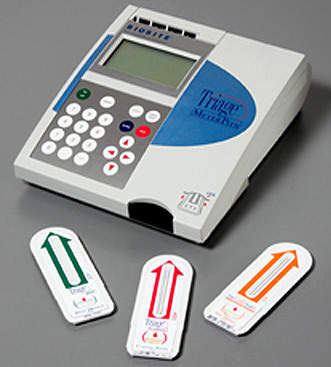 Cardiac profiler testing apparatus used to examine blood from cardiac patients and aid diagnosis.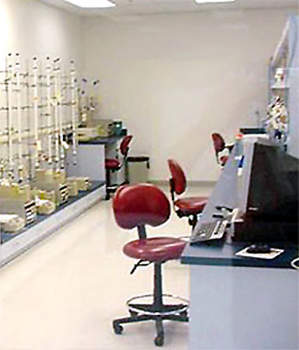 One of the R&D laboratories.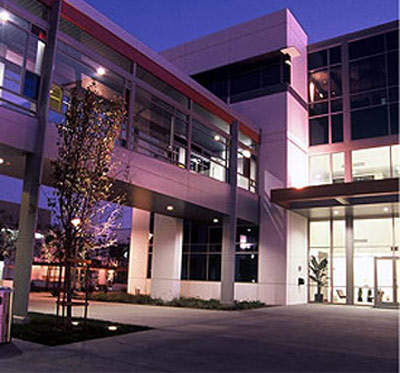 Part of the new headquarters and campus buildings.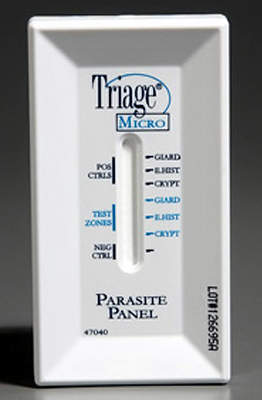 The triage parasite panel is an enzyme immunoassay used for the detection of antigens and is used as an aid in the diagnosis of intestinal parasitic disease.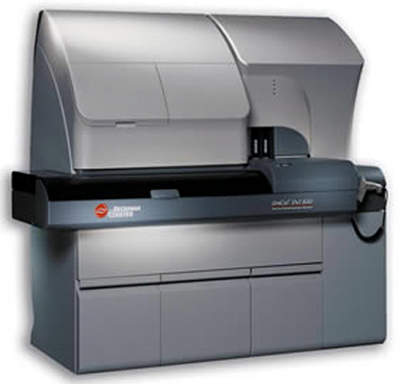 Biosite has broadened its BNP product line to include the triage BNP test for Beckman Coulter immunoassay systems.
The Biosite headquarters and manufacturing unit in Mera Misa, San diego, California was completed in August 2006. Biosite produces a range of commercial proteomics diagnostic test-kit devices for the medical diagnosis market.
Biosite was founded in 1988 and its original campus, with 180,000ft² of space and nine buildings, was located on Roselle Street in Sorrento Valley, west of Interstate 5. The company decided in September 2003 to build a new headquarters and manufacturing campus at Mira Mesa in the Sorrento Mesa area of San Diego to bring all its activities under one roof.
The 34 acre site (26 acres for building) for the campus at the Fenton Technology Park cost $28.2m. The first phase, including land, cost $110m. Biosite has over 1,050 employees.
"The company decided in September 2003 to build a new headquarters and manufacturing campus at Mira Mesa to bring all its activities under one roof."
Takeover in 2007
In April 2007, following the successful move to the new campus, Biosite was approached by Beckman Coulter with a takeover deal ($1.55bn). This was initially accepted and was going through, however the deal fell through because Biosite believed it could get more for the company.
By May 2007 another suitor had offered around $1.58bn for the company. Inverness Medical Innovations agreed to buy Biosite for $92.50 a share in cash. The deal was completed in June 2007.
Local incentives
City of San Diego Community and Economic Development Department (SDEDC); BIOCOM/San Diego, a local arm of the national industry organisation; and the San Diego Chamber of Commerce, have all helped Biosite in the construction of the new campus.
SDEDC in particular has been helpful in getting Biosite's permits expedited. HG Fenton Co, which built a 125,000ft² of general office space in Sorrento Mesa, linked the project to the new corporate headquarters for Biosite.
Phase one construction
The first phase of the project included four buildings totalling
380,000ft², and consists of two three-storey buildings and two two-storey buildings. The buildings were built using structural steel interior framework with site cast concrete panels, while the exterior façade is glass and aluminium. The building won the 2007 Tilt-up building award in 2007 from the American Concrete Institute in San Diego.
This first phase was completed in the fourth quarter of 2005. There is 116,000ft² of office space, 40,000ft² of R&D space, 120,000ft² of biotech laboratories and manufacturing laboratories and 49,000ft² of warehousing and future expansion space.
The campus contains all of the Biosite Diagnostics facilities, including FDA-validated medical device manufacturing, various types of lab space, research facilities, quality control, warehouse, distribution, as well as administrative and office space.
Pillsbury Winthrop Shaw Pittman handled real estate matters in connection with the new corporate headquarters. The general contractors for the project were Reno Contractorfor the project was Reno Contracting and the architect was Delawie Wilkes Rodrigues Barker of San Diego.
Siemon provided and installed the electrical and IT cabling for the campus and laboratories/manufacturing areas using their industrial Maxä connector system. . Bergelectric and ILA + Zammit Engineering Group provided electrical infrastructure and utilities for the project.
Building 8
Building 8 of the campus construction included a 50,000ft² conversion of office space to medical device facility, including the installation of lyophiliser, auto assemblers, packaging equipment and a production chemistry lab/organic lab. This facility was validated and operational by mid-2006.
Phase two construction
The build-out phase of the campus was phase two. It comprises
approximately 800,000ft² of new R&D laboratories, manufacturing, car parking and office space giving a total of nine buildings including a parking structure.
The phase two construction work got underway as planned in mid-2007 and was completed in early 2009. The initial move to the new campus was completed by late 2006.
Biossite products
Biosite has expertise in technology relating to immunochemistry and, more particularly, to biochemical techniques for antibody screening and immunoassay procedures. Biosite also has expertise relating to chemical techniques for the development of immunogens and conjugates useful as antibody targets for the production of, for example, monoclonal antibodies.
One of the company's best known and most important products is the BNP Triage test, which was developed to work in conjunction with Beckman Coulter equipment.
"Biosite has expertise in technology relating to immunochemistry and, more particularly, to biochemical techniques."
BNP (B-type Natriuretic Peptide) is a hormone first isolated in 1988. BNP along with a related hormone atrial natriuretic peptide (ANP) are a dual natriuretic system, which acts to regulate blood pressure and fluid balance in the body.
The heart ventricles produce BNP in response to overload and distress (which can occur in heart failure). Therefore, the level of BNP is a good non-invasive test for the severity of emergency heart conditions. The BNP assay is used to determine BNP levels in the blood and is a valuable diagnostic aid.
Other Biosite cardiac test products include the Triage Cardiac Panel, Triage CardioProfilER (heart attack severity diagnosis), Triage Profiler S.O.B and the Triage D-Dimer Test.
Packaging at Biosite
Biosite blood analysis sets contain 25 separate strip packs, 25 pipettes in a carton, a roll of paper, an electronic EPROM module – packaged in a clam shell – as well as five pack inserts and brochures. The blister packing has to be very precise since all of the contained products are very expensive and delicate.
The company decided to use a vertical cartoner (top loader) from Uhlmann. The eight module top loader (T 2060) quickly and reliably packages and labels the separate products in cartons, attaining maximum output in six steps and producing 20 completed packs per minute.
Uhlmann VisioTec provided control and automation equipment for the packaging line; VisioRead cameras and a Laetus scanner monitor the processes. The machine concept also allows a fast switch to new types of products if required. The packaging line was installed in September 2006.