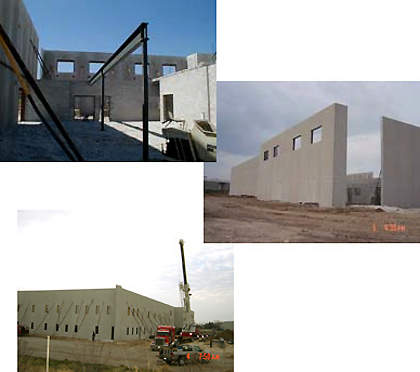 Construction of the first floor of the new API production facility.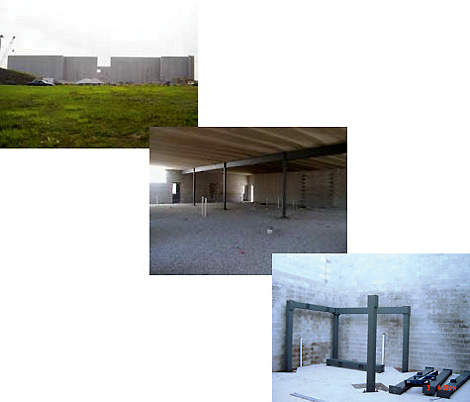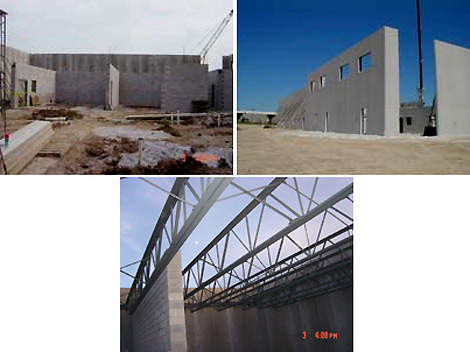 [top] back view of the facility [middle] area where pilot plants will be installed [bottom] area where 500 gallon reaction vessel will be installed.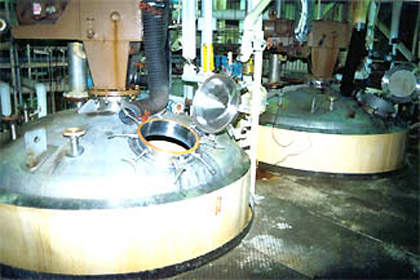 Images showing building work with emphasis on roof construction.
Cambridge Major Laboratories constructed a large active pharmaceutical ingredients (API) production facility in Germantown, Wisconsin, US in 2004. The 60,000ft² facility, costing $6.2m, was completed and ready for validation by the last quarter of 2004 and was opened in the same year. The Washington Drive facility was constructed on new industrial park on the east side of Germantown. The facility was built to allow the company to compete more effectively for larger-scale custom API synthesis projects.
Cambridge Major manufactures APIs for pharmaceutical and biotechnology companies in the US and internationally. The company operates at Edison Drive Facility in Wisconsin. Because of its growing commercial manufacturing projects and developmental pipeline, Cambridge Major Laboratories shifted its operations to a larger facility at Grant Drive, Wisconsin in 2009.
Construction work on the Grant Drive facility began on 5 June 2008. The facility was opened on 30 July 2009. It is built in an area of 125,000ft2 and required an investment of $40m. Supporting commercial and clinical-scale API, this site incorporates HVAC controlled by a building automation system (BAS) to monitor the temperature, pressures and humidity of the processing areas with separate air handling units. With four API suites and two speciality suites for hydrogenation and cryogenics, the site has capabilities to provide API manufacturing.
Construction and facilities
The Washington Drive facility incorporates 26 reactors ranging in capacity from 50 to 500 gallons with temperatures ranging from -90C to +155C. There is speciality equipment to handle large-scale cryogenics and hydrogenation reactions. Two main reactor bays handle 500 gallons each.
The site also includes two mini pilot plant suites, five Good Manufacturing Practice (GMP) kilo lab suites, four process R&D laboratories, a spectroscopy suite and two high potency suites. The intention behind the facility was to increase the scope of the company by the addition of the potential for large-scale manufacturing in addition to R&D and small-scale production of clinical and commercial APIs.
"The capacity of the existing installations at the plant totals 18,000 gallons of API."
The facility has technologies including a process control plant and HVAC systems controlled by a building automation system for the API development from early pre-clinical to post-new drug application commercial production.
The company believed that by consolidating R&D and GMP manufacturing under one roof (at the Grant facility) it can take projects from preclinical development to the regulatory filing stage and further.
In this way the cost of technology transfer in scale up procedures can be minimised and revalidation of projects at a new site avoided.
As the Edison Drive facility had reached the maximum of its operating capacity, the Grant Drive facility is designed to incorporate six manufacturing suites. The plant has four API suites of about 2,000 gallons and two speciality suites for hydrogenation and cryogenics and latest technologies which facilitate API manufacturing.
The capacity of the existing installations at the plant totals 18,000 gallons of API and has an expansion capability of additional 30,000 gallons in future. The company has installed thermal oxidiser equipment at the plant for compliance with EPA and DNR air quality standards and a tank farm for efficient and cost effective use of solvents.
In future, it can accommodate additional manufacturing suites up to 4,000 gallons. Delivery of API with no technology transfers or revalidations of processes and suppliers in an integrated facility was done to cut time and costs.
Plant outfitting
The Washington Drive facility was outfitted with equipment acquired from various chemical plants in North America, which were closed down due to the economic downturn. In particular, the assets of the former Oread API plant were acquired in 2002. The whole pilot plant was purchased by Cambridge Major for $5m.
The plant still required two 500-gallon reactors, which were custom made, as well as solids handling equipment, glove box technology and other process and analytical instrumentation. The two-storey plant also includes low-temperature storage facilities for temperature and light sensitive reagents and warehousing facilities for APIs.
"The company transferred its equipment to the Grant Drive facility."
Cambridge Major past and future
The company transferred its equipment to the Grant Drive facility. The small size of the Edison Drive facility at 13,000ft2 was a factor that put off potential customers, but the new facility will make up for this. The company focuses on niche (low volume and orphan) commercial APIs. This means the company has the smaller manufacturing capacity to produce these specialist compounds for a viable cost.
The new facility allows the company to handle larger-scale commercial runs of tens of metric tons of API material and advanced pharmaceutical intermediates for major drug manufacturers. Cambridge Major would like to attract custom from mid-size pharmaceutical companies specialising in generic and branded drugs.
Cambridge Major operates in three facilities in the US and at the Weert facility (formerly ChemShop BV) in the Netherlands.