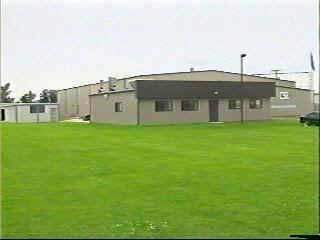 The exterior of the expanded Harrisonville pharmaceutical manufacturing facility.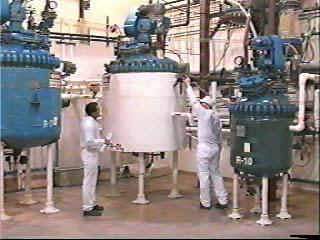 The main reactor room at Harrisonville.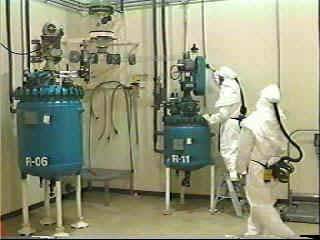 The isolation suite at the Harrisonville plant.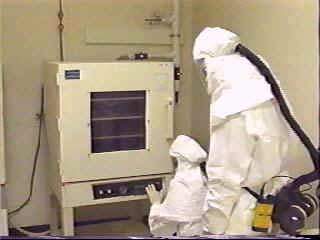 The drying/packaging suites.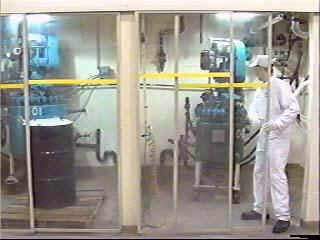 Isolation hoods at the facility.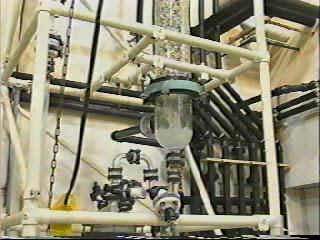 The Schott Scrubber system.
ChemSyn Laboratories (now Aptuit), a leading producer of anti-cancer bulk pharmaceuticals and other high potency chemicals, has announced the opening of a $5m expansion of its anti-cancer pharmaceutical manufacturing plant in Harrisonville, Montana in March 1999.
The plant produces high-potency active pharmaceutical ingredients (APIs) for the eventual production of anti-cancer medicinal products by the company's third-party customers. The majority of these chemicals are highly toxic and have to be produced under specialised cleanroom conditions, using barrier methods and special reactors.
ChemSyn Laboratories is a department of Joplin, Montana-based EaglePicher Pharmaceutical Services. EaglePicher provides products and services to the aerospace, telecommunications, semiconductor and pharmaceutical industries and had annual revenue of about $900m. Leading suppliers to the plant were Pfaudler (reactors), Buchii (chemreactor), Hamicon and Hastelloy (filter equipment).
COMPANY SOLD
In October 2006 an offer was made for EaglePicher Pharmaceutical Services by Aptuit. The deal included the Harrisonville facility and also another plant in Lenexa, Kansas. This represented the entire pharmaceutical services division of EaglePicher. EaglePicher had to sell its pharmaceutical division as part of the restructuring of the company after going into Chapter 11 bankruptcy in August 2006.
Aptuit is now in a position to offer various a number of new services to customers, including: process development, novel route development, pre-clinical drug substance supply, clinical/commercial drug substance supply, radio synthesis, small-scale commercial supply and technology transfer.
UPGRADING
The current facilities at Harrisonville are configured to provide from milligram to tonne scale production across the board. Aptuit will now make significant investments in the API operation in 2007–2008 to upgrade the Harrisonville facility and install new facilities. These include new lab-based process development and kilo lab capability, while the plant's regulatory profile is set to improve.
PRODUCTION AND DEVELOPMENT SUITES
The plant features up-to-date barrier technology, including glove box isolation systems. The plant is divided into three suites: One is used for developmental work, and two are production suites. Each of the three suites has its own separate air-handling systems and access/egress points.
One suite is a glassware laboratory used for preclinical and development work. The room is outfitted with a 100l Buchii Chemreacter, a walk-in hood for glassware up to 50l and a glove box for product isolation and packaging.
The second and third suites are nearly identical production suites. One has a 30-and 100-gallon glass-lined reactor; the other contains a 100-gallon glass-lined reactor and an open bay for a second reactor. Both rooms employ CIP systems and contain custom-designed isolation glove boxes that filter, dry and package products, thus eliminating employee exposure and the risk of cross-contamination with other drugs. The plant has class 100,000 cleanrooms for use in development and production.
PROCESS EQUIPMENT
The process equipment available in the plant is made of reactors and process vessels. The reactors range from a 10-gallon glass-lined to 300-gallons glass lined (Pfaudler model). There are also a 30-gallon and 300-gallon stainless steel Pfandler reactors.
Other process equipment is a 50-gallon and a 75-gallon glass lined kettle, 80-gallon miscellaneous receivers, a 50-gallon and a 200-gallon glass lined receivers, and a 1,580-gallon storage tank.
"Aptuit will now make significant investments in the API operation in 2007–2008 to upgrade the Harrisonville facility and install new facilities."
GLASSWARE
The glassware is made of microware fitted, 72l flasks, together with a 100l Buchii chemreactor.
COOLING AND HEATING
The equipment for the cooling and heating function of the facility is made of a Dow frost chillier (720,000BTU/hr at -30°C), a supersaturated steam (150°C at 75psi), and a hot oil system for higher temperatures.
BLENDERS
The blenders employed are of different types. There is a stainless steel ribbon blender (3ft³ working capacity), a twin shell V-blender (1ft³), and a twin shell V-blender (16qt.).
DRYERS
There are four different types of dryer employed for the facility operations. A stainless steel rotary cone dryer (5ft³ working capacity), a stainless steel vacuum oven (7.5ft³), a stainless steel stokes vacuum tray dryer, and a freeze-dryer (12l).
DISTILLATION EQUIPMENT
The distillation equipment used are a rotary evaporators (10 and 20l), stainless steel wiped film evaporator (0.25ft²), and fractionation column (15 HETP-3′ x 1″).
FILTRATION EQUIPMENT
Filtration equipment is of four different types, used according to the operation needs. There are stainless steel basket centrifuges, a Hastelloy sparkler filter, a stainless steel sparkler filter and an Amicon DC-10L dialysis-filtration system.