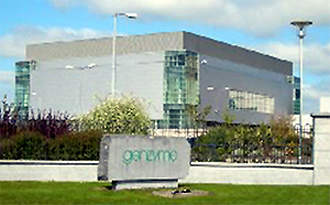 The main production building before the start of the new expansion.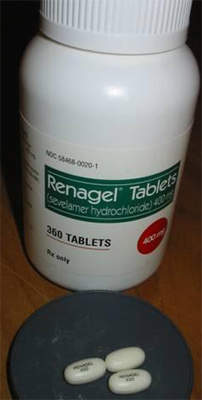 Renagel for dialysis patients.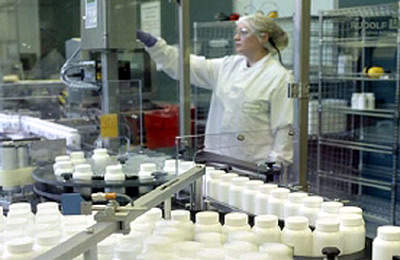 Process R&D at Genzyme, Waterford.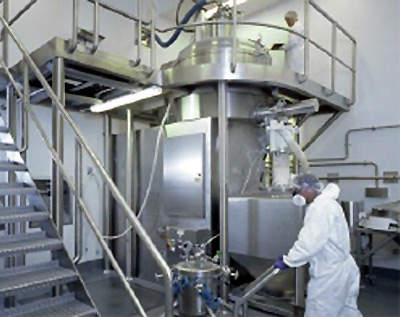 Media preparation for biologics manufacture at Waterford.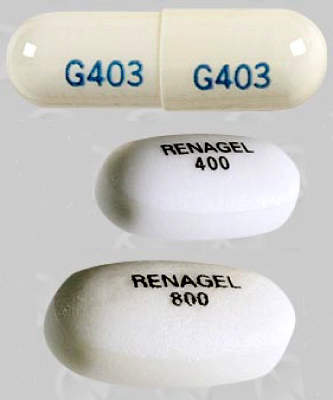 Some of the dosage forms for Renagel, including two tablet types and a new capsule.
Genzyme Corporation is one of the world's leading biotech manufacturers and announced the establishment of a manufacturing and packaging facility in Waterford, Ireland, in mid-2001 (Project Crystal). It has over 70 locations in 30 countries but has continually invested in its facility in Ireland.
The Genzyme Waterford campus is situated in the IDA industrial estate on a 31 acre site and was initially developed in two phases. The first two phases of development, which were completed in 2003 and 2005 respectively, saw the start of a multi-phased manufacturing investment for Waterford.
The overall operations consist of a solid-dose tableting facility, two packaging lines, a multi-dose and multi-scale development facility. The company had a total workforce in Ireland of 370 by the end of 2006. The total investment for the Waterford campus was €200m by the end of 2005.
Phase one
Phase one included the transformation of a 125,000ft² building into a state-of-the-art pharmaceutical facility (this was formerly the Luxottica plant), which now manufactures Renagel tablets (sevelamer hydrochloride), used in the treatment of kidney dialysis patients.
The plant was modified and refitted to include a new tablet suite, QA/QC laboratories, warehouse, offices and the refurbishment of existing associated support areas such as existing office space, reception, canteen, utility areas, toilet and locker rooms.
The facility is capable of handling a batch size of 50–100kg for solid dose formulations and up to 1,000l for liquid formulations.
"In April 2008 it was announced that Genzyme was expanding the Waterford campus again."
Process technologies include wetting / granulation, milling, blending, compression and film coating, oral liquid bulk manufacture and filling, sachet powder blending and filling.
The facility was designed and is operated in full compliance with safety and cGMP requirements appropriate to EU Grade D/Fed. Std. 209E Class 100,000.
Phase two
Phase two involved the construction of an 80,000ft² facility for the formulation and filling of biological proteins and enzymes (required an investment of €125m and was opened in September 2005). The fill / finish manufacturing facility incorporates a three storey (6,868m²) production building and associated central utility building and warehouse.
The plant was designed to be a multi-product facility capable of filling vials ranging from 5ml up to 50ml at speeds of 100–400 units per minute. The plant also processes products manufactured at other Genzyme sites.
Manufacturing processes include formulation, sterile liquid filling, lyophilisation (freeze drying) and capping followed by 100% vial inspection and labelling / cartoning. The liquid filling lines utilise isolation technology and an automated load/unload system is used for the lyophilisers. The fill / finish dosage forms are sterile, lyophilised powders in vials, and sterile liquid fill into vials that are administered as small volume parenterals.
Expansion of the production building
In mid-2005 Genzyme invested €6.11m to expand the process research and development facility for the tablet manufacturing plant producing Renagel. The expansion was necessary to the development of further product line extensions and to support clinical trial work.
The expansion allowed Genzyme to expand its capabilities to produce clinical supplies in two new dosage forms, as capsule and liquid, in addition to the tablet form. This multi-dosage development capability also established the Waterford site as a centre for the development and manufacture of future polymer and small molecule products into liquid and capsule forms as they obtain regulatory approval.
Construction started in 2006 on a new production building for the expansion of Renagel production and packaging into the new dosage forms. This new building involved a €60m capital investment.
This expansion also affects the fill / finish plant with several new product introductions coming in aside from the new Renagel forms, including Myozyme, for Pompe disease. The new expansions came on stream in 2007.
Renagel
Renagel is a polymer product for the treatment of patients undergoing long-term dialysis treatment. Renagel is the only calcium-free, metal-free phosphate binder which is able to control serum phosphorus levels in patients with chronic kidney disease on haemodialysis. The drug is used by more than 350,000 patients worldwide.
Contractors
The architect, quantity surveyor and engineer for the original tablet manufacturing plant was Jacobs Engineering. Construction managers were the Project Management Group (also responsible for some of the validation work) and curtain walling was supplied and installed by SIAC Architectural.
"Renagel is the only calcium-free, metal-free phosphate binder able to control serum phosphorus levels in patients."
General construction work was carried out by Rohcon Construction.
The main building is a three-storey building of beam and column construction with metal deck and roof deck. The original phase two contract also included ancillary buildings, pipe racks, a 2,500m²-high bay warehouse; a central utilities building; tankfarm and waste treatment facilities.
Nevin Construction was responsible for the cleanroom fit-out to accommodate the expansion of existing pharmaceutical packaging line. This work was carried out while the existing Renagel line one was fully operational.
The works carried out included removing the existing ceiling and replacing with a cleanroom grid ceiling, constructing of two reconciliation rooms, relocation of specialist rapid roll doors, installation of steel wall plates and bumper rails, repairing existing epoxy flooring and repainting on completion. The work was completed in September 2005.
New investments
In April 2008 it was announced that Genzyme was expanding the Waterford campus again. A further investment of €150m was made into manufacturing at Waterford. The latest phase enhanced the existing sterile fill/finish manufacturing capabilities and expanded the quality control (QC) laboratories, introduced softgel capsule manufacturing and provided new office space. This phase of investment created 170 jobs in manufacturing, quality and engineering, taking the total number of employees to over 600.
The additions to the biological fill/finish operations included the addition of a second isolated filling line, three new lyophilisers and required upgrades as well as new utilities and support areas. The expansion was undertaken to meet demands for new biological products such as Cerezyme (imiglucerase for injection) (Gaucher disease), Myozyme (alglucosidase alfa) (Pompe disease), and Thymoglobulin (Anti-thymocyte Globulin) (Rabbit) (acute renal transplant rejection).
The plans required an extension of the 6,800m² building for the extra equipment, quadrupling existing capacity to 250 fills per year. Construction began in summer 2008 and was completed by late 2009. Following validation and commissioning commercial production began in October 2011.
In addition, the project added 5,600m² of new offices, cafeteria and associated facilities, together with the expansion of the existing QC laboratories. The capacity doubled with additional microbiology, chemistry, stability and associated support areas. By 2010, the 37-acre Waterford site had absorbed total capital investment of more than €410m.
The expanded facilities were approved by the US Food and Drug Administration (FDA) and European Medicines Agency (EMA) in May 2012.
New dosage forms
The new softgel oral dose capacity at the newly validated second oral dosage facility at Waterford satisfies demand for Hectorol, the new doxercalciferol capsule formulation for the treatment of secondary hyperparathyroidism in patients with chronic kidney disease (CKD). The design work for this €6m programme was completed in 2009.