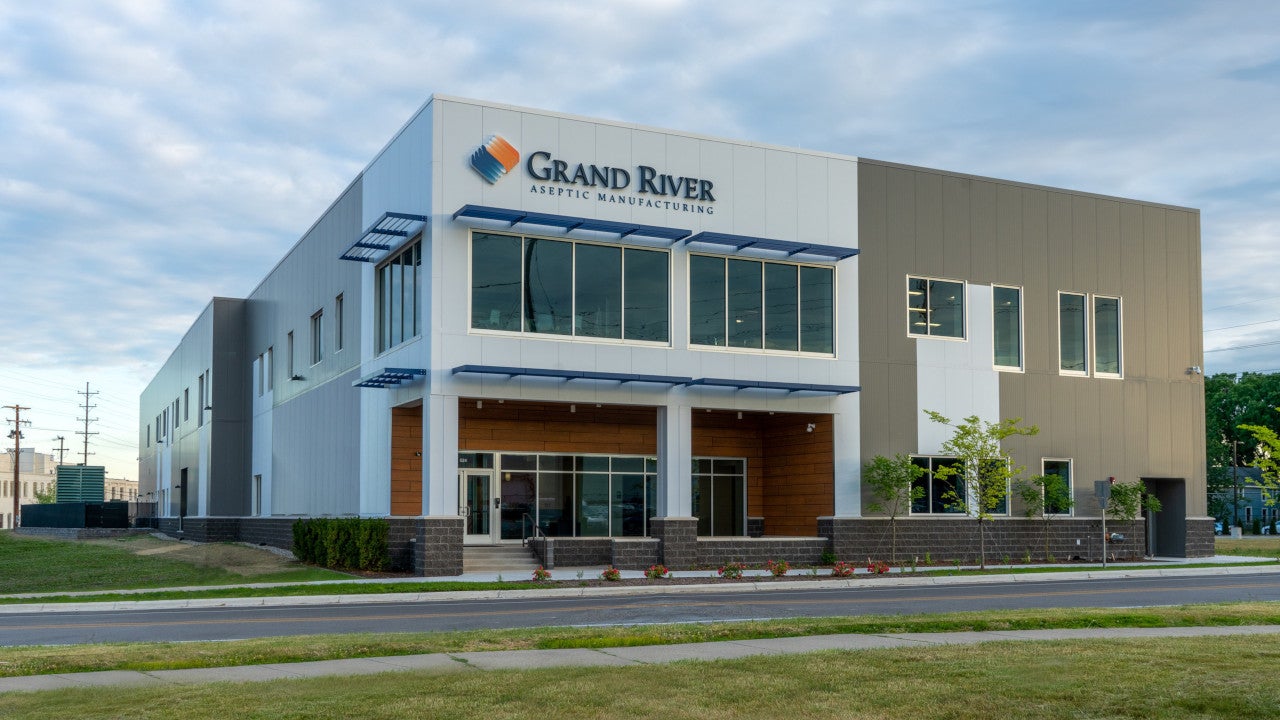 Grand River Aseptic Manufacturing (GRAM), a contract development and manufacturing organisation (CDMO), opened its third pharmaceutical manufacturing facility in Grand Rapids, Michigan, in June 2020.
Announced in October 2018, the large-scale injectable fill/finish facility was developed with a $60m investment. The facility has enabled GRAM to meet the growing demand for its products in the aseptic manufacturing market, as its other two facilities in Grand Rapids are running at near capacity.
The project created 107 jobs and supports West Michigan's pharmaceutical manufacturing sector.
Details of GRAM's new Grand Rapids facility
The pharmaceutical manufacturing facility is located at 524 Butterworth Street SW in Grand Rapids. To develop it, GRAM purchased a 1.5-acre parcel in the town near its existing facilities on Godfrey Street and Front Avenue.
In March 2018, GRAM signed purchase agreements with two separate parties to acquire the land. The company explored a number of locations in other states before deciding to expand in Grand Rapids due to the availability of a strong workforce and business environment.
The facility has a built-up area of 62,400ft² and has enough production space for high-speed, fully-integrated pharmaceutical manufacturing and packaging lines. It also includes state-of-the-art cleanroom space featuring new isolator technology.
The facility substantially expanded GRAM's existing 40,000ft² manufacturing and finishing space and improved the company's automation capabilities.
Financing for GRAM's pharmaceutical manufacturing facility
The Michigan Economic Development Corporation (MEDC) and West Michigan's economic development organisation, The Right Place, worked together to assist GRAM's operational expansion in Grand Rapids.
The MEDC approved a $1m performance-based grant under the Michigan Business Development Programme for the pharmaceutical manufacturing facility. A local PA 198 tax abatement from the City of Grand Rapids also supported the project development.
Washington-based private equity firm Arlington Capital Partners, a majority owner of GRAM, also funded the facility expansion.
The MEDC approved a $1m performance-based grant under the Michigan Business Development Programme.
Existing facilities of GRAM in Grand Rapids
GRAM's manufacturing facility in Front Avenue is an 11,400ft² US Food and Drug Administration (FDA) approved, current good manufacturing practice (cGMP) compliant facility.
In March 2018, GRAM expanded the capacity of the plant by adding a Colanar FSV syringe filler. The following month, the company installed a Bausch+Ströbel filler with a SKAN isolator at the plant.
The high-speed Bausch+Ströbel filler can fill 200 vials a minute, ranging from 2ml to 50ml. It is equipped with a vial washer, a depyrogenation tunnel and a filling machine.
The 28,000ft² finishing facility in Godfrey Street was opened in August 2014. It includes inspection, labelling, packaging and storage areas, as well as a large laboratory.
Contractors involved in the project
GRAM selected design and construction firm CRB Group to build the facility. CRB completed the project using its ONEsolution project delivery solution.
Marketing commentary on Grand River Aseptic Manufacturing
GRAM provides parenteral services such as pharmaceutical development and manufacturing, analytical testing, and regulatory filing support.
The company extends its formulation development and process development capabilities to develop large and small molecule products, as well as providing cGMP capabilities and assisting with the commercialisation of products.
The company's external testing laboratories are designed to enhance the analytical testing of products, including raw materials, finished products and stability samples.