Location of Iksan plant.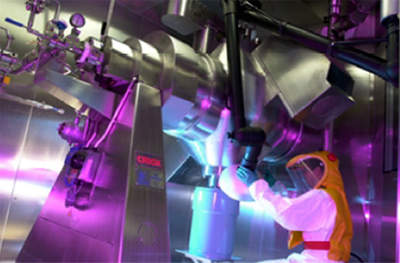 The facility was expanded further in 2001–2002.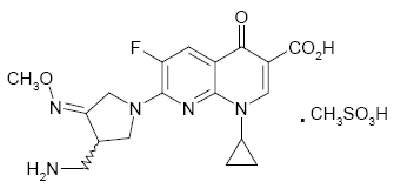 The structure of the Factive molecule.
The LG Chemical-Pharmaceutical Plant is owned by Lucky Goldstar Chemical (LG Chemical).
LG Chemical decided to invest in the plant as part of its strategy to expand into biotechnology and electronic materials such as rechargeable batteries. The company aimed to generate a steady return of profits from the petrochemicals sector to finance its investments in pharmaceuticals.
"The plant manufactures fluoroquinolone antibiotic pills under the brand name Factive."
LG Chemical expected its pharmaceutical business to grow from 3% of revenues in 1999 to 10% of revenues in 2006.
The plant is located in Iksan, which is in North Cholla province of South Korea.
In 2002, LG Life Sciences was formed into a separate division from LG Chemical and now trades as a separate entity.
Pharmaceutical plant construction
Construction at the plant began in the second half of 1998 and it was commissioned in January 2000. The cost of building the new plant was KPW50bn ($44.7m).
The plant manufactured fluoroquinolone antibiotic pills under the brand name Factive, which was used to treat pneumonia, bronchitis and urinary tract infections.
Expansion
LG Chemical expanded its Iksan facilities with another pharmaceutical plant in 2002 to develop and manufacture a hepatitis B treatment and LG's ZANIDIP hypertension medication and EUTROPIN human growth hormone.
In 2001, construction of a new plant at the Iksan site was completed for the manufacture of bovine milk production enhancer Boostin.
LG Chemical is diversifying into other forms of pharmaceutical drugs through a variety of partnerships with established pharmaceuticals companies such as Andys, Oscient Pharmaceuticals and Biogen Idec.
Factive antibiotic
The LG Chemical-Pharmaceutical Plant was designed to produce products for markets in East and Southeast Asia.
Factive is a synthetic broad-spectrum antibacterial agent for oral administration. It was approved to treat respiratory tract infections by the US Food and Drug Administration (FDA) in July 2003 after having successfully completed clinical tests involving more than 8,000 patients in 40 countries. Sales of Factive in the US began in 2004.
"Factive was approved by the US Food and Drug Administration in July 2003."
The FDA's approval benefitted the international influence the drug had on Far East markets. The antibiotic was marketed by GlaxoSmithKline (GSK) as part of a long-term contract agreed in 1997.
Gemifloxacin is a compound related to the fluoroquinolone class of antibiotics and available as the mesylate salt in the sesquihydrate form.
Each FACTIVE tablet has GE 320 debossed on both faces. It contains gemifloxacin mesylate equivalent to 320mg gemifloxacin.
The inactive ingredients are crospovidone, hydroxypropyl methylcellulose, magnesium stearate, microcrystalline cellulose, polyethylene glycol, povidone and titanium dioxide.
LG Chemical found the drug to be more popular than existing remedies because it was simpler to use. It was claimed to be effective with just one daily dosage, compared to two doses required by other Quinolone-class antibiotics. The treatment period of the new medicine was also shorter than existing Quinolone antibiotics.
The company claimed that the drug was potent against strains that were able to resist other common types of antibiotics.