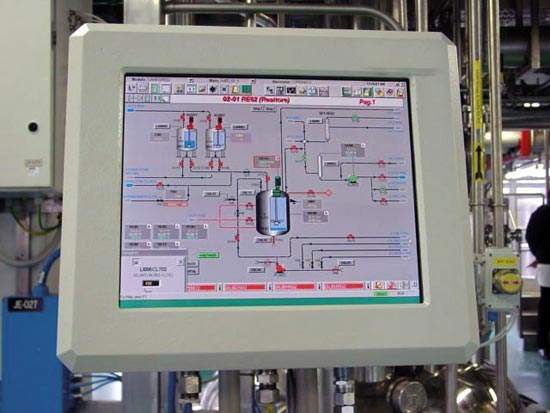 A remote operator station in the Indena plant.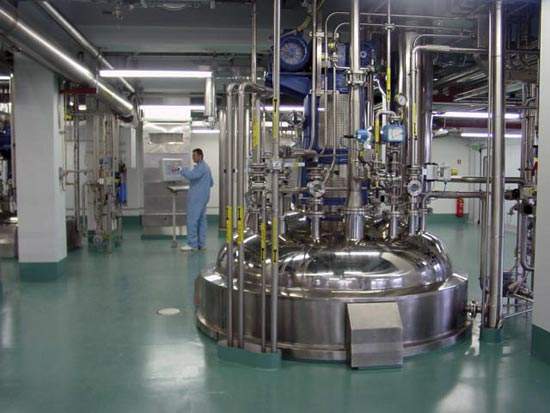 The top of a reactor vessel at the Indena pharmaceutical plant.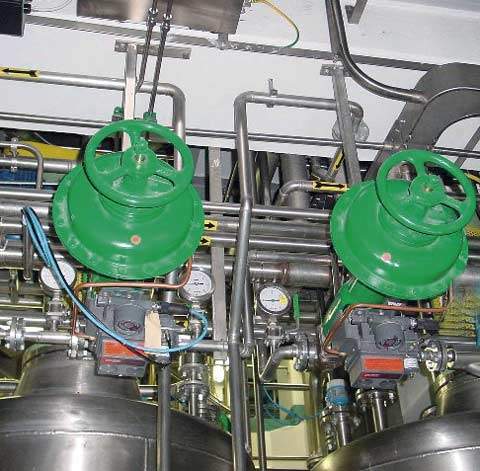 Fisher control valves at the Indena plant. The valves are fitted with FIELDVUE digital valve controllers.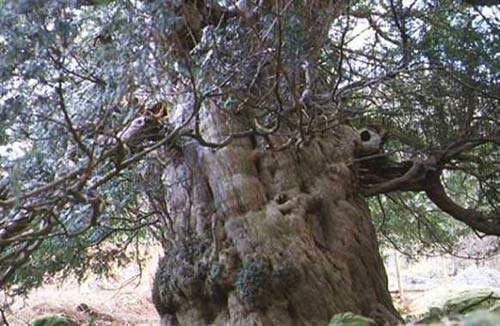 Yew Tree, from which anti-cancer compound IDN 5390 is derived.
Indena SpA, an Italian company based in Settala near Milan, has announced plans to automate its plant for the production of a potential new anti-cancer compound. The company identifies, develops and produces active compounds from plant material for use in the pharmaceutical and health-food industries. The compound has been approved by the FDA for Phase I clinical trials. Indena has contracted Emerson Process Management to automate their processing plant. Emerson is an engineering company specialising in realising pharmaceutical automation and control systems. Their expertise includes providing installations that conform to FDA code of practice, 21CFR Part 11. The Indena plant at Settala is able to extract the anti-cancer compound from the leaves of the required plant and then supply the extracted compound to a major pharmaceutical company for processing into a marketable drug.
YEW TREE DERIVED ANTI-CANCER COMPOUND
Indena has pre-clinical data showing the potential anti-cancer activity of a new taxane skeleton. The compound, IDN 5390, shows low toxicity, a selective activity in angiogenesis and can be administered orally. The new compound is derived from the Yew tree but supersedes the activity of previous taxols. The activity of the new compound has been confirmed in clinical experiments against xenografted ovarian and colon carcinomas. The new automated process at Indena's production facility should increase the production of this valuable compound.
ANTI-CANCER COMPOUND PRODUCTION AUTOMATION SYSTEM
Emerson have installed an automation system for Indena based on PlantWeb digital plant architecture including a DeltaV digital automation system and using FOUNDATION fieldbus technology. The Indena brief to Emerson asked them to supply a flexible, open system based on fieldbus technology that could be used to control the process as well as manage instrumentation control and maintenance. It was also required that the automation system should have an easy to learn and powerful programming interface including software tools.
BATCH PROCESS BASED PHARMACEUTICAL PRODUCTION
The manufacturing facility at Settala is based on a batch process. Emerson, along with Indena staff, was able to install and configure the DeltaV digital automation system. The DeltaV system and DeltaV Batch software are designed for batch control. They provide powerful functionality and easy, cost-effective engineering and operations interface. The package also includes the Asset Management Software (AMS) predictive maintenance software within DeltaV providing functionality able to monitor past instrument calibrations and test protocols.
DELTAV PHARMCEUTICAL PLANT CONTROL SOFTWARE
DeltaV software is a highly sophisticated and adaptive software system for plant control and monitoring. There is a predictive maintenance aspect to the software system. This software is marketed as a digital automation system. The system can certainly be adapted to a wide range of different control problems and its strength lies in its flexibility and robustness.
PLANTWEB DIGITAL PHARMACEUTICAL PLANT ARCHITECTURE
This is marketed as digital plant architecture. PlantWeb uses open communication standards to link field intelligence, systems, and applications in a plant-wide network. PlantWeb can monitor valves, instruments, pumps, motors and process equipment, collect the data and relay it to other systems and software. In addition PlantWeb is a modular scalable system allowing easy expansion for future plant extension.
FOUNDATION FIELDBUS DIGITAL COMMUNICATIONS NETWORK
This is a sophisticated digital communications network to link the components responsible for plant operation with monitoring instrumentation and control software to provide full integration. There is a whole range of devices suitable for use with this system including gas chromatographs, flow meters, valve actuators and pressure sensors.
COMMISIONING AND COST
The plant automation has been commissioned on time and with an estimated saving of 50% costs over less sophisticated automation systems. The cost savings have come from the requirement for a smaller hard-wired network and easier diagnostics due to the availability of fully portable and integrated field instrumentation. In addition, the open protocol software system allows the use and integration of instrumentation sourced from other suppliers.
HARDWARE AND SOFTWARE UPGRADE
The equipment installed includes four DeltaV controllers. They are supervised by one engineering workstation and four field operator stations. Plant expansions or upgrades are simplified since the DeltaV has a modular 'plug and play' expansion facility. Indena staff were provided with basic operation training during a short series of seminars and workshops. Emerson can also provide technical support by remote connection from an off-site technician should the extensive on-line help facility not provide the answer to any problem.