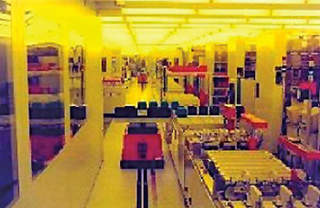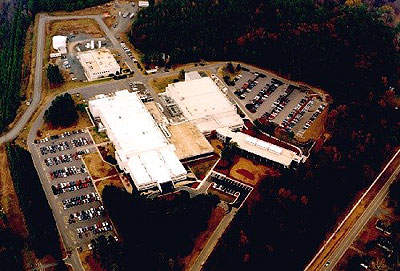 This is an aerial view of the plant purchased from Mitsubishi in 2001.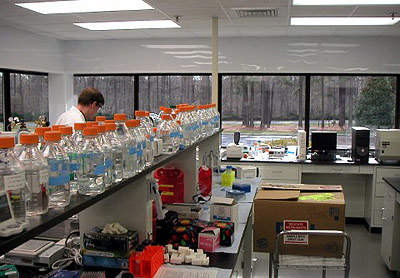 The facility has been converted to a manufacturing facility for KBI in three phases.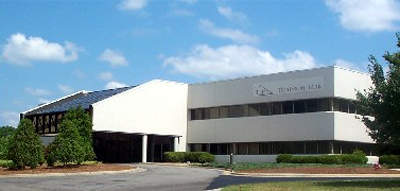 The main building at the Teer Technical Park.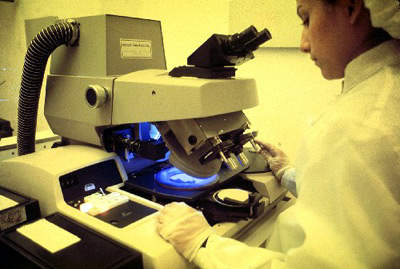 The cleanroom facilities were already installed in the facility.
KBI BioPharma, a division of Atlanta-based Kinetic Biosystems Inc, decided in late 2003 that the home of its new contract biomanufacturing facility would be Durham, North Carolina. KBI BioPharma signed a contract in 2003 to buy a 341,298ft² (30,717m²) building on the 75 acre (30 hectare) former Mitsubishi Semiconductor America campus. The site ceased wafer fabrication operations in 1998 after 15 years due to global restructuring and has stood empty ever since.
The campus is strategically located within the Research Triangle area of North Carolina, which includes Durham, Raleigh and Chapel Hill, and is home to one of the top three biotechnology business clusters in America. The plant already has a lot of the infrastructure required for biotech manufacturing such as cleanroom facilities, purified water, air-filtering systems, high tech HVAC systems, gas lines and waste handling facilities.
The plant has still had to go through a comprehensive renovation but the option is a lot less expensive than building from scratch. The new plant is expected to employ as many as 550 workers by 2008 when the renovations are fully complete. Renovation is being carried out in three phases.
"The new plant is expected to employ as many as 550 workers by 2008 when the renovations are fully complete."
FINANCE
The building was purchased from Mitsubishi in May 2001 for $18m by Durham-based Teer Associates and Stamford, Connecticut-based Icon International and is now called Teer Technical Park. The former chip plant contains 52,179ft² (4.696m²) of cleanroom space and 5,023ft² (452m²) of laboratory space. The complex also includes 139,036ft² (12,513m²) of office space, as well as a cafeteria and storage space.
KBI BioPharma Inc received a $1m start-up loan from the North Carolina Biotechnology Center to establish their activities at the site. They will use the loan to establish business operations in the State. The loan will be provided in two instalments, with the second contingent on KBI meeting business-related milestones. KBI's business plan calls began with 75 hires in the first two years.
KBI BioPharma is being funded by angel investors, including Greensboro real estate developer Frank Auman and others from North Carolina. The company has also obtained $5m in Series A financing to provide working capital for its first two years of operation. KBI plans to invest about $65m to 2008 to become fully operational.
WHAT IS INTENDED?
KBI BioPharma is a spin-off company of Kinetic Biosystems Inc, an Atlanta-based developmental stage life-sciences company formed in 1997 to commercialise bioreactor technology developed by Dr Heath Herman, a professor at the Georgia Institute of Technology. The new company will help biotechnology and biopharmaceutical companies produce recombinant protein therapeutics and vaccines by growing cells in conventional bioreactors.
KBI uses conventional 'stirred-tank' bioreactors to make proteins in microbial and mammalian cells, but is also developing a more efficient system that uses a patented bioreactor technology called the Centrifugal Bioreactor (CBR). The CBR allows cells to be immobilised at very high densities without the use of membranes or other solid support or retention devices. The technology promises to give customers more uniform product at a lower cost.
CONSTRUCTION/REFURBISHMENT
Teer Associates sold the four buildings in the Mitsubishi semiconductor complex, now named Teer Technical Park, to KBI. O'Brien/Atkins Associates of Durham was the lead architect for at least three of the renovation stages. Stage one took about nine months and cost approximately $45m.
Subsequent stages have been completed in sequence with the plant finally in full operation in early 2007 and the workforce approaching full strength. Generally, new biomanufacturing space can cost $1,200 to $1,400 per
ft² to construct, but by adapting the Mitsubishi facility, KBI reportedly spent just $600 to $700 per ft².
"The company's goal is to utilise recent genomics and chemistry advances to develop next-generation test/drug combinations called 'theranostics'."
One of the main adaptive reuse challenges involved rearranging the ventilation and water systems in the clean space. KBI performed the necessary engineering studies to determine how to reroute the air circulation system to serve its biopharmaceutical manufacturing needs.
The adaptive reuse plan also involved subdividing the large spaces into smaller suites. Water was available through a 16in water main, and the site had its own wastewater treatment plant. There were three 'cleanrooms' ranging in size from 6,906ft² to 25,240ft².
Another plus in KBI's selection of the site was the existing infrastructure and zoning, both necessary for the already-planned expansion.
An additional positive benefit to KBI was an available workforce that included hundreds of former Mitsubishi employees already trained to work in a cleanroom environment.
CONTRACT MANUFACTURING AND THERANOSTICS
In May 2006 DNAPrint-Genomics Inc announced that KBI BioPharma Inc was to be their Good Manufacturing Practices (GMP) manufacturer of PT-401, a more powerful form of the anaemia drug Erythropoietin (EPO).
Richard Gabriel, President and CEO of Genomics, said: "GMP manufacturing is the next step in our research and development of PT-401… The GMP material produced by KBI BioPharma will be used to conduct preclinical studies required for a future Investigational New Drug Application, including toxicology studies and studies involving volunteers and patients."
DNAPrint Genomics obtained an exclusive, worldwide license from Beth Israel Deaconess Medical Center in February 2005 for the development of a more potent and longer acting form of Erythropoietin.
The company's goal is to utilise recent genomics and chemistry advances to develop next-generation test/drug combinations called 'theranostics', designed to maximise efficacy and minimise side effects by tailoring and customising medication for specific individuals and well-defined population sectors.