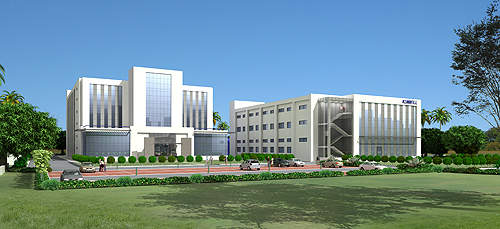 Kemwell's new biopharmaceutical manufacturing facility is being built in Bangalore, India.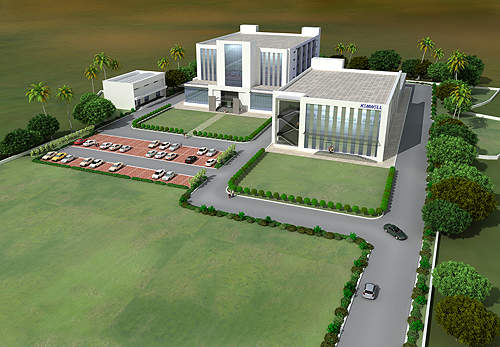 The Kemwell facility will occupy 15000m² over three floors.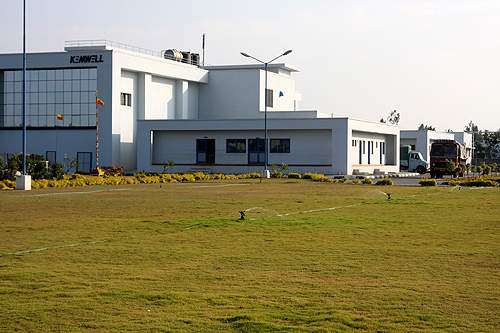 Kemwell is constructing the site in collaboration with Boehringer Ingelheim.
Kemwell is building a new biopharmaceutical manufacturing facility in Bangalore, India. The green-field site will be constructed in collaboration with Boehringer Ingelheim and will offer a range of services including process development, production, formulation and fill and finish.
The new facility will access the cell-line development and technology platform of Boehringer Ingelheim in addition to utilising its commercial scale production facilities. It will provide European technology at low manufacturing cost to clients of Kemwell.
The Kemwell facility
The new Kemwell facility has been designed for early-stage preclinical and clinical studies and will accommodate a cGMP drug product manufacturing facility and a drug substance sterile fill and finish facility. It will occupy 15,000m² over three floors and be installed with upstream and downstream equipment which is designed to be compliant with the manufacturing technology of Boehringer Ingelheim.
The first floor will be dedicated to cell culture manufacturing and will be equipped with two trains of bioreactors with capacities of 10l, 80l, 400l and 2000l. The stainless steel, fully automatic bioreactors will be scalable to 12,000l when used in the production plants of Boehringer Ingelheim. One of the two trains will be used for future expansion.
The floor will also include vial filling and lyophilisation capabilities. Separate rooms for blending and filtration will be made available within the facility.
"The green-field facility will be constructed in collaboration with Boehringer Ingelheim."
Microbial process development and manufacturing will accommodate quality control laboratories on the second floor. Equipment will include one bioreactor train that will be scalable from 10l, 80l, 400l and up to 1000l. The facility will additionally house cGMP cell banking and inoculum areas.
Finally, the third floor will house process development laboratories and will be designed according to good laboratory practices standards (GLPS).
The laboratories will be sectioned separately for microbial and cell culture process development and will be equipped with material for research and pre-clinical trials. The facility will operate at a maximum capacity of 80l. Lab equipment will be similar to that installed within the cGMP plant.
Production at the Kemwell facility
The proposed facility will conduct upstream and downstream process development, production, purification and formulation of biologics that will be used for early-phase pre-clinical and clinical studies. Fermentation, harvesting and purification of microbial and cell culture will also be carried out. The facility will develop protein therapeutics from mammalian cell culture or microbial fermentation and will undertake aseptic vial filling and lyophilisation in volumes ranging between 2ml and 20ml. Approximately 30,000 vials with an average of 4ml will be filled per batch. Additionally, the site will provide packaging of clinical trial supplies.
Process technology
Production at the facility will use Boehringer Ingelheim's high expression technology (BI HEX®). This technology enables rapid development of superior quality, high-titre processes to support the development of biopharmaceuticals from mammalian cell cultures including Chinese hamster ovary (CHO) cells. It allows superior product expression and improvement of high producers, serumless transfection, culturing of suspension-adapted cells derived from CHO in chemically defined media as well as advanced design of high capacity screening platforms and cGMP banking of cells. The cell-line and associated processing information will be transferred from Boehringer to the new Kemwell facility.
"The site will provide European technology at very low manufacturing cost to clients of Kemwell."
The production process will be divided into cell culture fermentation and downstream purification. The product will be manufactured in the first stage, while the second stage will deal with placing the product in a state of safe formulation for patient use.
Cell culture will begin in the inoculums area. Genetically engineered mammalian cells will be separated from cryopreservation and thawed. To increase the cell density substantially, in order to support larger scale culturing, the single cells will be cultured. Harvest operations will include the use of a centrifuge and depth or sterile filtration.
Downstream purification operations will be conducted on chromatography columns of different diameters and will include virus inactivation, virus filtration and sterile filtration.