The Masy Systems biorepository in Pepperell, Massachusetts.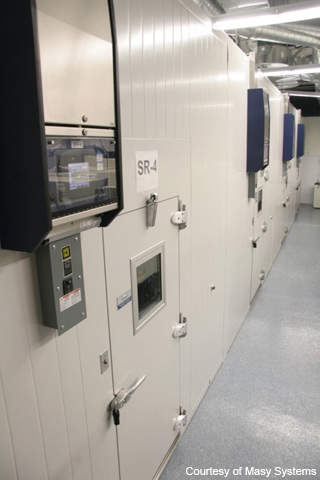 Chambers at the Masy facility offer temperature-controlled storage.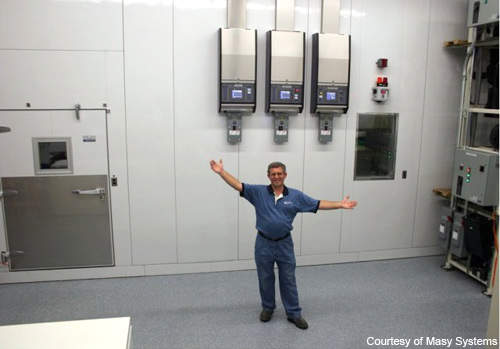 ESI cascading chamber being demonstrated by John Masiello, executive vice-president and senior validation engineer at Masy Systems.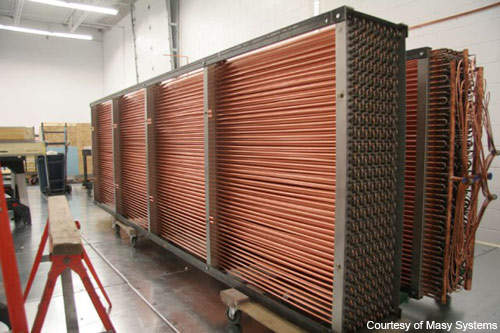 The –80°C chambers have been constructed with four cooling systems.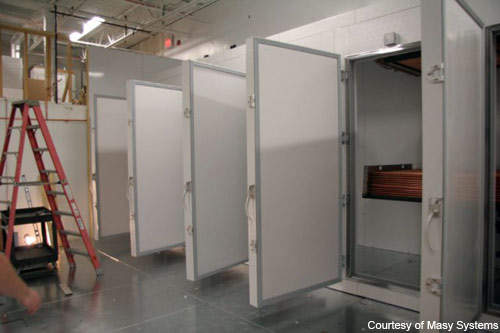 The Masy facility has a strong security system to ensure controlled storage of biotechnology products.
The importance of custom cell lines and biological samples for use in biotechnology manufacturing is increasing. To keep up with this demand, Masy Systems has developed a dedicated biorepository to provide secure and controlled facilities for storage. Masy Systems is a well-known provider of validation and calibration services to the biotech, pharmaceutical, medical device and chemical industries.
The company, situated less than an hour from central Boston, has been in operation since 1984 and started in assembly, manufacturing, repair and consulting. Its major services include biopharma storage, calibration and environmental chamber validation.
The new cGMP biorepository can provide controlled-temperature storage for a range of industries – pharmaceutical, biotechnology and healthcare – as well as academic and government institutions.
The chambers installed at the Masy Systems facility offer controlled-temperature storage space in conditions ranging from ambient temperatures to liquid nitrogen freezers.
Biorepository in Pepperell
In April 2008 Masy Systems announced that it was to open a state-of-the-art biorepository at the new facility in Pepperell, Massachusetts. By February 2009 phase one of the project had been completed and was opened.
"The new cGMP biorepository can provide controlled-temperature storage for a range of industries as well as academic and government institutions."
The first large refrigerator/freezer storage cascading temperature unit was constructed by Bahnson Environmental Specialties. The unit is entered through a 4ft-wide door into a refrigerated room of 3,900ft³ allowing the storage of bulk products.
This monitored 5°C area has twin cooling units to provide redundancy; each independently capable of maintaining the correct temperature. Storage space is provided as custom rolling racks with adjustable shelves that are 3×8×11ft with additional space for the storage of drums and pallets.
A further chamber is entered through the 5°C room via a 4ft door that is maintained at -20°C. The lower temperature area also has 3,900ft³ of storage space and uses twin independent cooling units to maintain its environment. This area is flushed with ultra-dry pressurised air to prevent the build up of unwanted frost and ice.
Constructed as part of the -20°C chamber is an additional six-door vault with 1,100ft³ of storage space that is maintained at a temperature of -80°C. This vault has built-in racks with sliding bins for easy access to samples and has four cooling systems; two are traditional coils that are maintained by separate condenser and compressor skids and there are also two emergency systems, a coil system that can use liquid nitrogen and a further system that can use carbon dioxide vapour. All of the vaults have 6in-thick walls that are filled with a special insulation material.
Security
Inside a year Masy Systems built the repository from the ground up to provide one of only three such facilities in the US. All essential systems have been designed with multiple redundancies to ensure that all products stored are kept at the required temperatures at all times.
A computerised inventory management and barcoding system is used to track client samples at all times to cGMP. A validated Masy Commander facility monitoring system was installed to record the temperature in each chamber every ten seconds and feed back the results to a monitored workstation, manned 24 hours a day.
Masy also has redundant alarms (temperature in each chamber monitored separately), which alert repository staff of significant temperature changes within the chambers or a loss of power to the facility. Other security features include 24-hour video surveillance and alarms, controlled keyless access at company and biorepository level, and keyless locks on the storage chambers.
"A computerised inventory management and barcoding system is used to track client samples at all times to cGMP."
Power back-up is provided by a pair of 450kVA Cummins generators, each with 600 gallon diesel fuel tanks. Two automatic transfer switches are installed to control the generators to provide an uninterruptible supply of power to the building when power cuts occur.
One of the generators is capable of powering the entire Masy Systems facility for up to three days, providing a long-term source of power during an extended outage.
Phase two
The second phase of the Biorepository, completed in the second quarter of 2009, added four further units to the facility. These were manufactured by Luwa Environmental Specialties LLC and consisted of four 1,000ft³ walk-in temperature and humidity-controlled units for stabilisation storage and testing.
These are all capable of running at 2ºC, -8ºC and any conditions between 25˚C/60%RH and 40˚C/75%RH. Two of these units also operate as photostability chambers, Option 1 (daylight and indoor indirect daylight) and Option 2 (cool white fluorescent and near ultraviolet).