Location
Abu Dhabi, United Arab Emirates
Estimated Investment
Dirham 70m ($25m)
Validation Completion
November 2003
Sponsor
New Medical Centre Group, Ranbaxy , Pfizer, General Industries Corporation
Contractors
Amana Steel Building Contractor, Dastur Consultants
Finance
Bank of Baroda (India)
The Abu Dhabi plant was expanded in 2009 to pave way for production of over 300 varieties of drugs.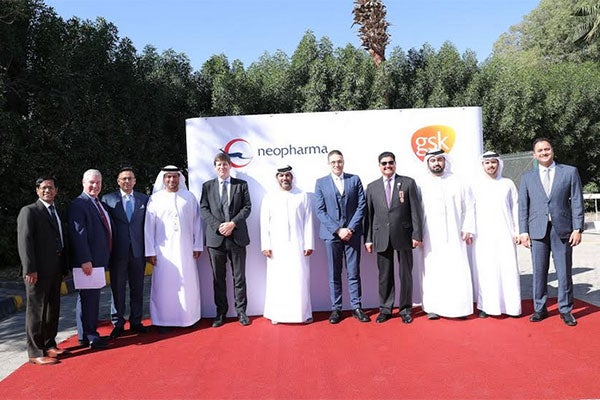 The partnership between GSK and Neopharma produced 35,000 packages of medicines in the first batch. Credit: Neopharma
The plant has exclusive Beta-Lactam antibiotics manufacturing capabilities.
Neopharma opened a pharmaceutical plant in Abu Dhabi, United Arab Emirates, in July 2003. The plant then entered a three-month period of testing and validation before entering its full production schedule for 45 different types of medicines in early November 2003.
In 2004, the plant was awarded the Specialist Award in Pharma by the Arab Health ME for having the best pharmaceutical facility in the Middle East. The plant was also awarded the 2006 Mohammed Bin Rashid Al Maktoum Business Award for its pioneering initiatives in manufacturing.
The plant was constructed on a 12.5-acre site in the Mussafah industrial suburb, with planning aid from the General Industries Corporation, administrators of the Mussafah Industrial Park.
It also covers 51,000m², designed and constructed on a modular concept, consisting of five separate buildings for antibiotics production, two independent production blocks, a research and development centre, testing labs, and formulation and QC/QA units.
Neopharma partnered with GlaxoSmithKline (GSK) to enable localisation in the UAE, in April 2019. The company is responsible for the secondary packaging process for six prescribed medicines of GSK in the country.
The alliance produced and launched the first batch of locally manufactured medicines in January 2020.
Financial backing and contractors linked to Neopharma's pharmaceutical plant
Neopharma production plant was instigated by the New Medical Centre Group (NMC), which since opened two new hospitals in the UAE. The managing director of NMC, BR Shetty, explained that the UAE was only able to source medicines from Europe and the US at premium prices and that the NMC business structure includes hospitals, pharmacies and medical centres, so the next logical step was to manufacture medicines.
The plant was financed through a 60:40 debt-equity combination and the debt portion was underwritten by the Bank of Baroda in India. Ranbaxy and Pfizer have provided knowledge, technology and training. In return, they expect to be able to use a portion of the manufacturing capacity.
Ranbaxy has licensed the manufacture of cephalosporins at the plant in a custom-built antibiotic manufacturing module. The construction was carried out by Amana Steel Building Contractor (main contractor) and Dastur Consultants (architecture, design and engineering).
German pharmaceutical manufacturer DIOSNA supplied its P150 and P300 high-shear mixers for the project.
Production capacity at Neopharma's pharmaceutical plant in Abu Dhabi
The plant's first phase came into full production in November 2003. The production targets for the first year were 180 million tablets, 45 million units of antibiotics, 30 million capsules and nine million liquid oral doses for 45 different medicines.
Neopharma broke ground for a large scale expansion in October 2009. The expansion facilitates the production of more than 300 varieties of drugs and allows Neopharma to establish a range of over-the-counter medicines of its own brand and nutraceuticals in the UAE.
"The Neopharma production plant was instigated by New Medical Centre Group (NMC), which has since opened two new hospitals in the UAE."
In 2005, Neopharma expanded its product range to include five new products. These included Neoclav (amoxicillin and clavulanic acid), Neosorbide (isosorbide mononitrate for the treatment of angina including sustained release variations), Neogastro, Neogastro Plus and Neosolvon (for respiratory disorders).
In 2006, the company increased its product range again with more antibiotics (ciprofloxacin, clarithromycin, doxycyclin, amoxyclav, ceruroxime axetil) and also a sustained-release version of the important anti-diabetic drug metformin.
Neopharma's current product range includes anti-infective, anti-inflammatory and arthritis medication, cardiovascular, anti-diabetic, gastrointestinal formulas, respiratory system drugs, cough mixtures and multivitamins.
Manufacturing and collaboration between Neopharma, Ranbaxy and Dr Reddy's
Ranbaxy has an agreement with Neopharma to allow the manufacture of two cephalosporins at the custom-built module solely set aside for the manufacture of cephalosporins and other β-lactam products. Subsequent phases of the plant will see Ranbaxy manufacturing a wider range of drugs at the new plant for worldwide distribution.
The antibiotics unit conforms to all international standards set up by the FDA and European authorities. Dr Reddy's Laboratories, another Indian company, is also involved in technical collaboration with Neopharma for some of their manufacturing processes.
Dr Reddy's has even suggested carrying out some formulation and finishing at the Neopharma facility after the initial active pharmaceutical ingredient (API) production at their FDA-approved plant in India.
The plant will not only produce active pharmaceutical ingredients but will also carry out the full range of formulation, finishing and packaging for a large portfolio of drugs and medicines.
Marketing commentary on Neopharma
Neopharma was set up by the New Medical Centre Group of the UAE in collaboration with Ranbaxy Global of India and Pfizer of the US. Other partners now include Parke-Davis (USA), Dr Reddy's (India), Biocon (India), Apotex (Canada), Jamieson (Canada), SM Pharmaceuticals (Malaysia) and Lapgap (Switzerland). The total investment in the first phase plant came to Dirham 70m ($25m).
The products manufactured annually include 3.6 million infusions, more than five billion tablets and capsules, 36 million ampoules, 7.5 million oral syrups and suspension, and 27 million sachets. The firm provides innovators with NCEs, cGMP intermediates and KSMs.
"Neopharma was setup by the New Medical Centre Group of the UAE in collaboration with Ranbaxy Global of India and Pfizer of the US."
Neopharma has different certifications including ISO 9001, ISO 14001 and OHSAS 18001. Its therapy portfolio includes antipyretics, anti-virals, immunosuppressants, analgesics, anti-histamines, CNS and urology. In late 2005, the company entered the biotech market by the setting up of a joint collaboration research centre with Biocon of India, to develop and manufacture biopharmaceuticals in areas including oncology, anti-inflammatory, immunosuppressant, cardiology, diabetes and anti-obesity.
The two companies signed a Memorandum of Understanding (MOU) in July 2007 to set up a biopharmaceutical company named NeoBiocon, at the new biotech business park in Dubai called DuBiotech. The project was supervised and designed by Parsons and CUH2A.
Neopharma agreed to buy Kyowa Pharmaceutical Industry's injectable business in Japan in August 2019.
It also signed a deal with Elevar Therapeutics to form a 50:50 joint venture (JV) in the UAE to commercialise anti-cancer drug candidates, in October 2019.
The JV will focus on creating a sales network for prescription anti-cancer product Rivoceranib and to perform clinical trials for other pipeline candidates.
Topics in this article: