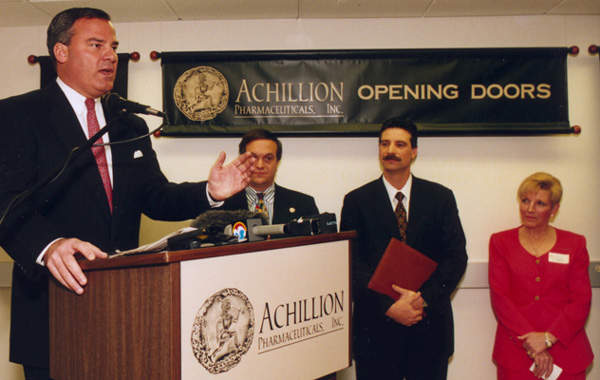 The opening ceremony of the New Haven Biotech facility was held in December 2000.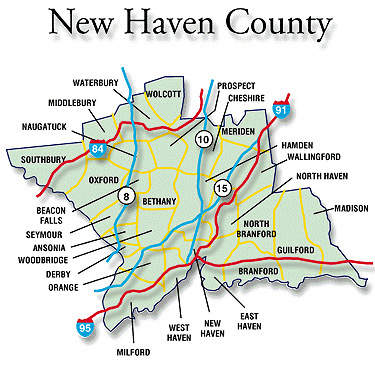 New Haven County is seeing an increasing number of biotechnology investments which should play a vital role in revitalising the local economy.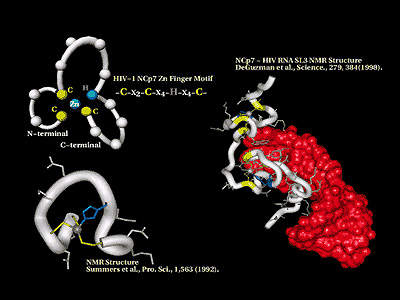 Zinc finger proteins are essential to the Achillion Pharmaceuticals growth strategy.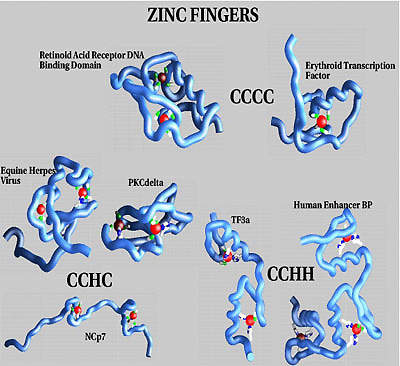 Zinc finger proteins allow proteins to recognize nucleic acids (DNA or RNA) and thus modulate genes that the nucleic acids encode. The diagram shows carbon tube tracings, which illustrate the distinct 3-dimension structures of various representative human zinc finger 'CCCC', and 'CCHH' motifs, versus the retroviral 'CCHC' motif.
Achillion Pharmaceuticals was founded in February 2000 as one of the largest biotech start-ups in the USA.
It occupies a renovated space in the George Street Technology Center in downtown New Haven, Connecticut.
The new facility is dedicated to developing biotechnology products on a commercial basis. The facility is rented out to a number of other companies in the biotechnology sector, besides Achillon (thus functioning as an incubator).
Achillion has assembled the necessary scientific, technological, and human resources to discover and develop new products addressing serious unmet medical needs.
The company is privately held, financed by Schroder Ventures, Atlas Venture, Advent International and Connecticut Innovations.
Biotechnology facility activities
In partnership with Yale University, Achillion is a product-focused pharmaceutical company dedicated to the discovery and commercial development of innovative therapeutic agents, with a particular emphasis on antiviral drugs to treat diseases caused by hepatitis B (HBV) and C (HCV) viruses, herpes, and the human immunodeficiency virus (HIV).
The company originally planned to locate in New Jersey and it moved to Connecticut so it could enter into a partnership with Yale University and Yale researchers. Achillion is now pursuing development of lead drug candidates, building its internal discovery teams and structuring a variety of business and research collaborations.
Therapeutic agents production
Achillion's proprietary lead drug candidate (ACH126443) is under rapid advancement for the treatment of HIV and HBV infections. Achillion's drug discovery and optimisation engine embodies both a conventional medicinal chemistry approach directed at classical molecular targets and the core breakthrough Zinc Finger Targeting Technology (ZFTT) for drug discovery.
Technology centre at New Haven
Achillion Pharmaceuticals and Molecular Staging became the first tenants in the new biotech facility located at 300 George St. The owner of the property, Winstanley Associates, spent a substantial amount of money to make what was once a Southern New England Telephone (SNET) building attractive to biotech tenants.
Winstanley Associates acquired the 550,000ft² building in downtown New Haven. A block from the medical school, this building houses Achillion and three other companies. The nine-storey facility was already outfitted with fibre-optic communication systems.
Winstanley planned a combination of laboratory space for biotech start-ups and offices for information technology and telecommunications start-ups.
The Winstanley project
The Winstanley project represents a multilateral commitment to biotechnology in New Haven. The predecessor of 300 George Street, Science Park, was launched in the 1980s with the help of Yale funds but faced debt and vacancy for many years. However, the complex is now a vigorous incubator for biotech start-ups and recently expanded to include 500,000ft of new space.
Several of the building's aspects are ideal for biotech firms. For example, large chaseways used in its now obsolete heating system was easily converted to an exhaust system vital for biotechnology research. Installing a similar system in another building could be prohibitively expensive.
Biotechnology and New England
The success of biotechnology companies has made them increasingly valuable to communities and developers, as demonstrated by the recent sale of the former SNET property to Winstanley Enterprises for more than $27 million.
Despite projects like 300 George Street, biotechnology has yet to generate many jobs in the area, but the industry plays an important role in revitalising the local economy. The conversion of the downtown site in close proximity to Yale University's School of Medicine is supported by a private investment of close to $50 million by the developer, Winstanley Enterprises.
The City and State have funded the construction of an adjacent parking garage and have supported nearby restaurants, theatres, a park, and the Omni hotel. This has created a desirable and attractive downtown location next to Yale's Medical School.