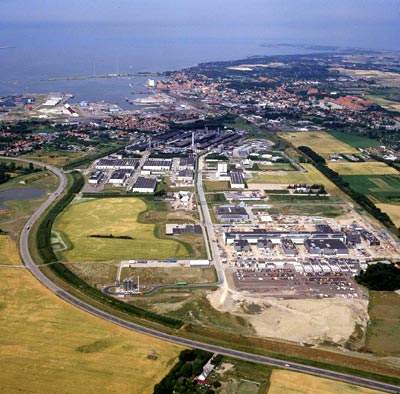 Novo Nordisk's facility at Kalundborg produces more than 40% of the world's insulin.

The front of the facility showing part of the main building and the administration block.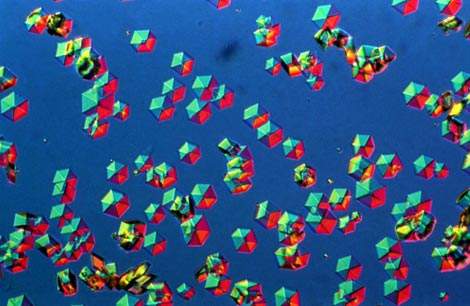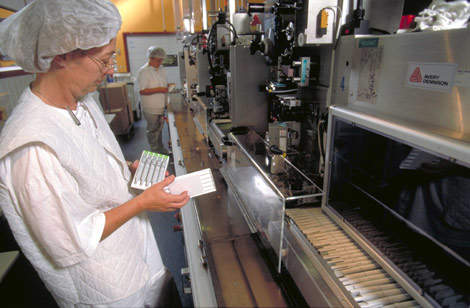 An operator working on one of the fermentation vessels.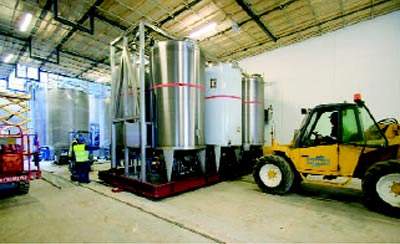 Novo Nordisk decided in the spring of 2003 to market the long-acting insulin analogue Levemir (Insulin Detemir) first in the UK in June 2004, and then in other European markets in the second half of 2004. This decision – taken on the basis of positive sales forecasts – called for the fastest possible expansion of Novo Nordisk's production capacity for Levemir.
The challenge was to build a downstream biopharmaceutical plant (PIA II) at the company's existing insulin plant (PIA I) at Kalundborg, Denmark, as rapidly as possible.
"The original plant was brought to full production capacity in early 2004 and now supplies more than 40% of the world supply of insulin."
PIA I was completed in late 2003. The plant's first production batch of bulk insulin was enough to supply every one of the 70,000 insulin dependent diabetics in Denmark for one year. The original plant was brought to full production capacity in early 2004 and now supplies more than 40% of the world supply of insulin. The original investment for this first phase was €337m.
PIA II broke ground in June 2003 and the topping-out ceremony was held in February 2004. The new 7,000m² purification facility called for an investment of €108m and was completed and in full production during the first half of 2005 on schedule. The new facility allowed the company to double its production capacity for the long acting insulin analogue Levemir.
Novo Nordisk employs about 2,200 people in the Kalundborg area.
LIRAGLUTIDE PRODUCTION FACILITY COMPLETE
In April 2005 Novo Nordisk broke ground for a further new facility in Kalundborg. The new phase three plant will produce liraglutide, a potential new Novo Nordisk product for treating type 2 diabetes. The new facility is scheduled for completion in early 2006 and will create about 100 new jobs in Kalundborg. The new 7,000m² plant represents an estimated investment of €100m.
NNE carried out all project phases from conceptual design through basic design, detailed design, construction and commissioning to qualification, and will also assist the client in the final process validation. The project was mainly executed by NNE at the company's Danish HQ in Copenhagen and on the site in Kalundborg, but it has also used NNE's international resources. For example, the cleanroom facilities were designed in close cooperation with NNE Carmetec in Sweden, who also performed the complete cleanroom installation. In addition NNE's subsidiaries in China and the US have undertaken specific assignments. The Greenfield facility was constructed according to NNE's well-proven concept for modular engineering.
Liraglutide is a derivative of glucagon-like peptide 1 (GLP-1), a natural human hormone, and represents a new principle in the treatment of type 2 diabetes. Studies have shown that the new product lowers blood glucose with little or no risk of inducing hypoglycaemia (low blood glucose). It is also expected to affect appetite regulation, leading to better weight management. Liraglutide may also be able to regenerate insulin-producing cells (beta cells).
INSULIN PRODUCTION EXPANSION
The company has built the new facility as a strategy to centralise all the processes of insulin production and so increase efficiency and reduce costs. The WHO predicts that the number of diabetics worldwide will increase from the present 177 million to over 330 million by 2030.
Novo Nordisk turns over DKK25.2bn annually and around 70% of this comes from insulin products. The company is making large investments around the world in new fill and finishing facilities, particularly in Chartres in France, Clayton in North Carolina, US, and in Montes Claros, Brazil. All of these new facilities will receive bulk insulin from the Kalundborg facility for fill, finishing and distribution.
INSULIN PLANT CONSTRUCTION AND ENGINEERING
The project in Kalundborg was managed, designed and engineered by Novo Nordisk Engineering (a separate branch of the company developed for the fast track construction of pharmaceutical facilities).
The first phase was constructed using the modular plant approach developed by Novo Nordisk Engineering. This means that a plant may be built as modular 'skids' to exact specifications off-site while buildings are being constructed. Modular engineering allows for intensive reuse of technical solutions proven in newer Novo Nordisk plants.
Modular engineering also enabled the analogue purification plant (phase two) to be built as a flexible copy of the already existing purification plant. Valuable time was gained as the 'assembly line' approach ensured a smooth and well-proven integration of the fast track project. Thus, NNE was able to build the phase two plant in record time.
This 'parallel' approach to construction, which sees many parts of the project going on simultaneously, saves a great deal of time during installation, validation and start-up. One of the major suppliers of modular 'skid' components, Ekato Gruppe of Germany, supplied components of the fermentation vessels and the mixing and agitation technology. Novo Nordisk Engineering was also able to carry out over 90% of the qualification of the first phase plant.
The phase three plant is being constructed under the same modular engineering principles as the previous two phases.
INSULIN PRODUCTION FACILITY
The main 200m production hall of the first phase building has nine ancillary plants located as side buildings feeding the central dual stream production lines. These include a Clean In Place (CIP) facility, a cooling / refrigeration plant, High Performance Liquid Chromatography (HPLC) columns for initial separation, a high capacity water purification plant, an ozone generator for sterilisation and various other laboratories and workshops for QA/QC and equipment set-up and maintenance.
All of the ancillary services are supplied to the required points on the main fermentation, purification and crystallisation production lines by using over 300 separate connection circuits. The dual stream production lines use four 20,000l fermentation vessels and a supporting tank farm for wash, waste, storage, mixing and cleaning cycles.
"The new phase three plant will produce liraglutide, a potential new Novo Nordisk product for treating type 2 diabetes."
The plant automation system coordinates, controls and records the production process according to 800 established process methods, using 17,000 possible operations for control. The control system monitors each batch and gathers extensive quality data in order to generate a batch report for each processing area.
The facility is described by the company as a production 'superhighway', which has six plants in one combining all the main processes of insulin production, from fermentation to purification of insulin crystals under one roof.
NOVO NORDISK ENVIRONMENTAL CONSIDERATIONS
Novo Nordisk addressed its environmental responsibilities by employing COWI to assist in the implementation of energy-saving initiatives at its factories in Denmark, particularly to identify and quantify CO2-saving energy projects at all of Novo Nordisk's factories in Kalundborg. These factories emit approximately 50% of Novo Nordisk's total global emission of CO2.
In addition, since 1981 Novo Nordisk has been an active part of Kalundborg's 'Industrial Symbiosis', where each industry in the area act together in a number of environmental projects designed to save resources, costs and the environment. Novo Nordisk is an active member of the 'Symbiosis' and contributes its nutrient rich effluent to neighbouring farms as fertiliser.