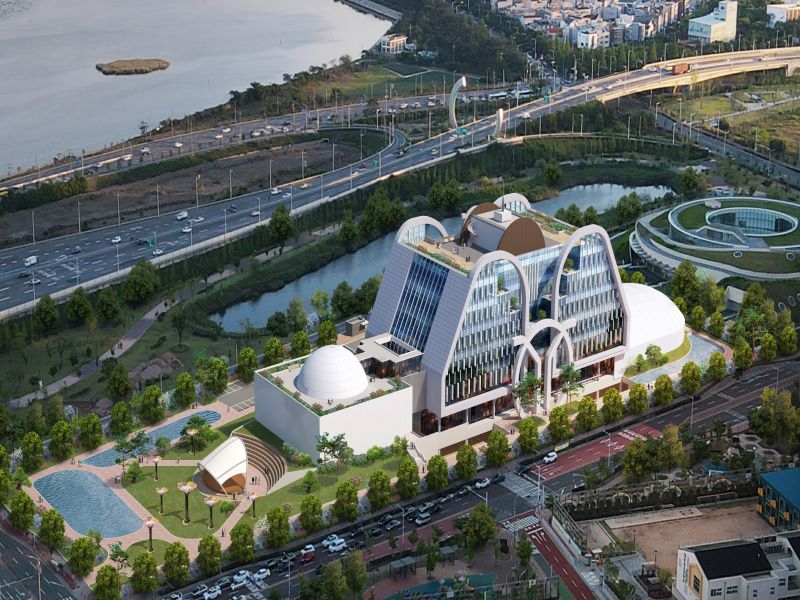 Global pharmaceutical company PBP is building the Innovative Discovery Centre in Busan's Myeongji District. Credit: Business Wire.
IDC will focus on new antibody biologics discovery, dual-antibody development based on proprietary first-in-class biologics, and next-generation vaccine development. Credit: Business Wire.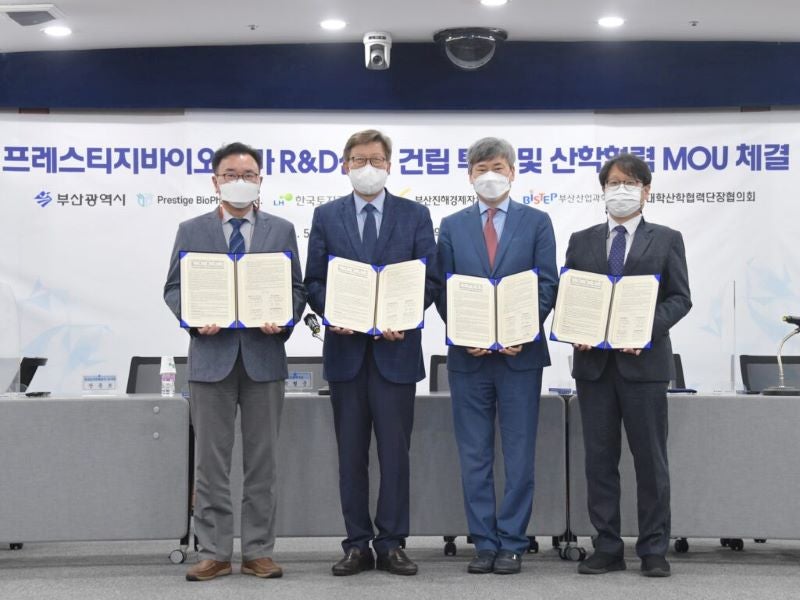 The IDC's construction is expected to be completed by February 2023. Credit: Prestige Biopharma.
Singapore-based biopharmaceutical company Prestige Biopharma's (PBP) Innovative Discovery Centre (IDC) is under construction in Busan, South Korea.
The IDC will focus on the development of next-generation vaccines using messenger RNA (mRNA) technologies and bioinformatics for current and future pandemics. It will be used for the discovery of first-in-class antibody biologics, including eight bispecific antibody candidates based on PBP's proprietary oncology therapeutic targets, namely pancreatic adenocarcinoma up-regulated factor (PAUF) and collagen triple helix repeat containing-1 (CTHRC1).
A ground-breaking ceremony for the centre was held in December 2021 and its construction is expected to be completed by February 2023.
In May 2021, PBP signed a memorandum of understanding with the Busan City Government to establish the IDC. The company will invest more than $200m in the facility by 2030.
In August 2021, PBP Korea entered a business co-operation agreement with Korea Land and Housing Corporation (LH) and Busan-Jinhae Free Economic Zone (BJFEZ) Authority for the construction of the IDC in the Myeongji District, Busan.
LH provided land for the construction of the IDC building in Myeongji International City through a land sale contract, while BJFEZ Authority provided administrative support to the company for the permits required for the construction of the IDC.
PBP's Innovative Discovery Centre details
The IDC will be a global scale research and development (R&D) centre with a total floor area of approximately 34,000m2. It will be located on a site in Myeongji International City.
The building will feature a large-scale conference room, with a maximum seating capacity of 300 people, and specialised laboratories for antibody research. It will also have state-of-the-art facilities to accommodate about 800 researchers.
PBP plans to implement an open innovation platform at the facility to offer a one-stop R&D solution for the full-cycle development of new drugs for global markets to the local biomedical society.
Between 2022 and 2027, IDC is expected to employ more than 250 PhD and R&D personnel, 50% of whom will be sourced from local universities and the community.
The IDC will lead PBP's future vision through activities such as the development of antibody therapeutics, including pancreatic cancer treatment, and of cutting-edge vaccine technology.
Prestige Biopharma's product pipeline
PBP has ten candidates in its development pipeline. It has completed a Phase III clinical trial on Herceptin biosimilar, HD201, a drug for adult patients with HER2-overexpressing breast cancer, HER2-overexpressing metastatic gastric or gastroesophageal junction adenocarcinoma.
PBP's pipeline also includes PBP1510, its proprietary first-in-class antibody for pancreatic cancer targeting PAUF. The drug received orphan drug designation from the European Medicines Agency (EMA), the US Food and Drug Administration (FDA) and the Korean Ministry of Food and Drug Safety (MFDS) in 2020. France's National Agency for the Safety of Medicines and Health Products approved a Phase I/IIa clinical trial of the drug in June 2021.
PBP's product pipeline also includes a bevacizumab biosimilar, HD204, which is currently in a global Phase III clinical trial, as well as an adalimumab biosimilar named PBP1502, for which a Phase I clinical trial is planned to be initiated.
Marketing commentary on Prestige Biopharma
Established in 2015, PBP is a global pharmaceutical company specialising in the discovery and development of biosimilars, novel antibodies and vaccines, with operations in the US and Korea.
The company has a total production capacity of 104,000l, nine patented technology platforms, and global partnerships in 46 countries. Its R&D team primarily focuses on oncology and immune disorders and the development of new and similar antibody therapeutics for pancreatic cancer, arthritis, and solid tumours.
PBP has expanded its business to vaccine development and production by joining a consortium led by South Korean biotech firm Huons Global as a drug substance (DS) manufacturing organisation for the production of Russia's Sputnik V Covid-19 vaccine.