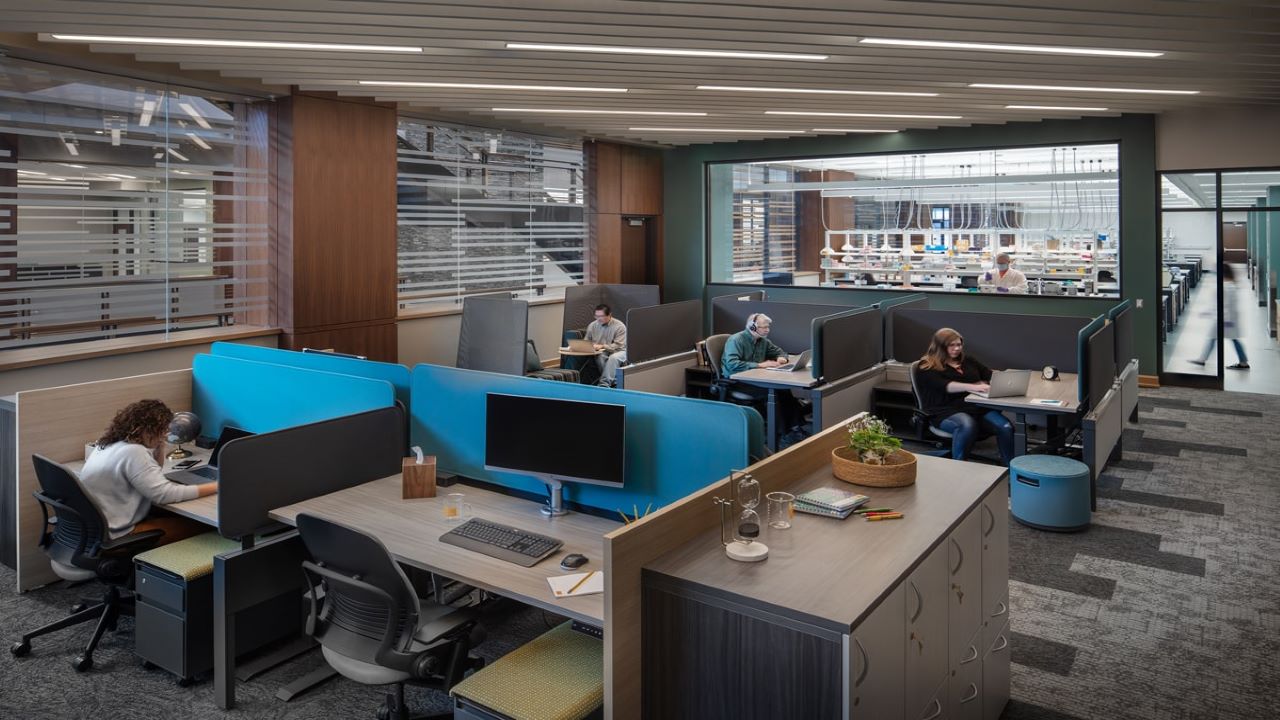 Promega opened the 280,000ft² Kornberg Centre in Fitchburg, US. Credit: Promega.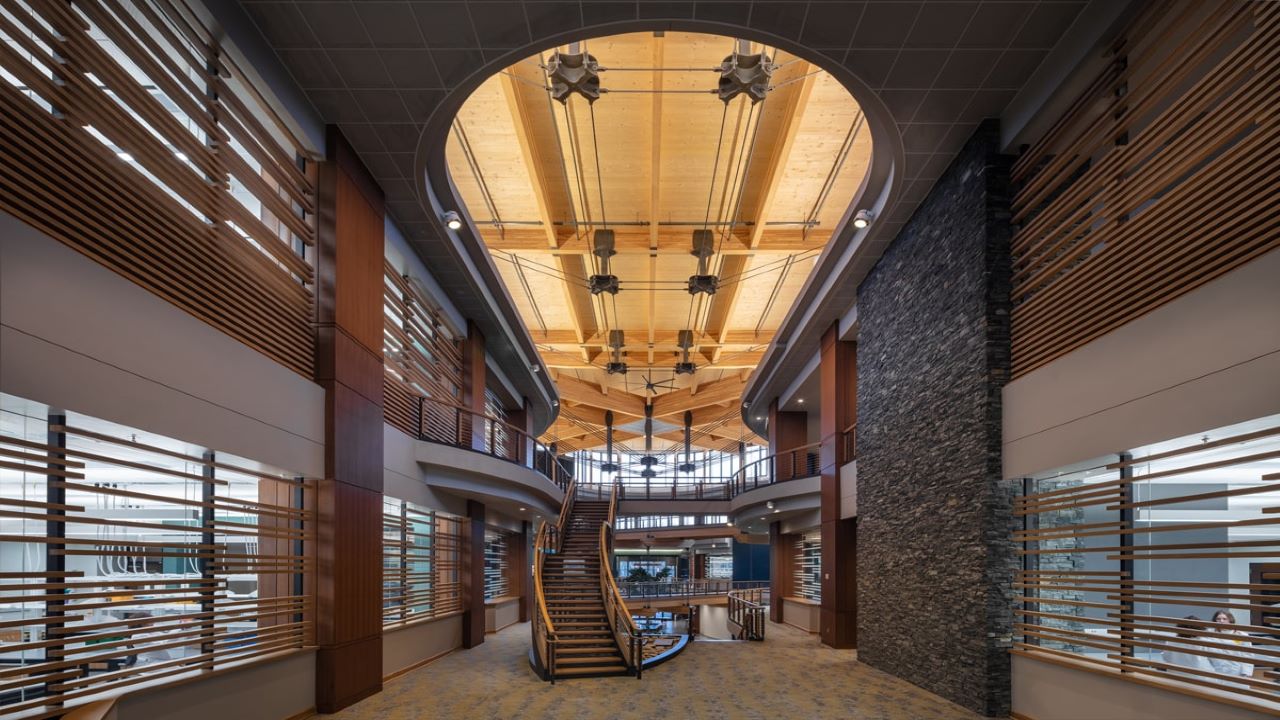 The Kornberg Centre is named after Nobel Prize-winning biochemist Arthur Kornberg. Credit: Promega.
The new research and development (R&D) facility features advanced laboratories. Credit: Business Wire.
In April 2021, US-based biotechnology company Promega opened the Kornberg Centre, a research and development (R&D) facility located in Fitchburg, Wisconsin.
The R&D unit is intended to facilitate scientific exploration and integrate state-of-the-art laboratories with the best practices in sustainability. A ground-breaking ceremony for the facility was held in July 2018.
Details of Promega's R&D facility
The 280,000ft² three-storey Kornberg Centre houses laboratories to support product and technology development in the areas of life science research, biochemistry, genetic identity, cellular and molecular biology, clinical diagnostic and scientific applications, and training.
Designed to support scientific innovations, Promega's facility is named after Arthur Kornberg, a Nobel Prize-winning biochemist and the first scientist to synthesise DNA in a test tube.
The building design stimulates innovation, cross-pollination and collaboration. The facility includes core instrumentation suites, open space for future expansion, cell culture facilities, a meeting area and dedicated lab bench space for visiting collaborators and interns.
The Kornberg Centre features labs designed specifically to allow Promega scientists to invent and develop technologies. It is equipped with lab tools to tackle the challenges associated with biochemistry and molecular biology.
The architectural design of the Kornberg Centre connects office, formal and informal meeting spaces with cutting-edge laboratories to provide a flexible and comfortable work environment in which scientists can interact, collaborate and explore new ideas.
Promega's Fitchburg campus details
The state-of-the-art R&D facility is situated on the company's Fitchburg campus and houses 150 employees.
The facility accommodates staff dedicated to Promega's R&D, training, multiple product and technology, scientific applications and lab support services teams, as well as those working in project management and emotional and social intelligence (ESI).
The Fitchburg facility is engaged in the production of enzymes and enzyme systems for DNA amplification and cloning, cell health or biochemical assays, gene expression detection and protein analysis.
The site also offers quality assurance testing and technical assistance for products manufactured by other Promega plants, as well as customer service, marketing, legal and human resources functions.
Design of the Kornberg Centre
The Kornberg Centre features a four-storey atrium in its centre and laboratory wings extending out to create the shape of a four-leaf clover. The building's unique architectural features and elements include two floating walkway bridges linking four quadrants of the building on each floor.
Other spaces at the facility include a multi-purpose auditorium, an exhibition space, kitchen and dining venues, fitness courts, a sound therapy room and an accessible green roof.
With a biophilic design concept, the building features expansive windows, water installations and natural plantings to create an environmentally conscious design centred around nature.
By incorporating several commissioned artworks from national and local artists, the facility creates an inspiring work environment for staff members and scientists. The design enables enough sunlight and fresh air.
Sustainability features of Kornberg Centre
Kornberg Centre is designed to meet Promega's ambitious sustainability objectives and uses 65% less energy than a conventional structure.
The facility features a sophisticated double-skin facade, double-walled construction with a storefront glass curtain wall, and an interior wall separated by a 3ft air space. This configuration is intended to improve thermal comfort and increase energy efficiency.
The R&D centre is equipped with a radiant heating and cooling system, that comprises 35.4km of in-floor tubing that enhances energy efficiency. It is served by a geo-exchange system that supplements the building's heating and cooling system.
A rainwater collection system at the facility is projected to save one million gallons of reclaimed water a year. The captured rainwater is used in the facility's toilets and cooling towers.
The Kornberg Centre also features 672 photovoltaic panels on the building's roof, which can produce around 313,000kWh of clean power a year.
Its ventilation system improves indoor air quality and provides 100% outside air with total energy recovery, while the green roof is designed to reduce heating and cooling demand.
Financing for the R&D facility
The project involved a $190m investment. In January 2019, the Wisconsin Economic Development Corp (WEDC) provided up to $1.5m in tax credits to Promega to fund the R&D facility.
Contractors involved in the Kornberg Centre
American architecture firms Ramlow/Stein and SmithGroup provided the design for the project, while US-based general contractor Kraemer Brothers served as the construction manager.
Marketing commentary on Promega
Headquartered in Madison, Wisconsin, Promega was founded in 1978. The company provides innovative solutions and technical support for the life sciences, clinical, pharmaceutical R&D and forensic markets.
The company operates through branches in 16 countries and has more than 50 international distributors spread across 100 countries.
Promega manufactures more than 4,000 products in the fields of DNA, RNA, cell biology, protein analysis, drug development, human identification and molecular diagnostics, cellular analysis, genomics, genetic identity and drug discovery.