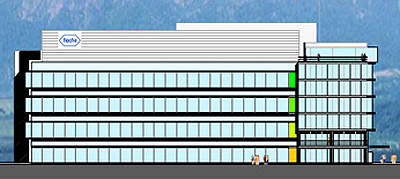 The new manufacturing building in Penzberg from the architects drawing side elevation.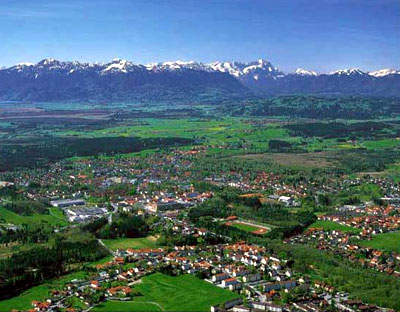 Penzberg is situated in Southern Bavaria.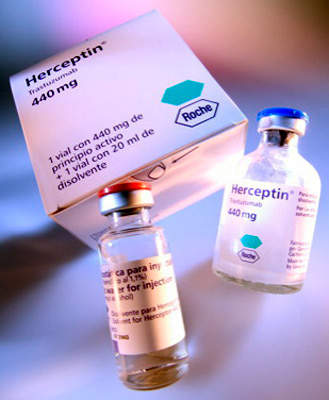 Herceptin will be among the drugs manufactured at the site.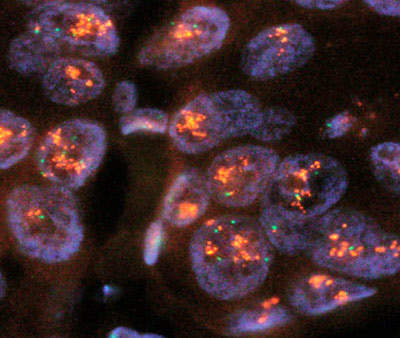 Breast cancer tumour cells under attack from Herceptin.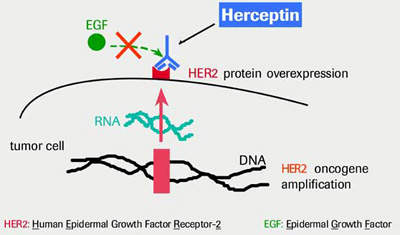 Herceptin binds to the HER-2 receptors of breast cancer tumour cells.
Hoffman La Roche, the Swiss biotech company, began expanding its biotech production capacity in 2004 with the construction of two new large scale production facilities in Switzerland and in Bavaria.
The new biotechnology plant (Biologics IV) expansion at Penzberg in Upper Bavaria is a new five-storey building with production centred on a multipurpose basis. This project was fast tracked into a three-year completion schedule from design to start of operations. Penzberg, which is the largest biotechnology manufacturing site in Europe, is located approximately 45km/30 miles south of Munich.
The plant has been designed to be capable of use for a range of different production procedures including mammalian cell culture and recombinant DNA techniques for the production of monoclonal antibodies, and peptides for use as biologic therapeutics.
The new building has four floors and also an engineering floor to host services such as water for injection, cleanroom ducting, compressed gases and waste removal.
The 33,000m² (355,209ft²) plant is based around the capacity of two production lines each with 3 × 12.5m³ fermentation vessels/reactors along with the required media storage and preparation facilities. There are also two downstream process or purification lines for the purification and reforming or refolding of peptides to produce the pure active final product. The project also involved the construction of additional office and laboratory space.
In September 2010, Roche announced that it plans to build an anaerobic plant that will biologically pre-treat the partial wastewater flow from the Penzberg site. The plant will be constructed by Aquantis, a subsidiary of Veolia Water Solutions & Technologies.
The plant is scheduled to be complete by the end of March 2011, with operations due to begin by November 2011.
Construction
"In September 2010, Roche announced that it plans to build an anaerobic plant that will biologically pre-treat the partial wastewater flow from the Penzberg site."
The architect for the new building was Koppenhoeffer and Partner GmbH. The engineering work was overseen by Roche Pharma Global Engineering.
The construction work was started in July/August 2004 with the surface preparation and foundations, which continued into September and involved the preparation of an old existing car park at the site.
The construction work continued into 2005 and the planned start of production occurred in the second quarter of 2007.
LSMW GmbH (Total Life Science Solutions) was the process engineer and designer for the plant. The construction manager was SIBC GmbH (a subsidiary of Turner and Townsend). Lang and Peitler provided design, commissioning and installation services for the automation systems at the plant.
The plant was outfitted with skid-mounted equipment modules so that installation and fabrication were telescoped into a shorter timescale. Plant building occurred concurrently with the fabrication and in some cases installation and commissioning of the skids. The field commissioning of the skids was undertaken by highly trained teams working with petrochem shutdown techniques and two seven-day-per-week shifts. The skids hook-ups were installed over a period of six weeks.
The new plant has provided approximately 150 jobs for qualified personnel in office, laboratory and production work as well as biologists, microbiologists, biochemists, biotechnologist, chemist and biological/chemical technical assistants.
Investment and products
The investment for the new facility was estimated at $290m (approximately €186m) over a three-year period. Products from the plant include the active substance trastuzumab (Herceptin) for the treatment of breast cancer. Penzberg is now the primary site outside the US for the biotech production of trastuzumab and will produce Herceptin for an additional 100,000 patients per year.
Trastuzumab is the active ingredient of Herceptin that is believed to act in one of three ways: it may block tumour cell growth by binding to the HER2-positive cancer cells and blocking them from dividing; it may attach to the HER2-positive cancer cells and signal the body's immune system to destroy the cell; it may work in conjunction with chemotherapy agents such as paclitaxel to destroy HER2-positive cancer cells.
Herceptin received approval for use in the EU for advanced (metastatic) HER2-positive breast cancer in 2000, and for early HER2-positive breast cancer in 2006. This was followed by approval as a stomach cancer treatment from the EU health authorities in January 2010. The approval followed positive outcomes from an international ToGA trial that proved the efficacy of Herceptin in prolonging the lives of patients with the disease.
"Products from the plant include the active substance trastuzumab (Herceptin) for the treatment of breast cancer."
Herceptin is marketed in the US by Genentech, in Japan by Chugai and internationally by Roche. Since 1998, Herceptin has been used to treat nearly 600,000 patients with HER2-positive breast cancer worldwide.
Because of a different mode of action there are some side effects possible, such as congestive heart failure and lung conditions. Worldwide sales of
Herceptin during 2009 amounted to nearly CHF5.3bn.
Roche also has an agreement with Genentech to market Omnitarg when it is released to the market. Omnitarg is a humanised antibody, the first in a new class of agents known as HER dimerisation inhibitors (HDIs). HDIs block the ability of the HER2 receptor to collaborate with other HER receptor family members (HER1/EGFR, HER3, and HER4).
In cancer cells, interfering with HER2's ability to collaborate with other HER family receptors blocks cell signalling and may ultimately lead to cancer cell growth inhibition and death of the cancer cell. HDIs, because of their unique mode of action, have the potential to work in a wide variety of tumours, including those that do not over express HER2.
Omnitarg and Herceptin, when used in combination, were found to act as a significant anti-cancer agent in the treatment of (HER2)-positive breast cancer.
Herceptin is also used in combination with paclitaxel, docetaxel and aromatase inhibitors.
On 25 September 2009, the results of Phase III clinical trials (ToGA) on Herceptin were submitted at the joint 15th congress of European cancer Organisation (ECCO) and the 34th Congress of European Society for Medical Oncology (ESMU) in Berlin, Germany.
In July 2010, Roche filed a biologics licence application to the US Food and Drug Administration (FDA) for trastuzumab-DM1 in patients with previously treated advanced HER2-positive breast cancer. This application was based on the outcome of a Phase II study which proved that T-DM1 reduced tumour size in one-third of women that were previously administered on an average seven medicines for the disease.
In August 2010, the FDA issued Roche with a refuse to file letter, stating that the results from the Phase II study were insufficient for accelerated approval of T-DM1. Roche expects to receive a global regulatory submission for T-DM1 by mid 2012 and will continue to work with the FDA till then.
"Energy rich bio gas will be produced, collected and processed during this process."
Anaerobic plant
The new plant will treat carbon-rich wastewater flows besides degradable liquid waste released during bio-technological production. A 480m³ Biobed expanded granular sludge bed reactor will be used to treat the wastewater.
Energy rich bio gas will be produced, collected and processed during this process, which will be used to support an existing membrane bioreactor system.
The gas produced will be fed into a heat and power plant in the boiler house at the Penzberg site. The electricity generated will be used to meet over 90% of the plant's energy requirements.
Construction of the plant will help in reducing carbon dioxide emissions by 950 million tons a year, allowing the Penzberg site to substantially reduce its carbon footprint.