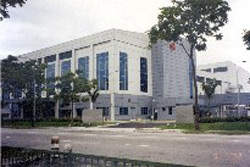 Schering Plough's biotechnology facility in Tuas, Singapore.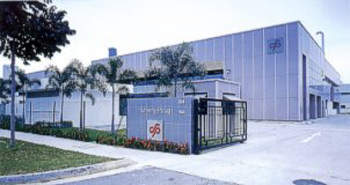 The MPP1 plant produces loratadine and mometasone furoate.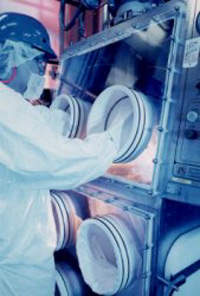 Glove box use in clean room suite.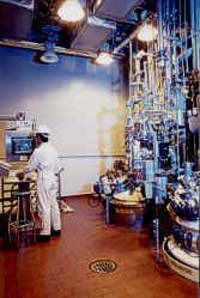 Separation facilities.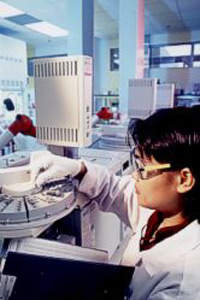 Quality control (QC).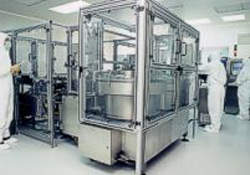 Clean room suite for sterile product finishing.
Schering-Plough has continued to capitalise on its investment program into facilities based in Singapore. The company currently has nine facilities either in production or under construction.
In early 2003 the company commissioned a new multi-product bulk manufacturing plant in Tuas, Singapore. The plant (MPP2), which was opened in May 2005, is the second phase of the construction project. The first plant, MPP1, was opened in late 2003.
The MPP1 plant produces loratadine, the active ingredient of Claritin (an antihistamine) and mometasone furoate, an anti-inflammatory corticosteroid. The new MPP2 plant produces ezetimibe, the active ingredient of Zetia, a new cholesterol inhibiting compound (Statin).
Since 2000, Schering-Plough has been a major investor in new pharmaceutical plants in Singapore, having spent in excess of $450 million over multiple production sites. The MPP2 project required an investment of $230 million.
The company has also constructed a 3,600m³ R&D facility on the Tuas site, which was opened at around the same time as the MPP2 and is used to aid Schering-Plough's technology transfer to Asia. The facility houses two development laboratories and a pilot plant in the four-storey high building. The pilot plant has four reactors with a total capacity of 4,000L as well as a centrifuge and a dryer.
New manufacturing plants
Schering-Plough also started construction of a new 16,600m²biotech manufacturing plant in Tuas in mid-2004 (160 staff). The new plant was constructed on a 12-acre site adjacent to the MPP2 in Tuas. The project has required an investment of $100 million and was completed by 2007.
The project involved the construction of a four-storey building block spanning 65,000ft² and comprises areas for administration, laboratory, plant-room, production and warehouse. There will also be a utility block for chiller units, cooling tower, tank farm and plant facilities.
The biotech plant was built to support the manufacture of two biologic products: Peginterferon alfa-2b (PEGINTRON) for the treatment of hepatitis C and Infliximab (REMICADE), an anti-inflammatory, monoclonal antibody for the treatment of Crohn's disease and rheumatoid arthritis, which was licensed from Centocor.
The facility has two production lines to produce both vials and redipen (dual chamber pen). Both of these lines incorporate state-of-the-art lyophilisation (freeze drying) equipment and a large degree of automation and robotic technologies. The new facility has been used first to produce Peginterferon alfa-2b redipen in five dosing strengths for a single use. The facility is intended to triple Schering-Plough''s present capacity for Peginterferon alfa-2b redipen and thus become the company's main manufacturing site for this product. In addition, the same plant will double the present production capacity for Peginterferon alfa-2b and Infliximab vial products.
Schering Plough also has a 19,600 m² three-storey tableting facility in Singapore dedicated to the manufacturing of Ezetimibe (ZETIA) – a cholesterol absorption inhibitor – employing 170 personnel. The drug was developed by a joint venture between Merck and Schering-Plough Pharmaceutical. The facility is highly automated and minimises human handling, being able to carry out material dispensing, granulation, tablet compression, product bottling, blister packaging and bulk packing.
Schering-Plough's total investment commitments in Singapore now exceed $1.5 billion and its staff strength is about 950. The Schering-Plough site at Tuas consists of eight facilities in a 50-acre area, making it the largest pharmaceutical production facility in Singapore.
Schering-Plough awarded the engineering, procurement and construction (EPC) contract for the new biotech plant to Jacobs Lend Lease, a joint venture of Jacobs Engineering Group Inc and Bovis Lend Lease. Front-end engineering and detailed design was shared between Jacobs Lend Lease offices in Dublin, Ireland, and Singapore, with Singapore responsible for the full implementation of the construction.
Contractors and construction – MPP1 and MPP2
The contract for MPP2 was awarded to Foster Wheeler who were also responsible for the engineering, procurement, construction, outfitting and validation of the MPP1 plant. The six-storey MPP2 was an improved version of MPP1 with better access facilities and more room for subsequent expansion and change of use if necessary.
MPP2 houses 14 reactors and 14 hold tanks (with a capacity of about 190,000l), four centrifuges and three dryers. The 12,000m³ state-of-the-art facility is now fully operational, employs 80 people and can produce 40t of active drug-making ingredients per year.