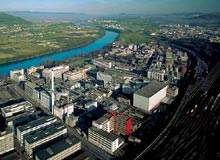 In September 1999 Novartis opened a new pharmaceutical production facility at the Schweizerhalle site near Basel, Switzerland. The plant is used for the first stages in the manufacture of the new-generation antihypertensive, Diovan and provides Novartis with an important platform for the future development and production of the drug.
However, some Diovan (angiotensin II receptor blocker) continues to be manufactured in Germany and in a factory in Ringaskiddy, Ireland, which is owned by Ciba and will be operated by Novartis.
Besides Diovan, Novartis also manufactures products such as Aredia, Simulect, Sandostatin or Zometa at the new Schweizerhalle building.
An investment of CHF170m ($103m) was required to transform the plant and 80% went to Swiss firms. Sixty jobs were created in the expansion.
Schweizerhalle production concept
Conversion work at the current Schweizerhalle site began in December 1996. The new facility replaced those in Stein and Basel that were 30 years old, and is characterised by a high level of automation. It was particularly suited to the year-round manufacture of high-volume products.
Production capacity totals 36 million vials (for freeze-dried products) and 160 million ampoules per year. This project completed a rational production concept that had already been implemented at plants at Schweizerhalle and at the Klybeck site in Basel.
Diovan – a fast-growing, effective pharmaceutical antihypertensive
Hypertension is a condition that affects up to 25% of the world's population. Because of its formula, Diovan is not only effective but also safe and well tolerated.
As one of Novartis' fastest-growing pharmaceutical drugs, Diovan produces an annual turnover of approximately CHF2bn for the company. In 1999, it registered a 90% growth rate compared with 1998 and now has a market share of 18% in the hypertensives market. At present, the drug is available for the treatment of hypertension in over 80 countries and in 50 for heart failure and has been used by over a million patients.
In 2000 Diovan was launched in Japan, the world's second largest pharmaceuticals market. Diovan has played a starring role in the Novartis portfolio and helped push growth at the company from 2000 to 2007. The drug continues to perform strongly, making $2.4bn (€1.8bn) over the first half of 2007. It has become one of the industry's top five pharmaceuticals.
Novartis
Novartis is the product of the mega-merger of Basel-based Ciba-Geigy and Sandoz. Its goal is to be one of the top three companies in immunology, cardiovascular and anti-inflammatory treatments. The company's decision to retool the old plant near Basel, which was formerly used by Ciba to produce dyestuffs, underlined Switzerland's importance as a production and business location.
Novartis' 2004 Schweizerhalle expansion
In September 2004 Novartis completed a CHF60m expansion of the Schweizerhalle manufacturing facility to increase production capacity for Diovan (valsartan). The expansion added 25 new employees.
"Novartis will invest CHF300m (€183m) in revamping the plant and increasing production capacity for high blood pressure drugs."
2007 Schweizerhalle expansion
In 2007, following EU approval of the hypertension drug Rasilez (aliskiren), Novartis unveiled plans for a new major expansion to the Schweizerhalle plant. The company will invest CHF300m (€183m) in revamping the plant and increasing production capacity for high blood pressure drugs, including the newly approved Rasilez.
Production of Diovan will increase by 60t per year to meet global demand. But Rasilez is a drug for the future which could eclipse Diovan. Rasilez has been approved in the US (March 2007 as Tekturna) and the EU.
In 2006 Novartis invested CHF75m into the Schweizerhalle site to fund the construction of a chemical manufacturing unit for active pharmaceutical ingredients.