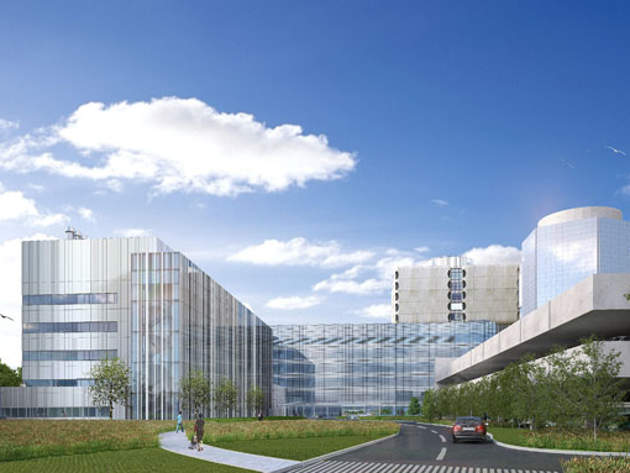 Construction of the Medical and Research Translation (MART) building at the Stony Brook University (SBU) medical centre campus began in November 2013. The building is being built in Long Island, New York.
Upon completion in 2018, the building will feature a cancer research centre, as well as facilities for advanced medical imaging, neurosciences and cancer care.
Location and features of Stony Brook University's MART building
The eight-storey MART building will have a 250,000ft² total floor space and will include a modern 300-seat auditorium, 25 cancer biology-oriented labs, and a 30-room cancer clinic. It will also feature a 30-station clinical infusion centre, breakout rooms for smaller conferences, and 12 new classrooms for students.
The facility will house advanced biomedical imaging and biomedical informatics, including a positron emission tomography (PET) and computerised tomography (CT) scanner. It will have space dedicated to carrying out translation research, with multi-disciplinary collaboration to take basic research from the lab, through clinical trials and to the marketplace for direct patient care.
The facility will expand healthcare services and research in the Long Island region and is expected to create 4,200 project-related and specialised research jobs. It is also expected to enhance the region's economic growth.
The MART facility will be situated next to a new 225,000ft² support tower, known as the 'bed tower', which will house the 150-bed Stony Brook Children's Hospital. The bed tower will have ten levels to allow scientists and physicians to work together, advancing cancer research and imaging diagnostics. The tower will include a paediatric intensive care unit, adolescent unit, procedure suite, haematology or oncology unit, medical or surgical units, and modern patient and family amenities.
Design of the MART building at Stony Brook University
The MART building's main façade will feature a glass curtain wall with vertical stripe patterns. The building will be covered by a metal panel system, with strip windows on the building highlighting the research lab areas.
The auditorium's glass façade will have a large Stony Brook logo written in a red ceramic frit pattern.
Contractors involved in the project
The MART building's design was provided by Pelli Clarke Pelli Architects in collaboration with AECOM.
"The building will feature a cancer research centre, as well as facilities for advanced medical imaging, neurosciences and cancer care."
In January 2013, AECOM Technology Corporation was contracted to provide planning, medical engineering, design and project management services for the project. The contractual scope also included providing interior fit-out, cost estimates, project cost model and risk registry services.
In January 2014, EW Howell was awarded a $161m contract to provide general contraction and construction management services at the facility. LiRo Group is providing construction management services for the project. Shen Milsom and Wilke was contracted to provide medical equipment planning, information technology, security, audiovisual and acoustical services.
Bana Electric Corp (BEC) was contracted to provide electrical systems for the project.
Financing for the project
The total investment for building the MART building is estimated at around $194m. The building is the first to be constructed as part of the $423m SBU medicine expansion project, which is intended to advance research and clinical care.
Drs James and Marilyn Simons and the Simons Foundation gifted $150m to the SBU, of which $50m will be spent on the MART project. New York Governor Andrew Cuomo and the State University of New York (SUNY) contributed $35m for the facility's construction as part of the NYSUNY 2020 challenge grant.