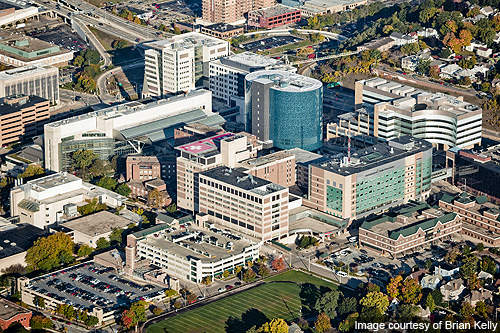 Medical Mile in downtown Grand Rapids, Michigan. Van Andel Institute is to the left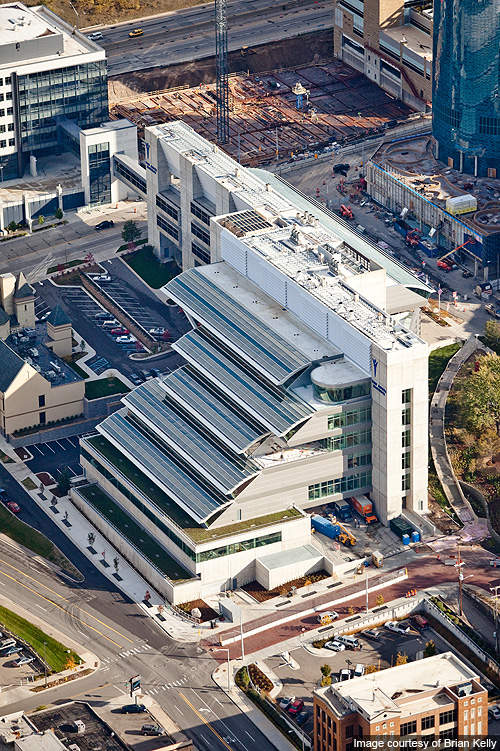 Aerial view of phase II of the Van Andel Institute.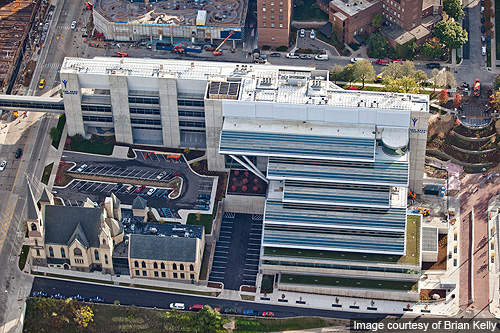 The cancer research facility has been constructed over a five-acre site atop a steep hill originating at the Grand Rapids Medical Mile.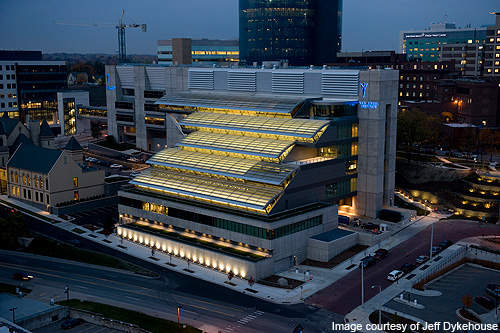 Phase II at night, showing the cascading glass structures, glass wall and steel beams on west side of building.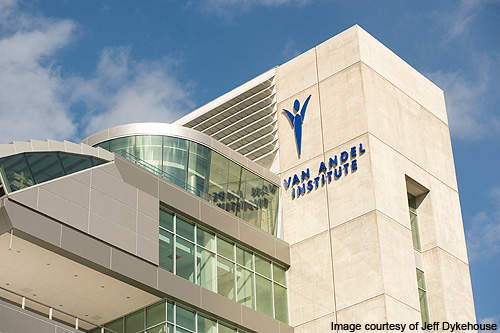 Top south-west corner of the Van Andel Institute building.
The Van Andel Institute completed a $178m phase II expansion on its cancer research facility in downtown Grand Rapids, Michigan, in December 2009. The expansion, which was announced in 2005, broke ground in 2007. Designed by architect Rafael Viñoly, the facility has been constructed in two phases, with phase I completed in 2000 at a cost of $60m.
Phase II, financed through bond issuance and private finance, has tripled the laboratory space within the facility. The additional space allows the facility to carry out research operations worth up to $125m annually with more than 800 researchers and administrative staff. It will also enable the institute to maximise its alliance with Translational Genomics Research Institute (TGen) of Phoenix. Phase II also resulted in obtaining LEED certification for the facility.
Cancer research facility
The Van Andel Institute facility is spread over an area of 400,000ft² and has been constructed over a five-acre site atop a steep hill originating at the Grand Rapids Medical Mile. The facility originally occupied 160,000ft² and included 18 research laboratories over 14,000ft² of laboratory space. The expansion added 242,000ft² of space including 95,000ft² of laboratory space that accommodates more than 50 laboratories within a unique open laboratory layout.
The facility includes a $4.2m laboratory dedicated to the research of Parkinson's disease and the Van Andel Education Institute's PhD-granting graduate school, which was launched in 2007.
"The Van Andel Institute cancer research facility was designed by Rafael Viñoly."
The second phase also houses a 100-seater cafeteria and a conference centre with seating for up to 90 people, a demonstration lab that enables visitors to watch the research in progress, a history wall and an extended library.
The facility, spread across eight storeys, also accommodates the 325-seater Tomatis Auditorium and the Cook-Hauenstein Hall.
Each floor features basic laboratory components including autoclave rooms, environmental rooms, microscopy and tissue culture spaces, and unallocated research space.
The facility has been designed with several green features. A complete glass roof provides abundant daylight and photovoltaic panels have been installed to reduce the energy needs. To further reduce demand loads on HVAC equipment, heat recovery systems have been installed. A 33,000gal rainwater storage tank provides potable water for use in irrigation and cooling tower make-up.
Van Andel Institute production
The facility conducts research into cancer, while also studying other conditions including osteoporosis, heart disease, diabetes and Parkinson's. Small molecules from human cells are used for developing treatments and diagnostic tools.
Construction
Construction on phase II broke ground on 12 April 2007. Approximately 86.2 million pounds of wet concrete, and 3.8 million pounds of steel were used. Nearly three million pounds or 95% of construction waste was recycled. Electrical conduit, wiring, sheet metal and heavy wall piping used for the building totalled 270,156ft, 1.3 million feet, 587,055lb and 13,982ft respectively. Construction involved 1,853 workers in total.
"The Van Andel facility conducts research into cancer, while also studying other conditions including osteoporosis and heart disease."
Contractors
The contract for construction management services was awarded to an Indianapolis-based joint venture firm formed between The Hunt Construction Group and Owen-Ames-Kimball. Consulting services were provided by Culhane & Fahrenkrug Consulting including selection of the subcontractors, managing the efforts of the architect and the construction manager during the planning and design stage. The contract for the project's civil engineering, landscape architecture and interior design were awarded to the local branches of URS Corporation.
LEED administration and building commissioning services were provided by Fishbeck, Thompson and Carr & Huber (FTC&H), a civil, engineering, environmental, architectural engineering company.
Geotechnical services including investigation of subsurface and construction testing were provided by Materials Testing Consultants. CommTech Design, a technology design company offered design services in communications cabling, telephone systems, data networks, audio / video systems and security systems.