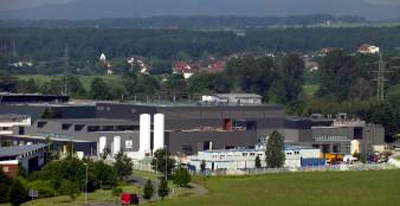 The new plant in Ravensburg South.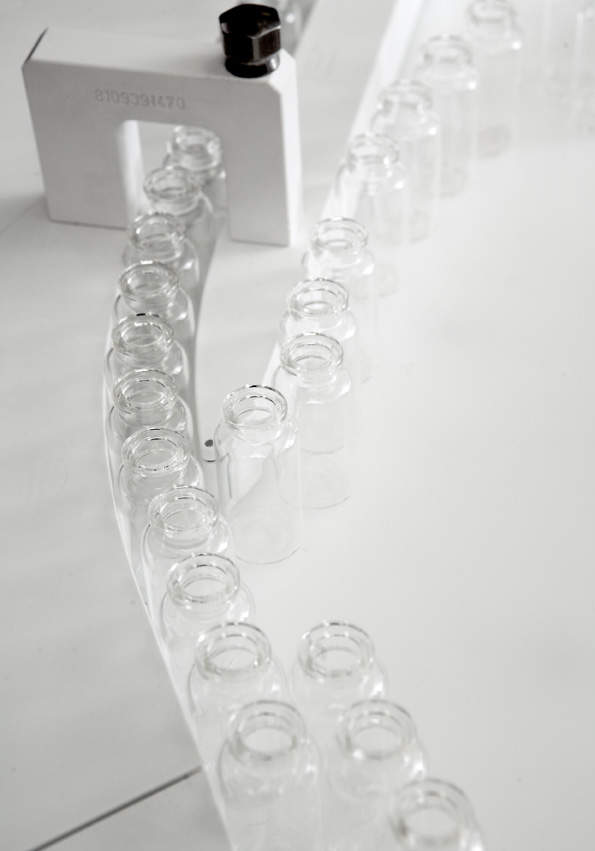 Part of the vial filling process.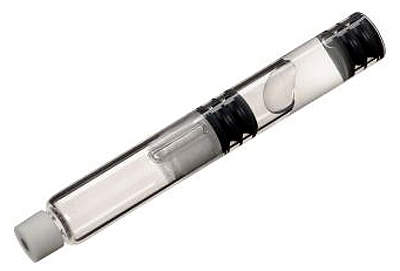 Vetter V-LK dual-chamber cartridge.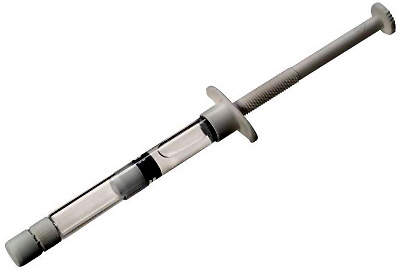 A Vetter Lyo-Ject dual-chamber syringe.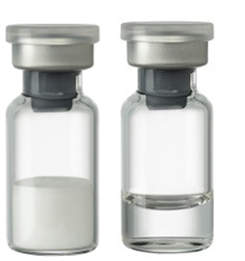 Vials - lyophilized and liquid.
Vetter is a leading contract development manufacturing organisation that specialises in the aseptic filling of liquid and lyophilised drugs for international biotechnology and pharmaceutical companies. It is a worldwide specialist in the aseptic production of FDA-approved pre-filled application systems.
Demand for the German company's specialist services has been so great that Vetter expanded its production capacity by building a new facility near its headquarters in Ravensburg. The facility is known as Ravensburg Vetter South and was inaugurated in September 2009.
The company currently manufactures 18 client products with FDA approval. The company is a lyophilisation (freeze-drying) specialist and holds 127 patents including solutions for protection against copying and counterfeiting.
Vetter has global experience and expertise with all of the recognised regulatory authorities across the world. The company employs over 1,800 employees and all of their established production plants are FDA approved.
In June 2010, the company announced its decision to construct Ravensburg Vetter West, a high bay warehouse facility, for cold-storage and room-temperature goods. Phase one of the facility will be constructed by the end of 2011 with an investment of €31m. The facility will accommodate space for automatic and manual visual inspection and stability chambers.
Structural work on the facility was completed in May 2011, eleven months after ground breaking. Work on the interiors and the power system will be completed by the end of 2011.
The new facility will enable Vetter to optimise its control and logistical processes, facilitating safe delivery of products to customers. Energy to power the facility will be derived from photovoltaic cells, biogas and geothermal sources.
Ravensburg Vetter South construction
Ravensburg Vetter South is located in the Mariatal/Ravensburg South commercial zone. It took a total of 36 months from the start of the detailed design of the facility to the complete validation.
"The production site has two filling lines; a third is likely to be completed by 2011."
Detailed design started in November 2003. Construction began in February 2004 and was completed in December 2005. Performance qualification validation of the facility was completed in December 2006.
The total size of the facility is 80,000m², 2,920m² of which is the production area. In addition to the main building, a technological building was built with steam production units and an emergency power supply, and a laboratory building houses facilities for chemical and microbiological analysis.
The company began preliminary operations at the facility in October 2006. The production site has two filling lines: the RVS1 Multiformat line and RVS 2 Combination line. Construction of a third line is underway and is likely to be completed by 2011.
Production began properly in January 2007. The facility has benefited from more than 25 years of experience in the pre-filling of syringes. The automation was planned throughout the facility, and includes door openers for use with the brand new Restricted Access Barrier System on the filling lines.
"Ravensburg Vetter South won the Facility of the Year Award for Process Innovation in 2007."
The plant features maximum automation; high standards of sterility, safety and quality; self-sufficiency through its own utility and power supply; unique production lines; and a capacity of 90 million units per year.
Ravensburg Vetter South was designed to meet all of the challenges that technicians and scientists are faced with when aseptically filling syringes, cartridges, and vials. The construction and outfitting of the new plant required an investment of €150m ($186m). It won the Facility of the Year Award for Process Innovation in 2007.
In April 2006 Vetter purchased land adjacent to the Ravensburg Vetter South production plant. The company built a new facility for packaging and automated optical inspection which became operational in May 2009. This facility provides assembling-friendly conditions. In order to comply with the best quality and safety standards, a hygienic production area has been developed, which ensures maximum protection against contamination.
Contractors
The architect and designers of the facility was the Vetter planning team at Ravensburg, Germany. Technical building management was the remit of Axima of Cologne, Germany. Structural planning was carried out by Schneider & Partner Planungsgesellschaft of Ravensburg, Germany.
Products
The facility is set up for the contract manufacturing of innovative pharmaceutical products for parenteral administration – syringes for injection. Products include: dual-chamber syringes and cartridges that contain lyophilised/liquid or liquid/liquid; filled vials with either lyophilised or liquid contents; and filled liquid cartridges.
"The company has three other facilities in and around Ravensburg, two aseptic filling facilities and one final packaging facility."
The Ravensburg Vetter South plant has a filling line for dual-chamber systems with and without lyophilisation as well as a combination line for cartridges and vials with and without lyophilisation; both have been in production since January 2007. The plant has raised the companywide production volume of pre-filled syringes from 300 million units to almost 400 million.
The company has three other facilities in and around Ravensburg, two aseptic filling facilities and one final packaging facility. The company believes it is important to concentrate production in the Ravensburg region.
The facilities are independent from each other but have almost identical production processes. This increase of production lines gives operational back-ups and allows easy expansion of production if required.