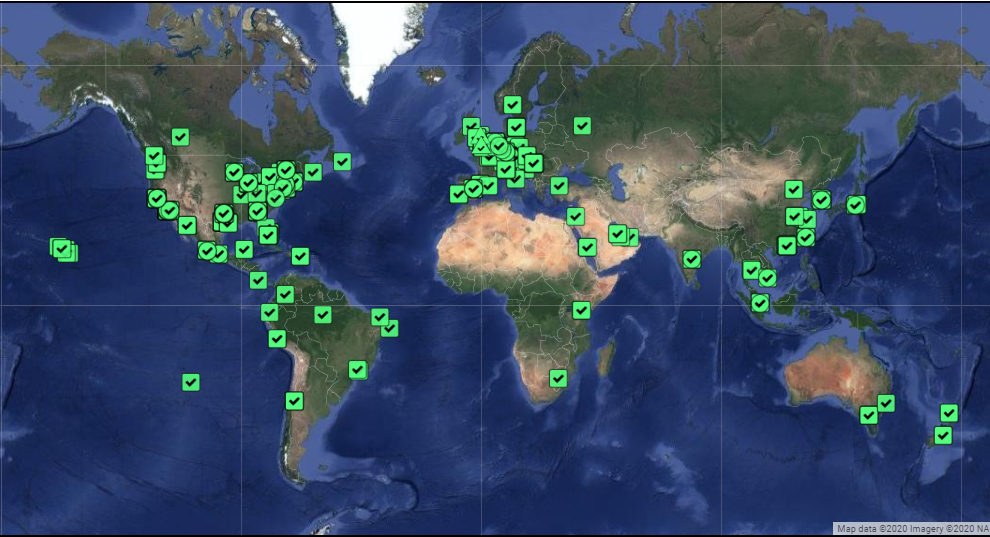 OnAsset Intelligence, a provider of supply chain tracking and monitoring solutions, recently demonstrated that its Bluetooth Low Energy 5 (Bluetooth LE) solution is viable for large-scale industrial-use cases. In an industry first, the company's Bluetooth LE gateway read 12,000 Sentinel Bluetooth 5 tags in one room in under a minute.
Bluetooth LE for large-scale industrial use
Numerous businesses producing Bluetooth LE gateways and tags refer to mathematical modelling, theoretical data and simulations when attempting to define the performance limits of their product. Unfortunately, modelling and theory do not sufficiently account for all conditions in reality, particularly in demanding industrial environments.
Therefore, genuine industrial-quality, highly scalable tracking and monitoring systems must operate in the fast-paced, high-volume conditions of today's worldwide supply chain. From temperature-controlled pharmaceuticals to reusable asset management and global logistics, goods are moving quicker than ever and warehouse operations are becoming increasingly automated.
Bluetooth LE use in the face of Covid-19 restrictions
With the current Covid-19 pandemic putting further strain on logistics operations across the world, supply chain visibility is being acknowledged as a vital foundation of the global supply chain.
OnAsset CEO Adam Crossno said: "OnAsset is enabling a future where nearly every asset in the supply chain – from individual packages to handling equipment, transportation infrastructure and vehicles – is intelligently and wirelessly enabled.
"Knowing that all of these connected assets must ultimately communicate and operate in a cohesive way, we needed to pick the right technology to enable that ecosystem, and Bluetooth wins the game hands down because it creates a common bridge between all the mobile devices we use every day."
Choosing esteemed partners to achieve success
Due to the unique challenges tackled, OnAsset required a partnership with a supplier that can enable their vision of the fully connected supply chain. After extensive research and experimentation, the company selected Silicon Labs as its favoured partner for this demonstration.
OnAsset previously worked alongside other renowned companies to highlight the benefits of their Bluetooth technologies. In April 2020, the company partnered with Unilode Aviation Solutions, a leading global provider of outsourced Unit Load Device (ULD) management and repair solutions and winner of the 2019 IATA Air Cargo Innovation Award for its digital transformation programme, to announce the launch of the world's first aviation-compliant Bluetooth® roaming network.
The development followed in the path of a range of digitally enabled services delivered to the market by Unilode. In the process of building the world's most extensive fleet of connected ULDs, the company issued a global infrastructure of readers using OnAsset's SENTRY 500 FlightSafe® device, a fully aviation-compliant and airline-approved Bluetooth 5 reader.
These readers capture information from multi-sensor tags, continuously collecting temperature, location, motion, humidity, light and shock data to offer powerful insights into the status of Unilode's digitally enabled fleet. Augmented by a mobile app that allows any Android or iOS device to become part of the reader system, Unilode designed a flexible, robust and standards-based network to benefit all users.
Using Bluetooth in the aviation industry
Serving the aviation industry is particularly challenging as a result of the highly regulated, fast-paced nature of the business. With safety and compliance always primary concerns, it requires more than a network alone. As part of the service, Managed InteroperabilityTM not only offers access to the network provided but also a comprehensive suite of services to validate new devices.
Guaranteeing the integrity, security and compliance pedigree of the network are foundational concerns, with the ease of business also a core focus. Managed Interoperability brings together all the features of integration, including a thorough review of regulatory compliance, encryption, security, messaging protocols, authentication and device performance as part of the service.
Crossno adds: "OnAsset is pleased to support Unilode in taking this next big step in digital evolution. We know the market likes choices, and we know that Unilode's customers demand the best, so we're excited to help realize this vision for the world's largest interoperable Bluetooth network. Innovation like this isn't easy, especially in the aviation industry, so we are focused on doing it right. We are using all our expertise and experience to help Unilode set the gold standard in delivering these new services."