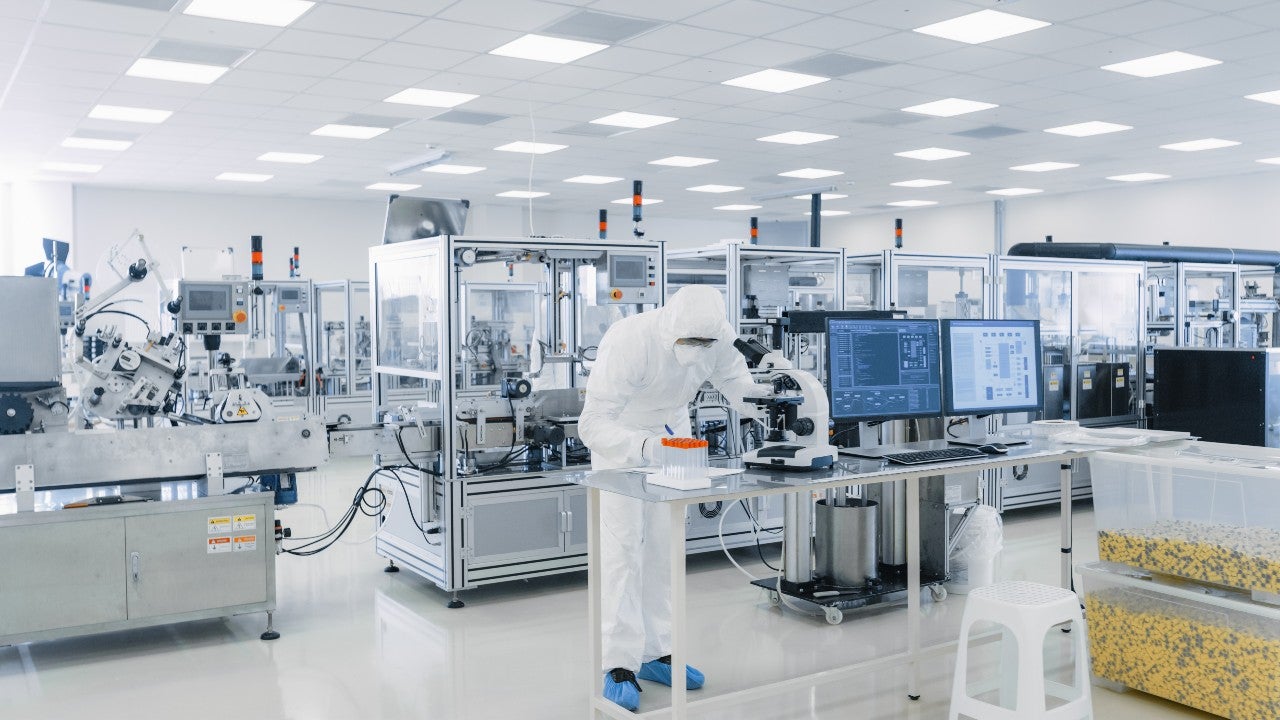 The global vaccine market has undergone a radical transformation in the last 12 months. Although it remains a relatively small part of the overall pharma market, in the 20 years before 2020 it grew sixfold and was worth an estimated $35bn, according to AB Bernstein. This compares to GlobalData's estimate of the total pharma market being in excess of $1.4trn. Nevertheless during 2020, governments, research institutes and the pharma industry came together to focus on finding a vaccine for Covid-19. According to GlobalData's report, Covid-19 Vaccines: Contract Development and Manufacturing Landscape, in November 2020 there were 394 Covid-19 pipeline vaccines in development between the discovery and phase III stages. Of these seven have gone on to get approval in multiple jurisdictions, with a further six approved for use in one or two countries only.
This has particular implications for contract development manufacturing organisations (CDMOs). As the GlobalData report highlights, the emergency and accelerated nature of the approval process is good for the CDMO market, "Drugs and vaccines in accelerated approval programs tend to favour CMOs: orphan and other accelerated drugs are more likely to be contract manufactured than products that go through standard review."
With so many vaccines in development outside the largest pharmaceutical firms, means many are not aligned to an in-house manufacturing capacity. Further, the pressure for high volumes required at speed and with a global distribution, also favours extensive use of CDMOs.
Vaccines and CDMOs
Despite this new activity, the vaccine market will still represent a relatively small part of the overall pharmaceutical market, and the US CDC lists 27 diseases that can currently be prevented by vaccines, against 71 types of deadly infectious agents. A report by Axiom Market Research & Consulting revealed North America has the biggest market share (14.9%) in 2019, with Europe close behind (13.1%). And while Covid-19 has grown the overall size of the market, the balance of market share remains more or less consistent.
The vaccine market is made up of individual markets for vaccine types, with the report showing conjugate vaccines leading global sales (41%). This was followed by live attenuated (20%), recombinant (19%), inactivated and subunit (11%), and toxoid (9%). Of specific vaccines, those protecting against pneumococcal disease came out on top, with a 22% market share.
Allowing for the impact of the Covid-19 pandemic on the vaccine market, a report by IMARC Group forecasts market value to reach $57bn in 2025, expanding at a CAGR of 7.4% between 2020 and 2025. Growth factors include the high prevalence of infectious diseases and the rising focus on immunisation programmes, as well as growing government support helping an increasing number of companies to enhance R&D.
The only restraint to this healthy growth is the high production costs of vaccines, meaning the industry is heavily dominated by top players such as GlaxoSmithKline, Sanofi, Merck, and Pfizer, who all have sufficient in-house manufacturing capabilities to meet demand. However, the Covid crisis and the recent emergence of CDMOs in biotech, may be about to alter this balance.
Contract vaccine manufacturing
Contract manufacturing makes large-scale vaccine manufacturing possible for companies without a full-service offering. Processes and services that CDMOs offer include, but aren't limited to, pre-formulation work, formulation development, stability studies, method development, pre-clinical and phase I clinical trial materials, formal stability, scale-up, registration batches, and commercial manufacturing.
"There are many reasons why outsourcing to CDMOs is becoming increasingly popular in the vaccine sector," says Rutger Vandiest, global head of sales, CDMO, Bavarian Nordic, a trusted manufacturer of vaccines that has recently opened an entire new facility to offer its high-quality manufacturing services to other companies. "CDMOs like us have the technical expertise, knowledge, and GMP facilities to deliver cost-effective development and manufacturing services. Outsourcing to a CDMO means you can expand your technical capabilities without the burden and associated risks of investing in expensive equipment."
For cell banking, developers need GMP preparation and storage capabilities, which is time- and space-consuming. Cell banking services by CDMOs can deliver more efficient processes and allow developers to work with multiple vaccines. In addition, CDMOs can provide a resource for certain virus studies where a separate facility is required, as well as facilities for the use of control organisms, which are often undesirable in-house.
Despite these advantages, prior to the Covid-19 outbreak, vaccine manufacturers had not shown a prominent shift towards outsourcing, and while the contract manufacturing market is growing, many companies remain unconvinced. Vaccine manufacturing involves a highly complex process, therefore selecting a company with sufficient relevant technical expertise is vital. The transfer of technology to a CDMO may also be difficult, meaning vaccine developers often work with CDMOs earlier in the product's development to avoid transfer issues at critical later stages.
Further challenges can arise if a vaccine manufacturer needs to establish relationships with multiple third parties for their portfolio of vaccines. Moreover, understanding and implementing the necessary regulatory controls requires a CDMO with significant expertise.
The CDMO market
The number of service providers with a focus on vaccines is currently very low. This is especially the case for those with large-scale lyophilization capabilities in a BSL2-classified facility for live attenuated viral vaccines. Examples include Bavarian Nordic, with lyophilization up to 180,000 vials in a BSL2 facility; IDT, with lyophilization up to 180,000 vials; and Emergent BioSolutions, with lyophilization up to 60,000 vials. Currently representing less than 5% of the vaccines market, the contract manufacturing sector has significant room for expansion, as well as a number of opportunities to achieve this.
"There is significant potential for growth in the sector, particularly given the reducing pharma and biotech R&D budgets and lowering capital investments. Purchasing advanced technology is often unsustainable in-house, plus outsourcing allows companies to focus on their core competencies. We will see all of this alongside an increasing demand for vaccines and the growth of the global vaccine manufacturing market," Vandiest says.
Although the market for outsourcing vaccine production is still relatively small, the benefits of contract manufacturing are expected to slowly encourage a change in this trend as more and more manufacturers choose to improve their profitability and reallocate their resources by outsourcing to CDMOs. However, with the outbreak of Covid-19 rapidly transforming the vaccine landscape, the adoption of this trend is likely to pick up speed.
Covid-19 opportunities
In 2019, a Visiongain report valued the CDMO market at $2.104bn, with market value expected to grow at a CAGR of 9.13% to reach $5.125bn by 2029. Following the deadly outbreak of Covid-19 and the subsequent global efforts to quickly vaccinate whole populations against SARS-CoV-2 virus, this is now expected to be much higher. The majority of Covid-19 vaccine developers do not possess the capacity nor the funds to manufacture their vaccines in-house. To meet the high demand from governments around the world, huge volume orders are arriving at the doors of CDMOs such as Thermo Fisher, Lonza and Catalent.
According to GlobalData's report, just 16% of Covid-19 vaccine developers have market caps over $2bn, and even the largest companies are seeking extra capacity from CDMOs, with AstraZeneca currently having the largest number of contract service agreements. As of December 2020, there were 62 contract manufacturing service agreements signed for pipeline Covid-19 vaccines.
This sudden and unprecedented rise in Covid-19 vaccine CDMO contracts made infectious diseases the most popular therapy for contract manufacturing last year, leaving many companies to reconsider the important role that CDMOs can play in the vaccine sector.