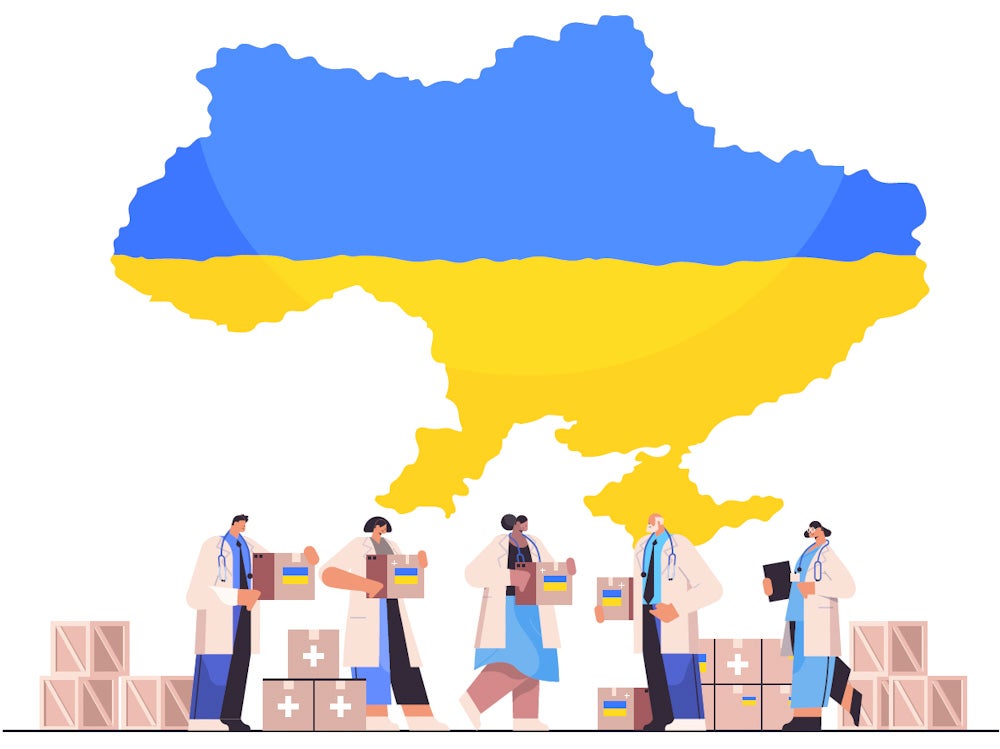 The war in Ukraine has had a significant impact on clinical trials in Europe, exacerbating supply chain delays that were already causing multiple problems even before the Covid-19 pandemic intensified the situation.
When war broke out in Ukraine in early 2022, many clinical trial patients had to flee the country or relocate, presenting considerable disruption to existing clinical trials and risking data collection on medical products. The situation has tested business continuity plans to their limits. With all air routes in and out of Ukraine effectively shut down, it has been up to the ingenuity of logistics providers to find alternative routes for supplies.
On the ground, Oximio has seen first-hand the devastation caused by Russia's attacks and the bravery required to keep clinical trials going despite multiple obstacles. The company operates globally but was founded in Ukraine. Oximio was the first provider of clinical trial services to successfully restart domestic end-to-end operations after the invasion, getting investigational medical products and supplies to trial locations and patients during the most challenging of circumstances.
"When the war started in Ukraine, they were dark days for us as an organisation, but also for the clinical trial industry – not really understanding what was going to happen, patients were escaping the country," explains Zayheda Khan, chief commercial officer at Oximio.
"Your priority is always people to make sure that people are safe, and our colleagues are okay. It was very important for us, considering that Ukraine is our founding country – it is the foundation of Oximio.
"The impact of that was to ensure the security of the depot, the contents, and inventory. Because everything was on pause for a month to six weeks while we were trying to figure out the situation. We couldn't put people's lives at risk. It was a very tense situation."
Adapting clinical trial services in a warzone
Airports in Ukraine were out of action, meaning that alternative methods of transportation and routes were needed. For the most part, road transport has become the dominant mode of travel for clinical trial logistics in the country since the invasion. This requires meticulous planning due to the numerous dangers to consider and mitigate with effective risk analysis– such as destroyed sections of roads and bridges, potential missile strikes, as well as the added threat of landmines.
Before Oximio could resume operations, it had to gain a better understanding of the logistics picture to determine the areas that were accessible and those that were not. Central to this was a Heat Map that the company put together, effectively providing a colour-coded system of areas of risk and those that were safer, working similarly to traffic lights. This risk analysis was core to the company's logistics planning.
"As time went on, we started to evaluate what solutions we could open up. Could we even open up the depot?" describes Khan. "Could we start providing shipments to various countries and various sites? For example, whether it be in the western region of Ukraine, which was a safer part, and what the supplies could look like in the eastern part of Ukraine."
Oximio has operated in Ukraine since it was established in 2004, offering an extensive range of clinical trial services and state-of-the-art storage facilities. The company's main depot is near the capital, Kyiv. However, a few months after Russia's invasion, Oximio set up another depot near Lviv, in the west of the country near the border with Poland as a relevantly safe back up and to improve connectivity with continental Europe.
With Russian forces actively targeting energy infrastructure in Ukraine, electricity shortages have been a major concern given how dependent the cold chain is on maintaining temperatures for particular medical products. Yet Oximio has managed to avoid this being an issue by having emergency generators on standby. The company's 24/7 CCTV systems allowed teams to track the situation remotely. Also, staff living near depots have routinely braved potential missile strikes to check warehouses are unharmed around the clock.
Alongside providing continuity of clinical trial services, Oximio has been involved in delivering life-saving humanitarian aid around the country. But it doesn't end there.
"We're also thinking of a solution for how to transfer medicine and investigational medical products for our clients to the people that need them," explains Olga Vizgalova, managing director for Ukraine at Oximio. Olga has also recently been elected to provide logistics insight to the Clinical Trials Subcommittee (CTS) Executive Board at the European Business Association (EBA) due to the war. This provides a platform for all clinical trial logistics providers that cover Ukraine.
In addition, effective communication has been integral throughout the conflict, with Oximio regularly sending newsletters to clients, especially in the early stages of the invasion. "For us, it was important to collect information and share it with clients within one or two hours," adds Vizgalova.
Perhaps one unconventional example of communications is that Oximio has had live webcam footage of its depots available for clients. "For international clients, it's just providing more information to reassure them. They were getting that webcam footage of the depot to visually say: 'Everything is good'," says Ian Hagger, procurement team lead from Oximio. "All our clients received that. Because when you're looking into the war, it's important to have different perspectives."
Now more than one year since Russia's invasion, clinical trials in Ukraine are returning slowly but surely due to the resilience and initiative of those involved. And the data shows that confidence is also starting to return among sponsors.
Clinical trials data for Ukraine
In the decade before Russia's invasion, GlobalData recorded a total of 1,177 completed clinical trials in Ukraine. The country was most commonly used as a location for Phase III trials, which made up just over 61% of the total with 725, while Phase II was the next highest at 290 – or almost 25%. Oncology was the main therapy area, accounting for 218 trials, followed by central nervous system drugs having 185, and infectious diseases next with 138. Multinational clinical trials dominated the total with 95% at 1,119, compared with 58 for single-country trials – or just under 5%.
With many clinical trial participants from Ukraine leaving the country after the outbreak of the war, clinical research organisations (CROs) played a crucial role in ensuring trial continuity. "The CROs were key in maintaining the communication and the need for logistics as well," says Mark Woolf, chief business development officer for Oximio.
In a period of just over a year before the war started, between 26 October 2020 and 1 January 2022, Ukraine had 255 clinical trials either running or completed. Since then, the numbers have understandably reduced.
"From the client perspective, among some of the sponsors that were putting clinical trials into Ukraine and other Eastern European countries, there was a hesitancy after the war to start new studies," adds Mark Woolf.
The next date when GlobalData clinical trial figures are next available is from 25 May 2022, almost three months after Russia's invasion. In comparison, up to 30 July 2023, just 33 clinical trials have been running to date – representing a fall of 87% from pre-war figures. However, a further six trials are planned to start before the end of July, and there could be more on the way later in the year.
Phase III still comprises the majority of trials running or planned with more than 50% at 20, followed by Phase II with 13, and only one Phase I trial.
Multinational trials continue to account for the majority with 36 of the total running or planned – or 92%. This total emphasises the importance of international support for Ukraine, with only three being single-country trials. Oncology remains the highest indication area with eight trials, with ophthalmology next at six.
"Little by little, clinical trials are coming back to Ukraine," suggests Pawel Drozd, senior key account manager for clinical trial logistics at Oximio.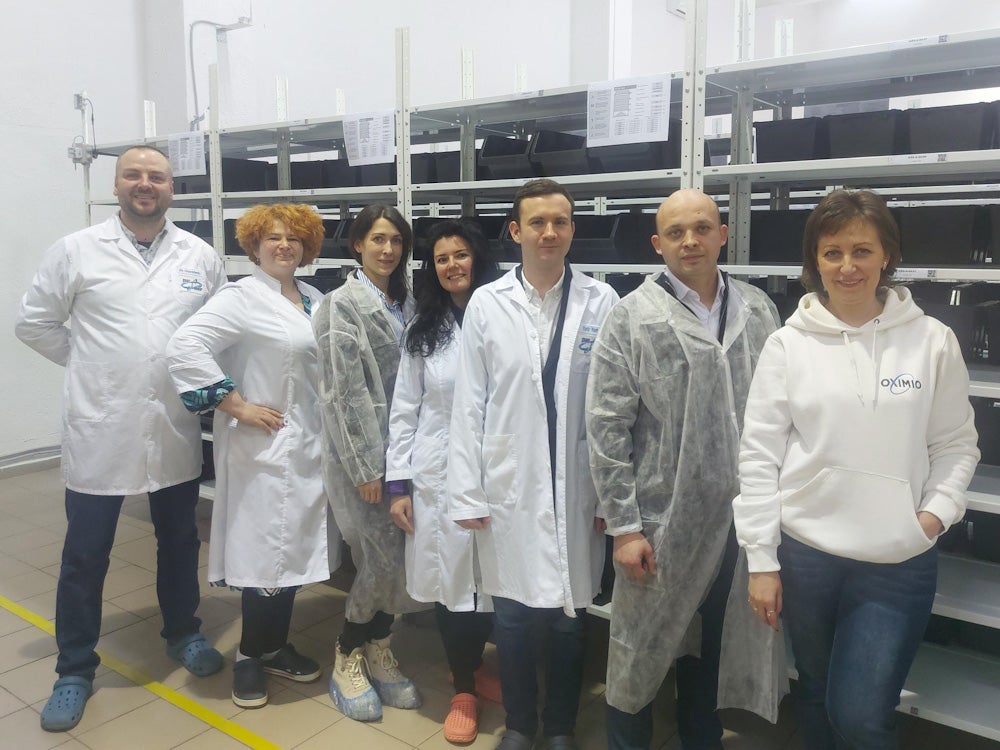 The future: attracting more clinical trial sponsors to Ukraine
Bureaucratic obstacles are being overcome to make Ukraine more appealing to sponsors. One of these advantages is that the clinical trial approval process will now take just 30 days. More recently, legislation is in the process of being passed in Ukraine that will bring the country's clinical trial standards closer to that of the European Union. And there are signs that the improving situation is encouraging sponsors to do business in Ukraine.
"One of the US-based sponsors is starting a trial, which would only include sites in western Ukraine," adds Drozd. "So, obviously, far away from the conflict zone. It's a smaller biotech company. However, it gives you an indication that some of the companies are already considering at least western Ukraine as somewhere they're not afraid to recruit patients to run the trial, to initiate the trial and establish the sites."
There is no question that the war in Ukraine has tested the capabilities of clinical trial services and business continuity plans far greater than in any period in living memory. Oximio's team has risen to the challenge and demonstrated what is possible in a crisis. The company aims to continue providing reassurance to clients, ensuring a duty of care for products, patients, and personnel alike.
"We are not a local company, we are a global company," explains Vizgalova. "We can be supported or backed up internationally in case of certain events. Finding an outside solution may be more efficient, and more favourable for our clients. I'm not glad about the situation, but I really think that it's made us stronger as a business."
To learn more about the clinical trial services in Ukraine, access the webinar below.