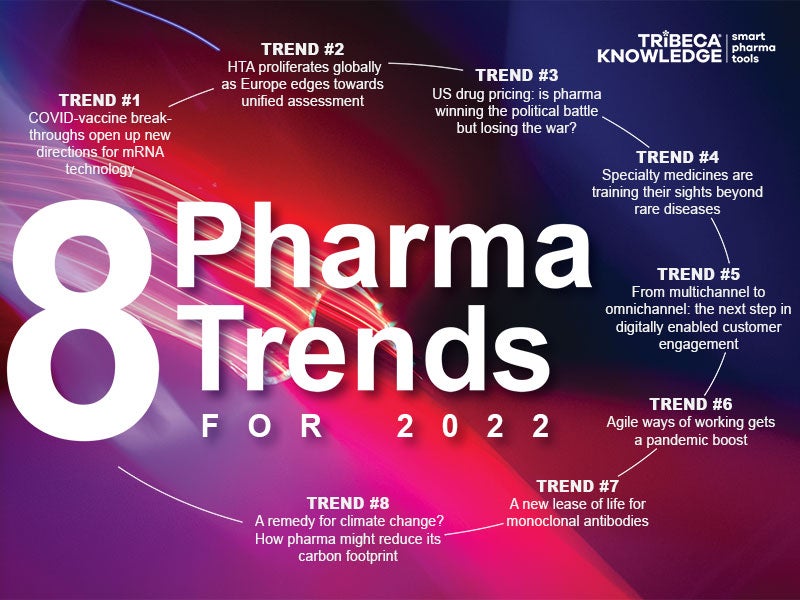 The outlook for significant pharmaceutical trends for 2022 comes in the context of tightening Covid-19 restrictions across the globe. Although the pharma industry has played a crucial role in preventing and treating Covid-19, it has also had to balance its freedom to research, invest and profit from investments with its responsibilities to health systems, regulators, budget-holders and patients. These include fair or discretionary pricing, cost sensitivity, drug and patient safety, marketing and communications, transparency of data and information, equitable strategies for intellectual property, and the many other components of market access.
While the pandemic continues to disrupt and transform industry's business strategies and practices, it also offers new solutions to perennial challenges such as pricing, reimbursement and customer engagement caused by the tensions between innovation, market access and financially pressed health systems. In addition, the industry's efforts to combat the pandemic have created fresh platforms for innovation and growth. These include the messenger RNA (mRNA) technology used in Covid-19 vaccines and the monoclonal antibodies (mAbs) used in several treatments for the virus.
We have also seen that the industry's health is inextricably tied to that of the planet, as well as its patients and their communities and nations. Pharma wants its efforts recognised and rewarded by health systems in the context of a more holistic understanding of value and benefit. Similarly, the industry is recognising increasingly that the health issues it addresses are also about the broader context of living conditions, and that in taking on these responsibilities, pharma can move closer to being a comprehensive health provider and meeting growing demand for all-encompassing value from health systems.
Trend 1: New directions for mRNA technology driven by Covid vaccine development
The role of pharma in tackling the Covid-19 pandemic has raised its profile as an innovation-driver and provided a relief from years of negative press coverage. Focusing on innovation as a lifesaver rather than on its cost, risks or relationship to pharmaceutical company margins has been particularly clear in the largely unconditional excitement generated by mRNA technology.

The science behind both Pfizer-BioNTech's and Moderna's Covid vaccines has entered the scientific mainstream after decades of research. Within the area of vaccine development, mRNA offers the advantages of speed, adaptability and specificity. This technology also promises to transform other infectious diseases, including influenza and cytomegalovirus, as well as indications such as heart failure.
mRNA technology is not, however, without its limitations, such as the issues it creates with targeted delivery. The fragility of mRNA molecules means that not only do they need to be safely and effectively encapsulated, but they demand very specific conditions for cold storage and transportation. Nonetheless, the success of Pfizer-BioNTech's and Moderna's Covid-19 vaccines may have catapulted mRNA from a technology once regarded as promising but difficult to commercialise, into a dynamic new frontier for disease management on a global scale.
Trend 2: Global spread of HTA as the EU moves towards unified clinical value assessment
The use of health technology assessment (HTA) to control drug access and costs is gathering pace globally, but HTA criteria and procedures can look very different from one market to another. Although harmonising the regulatory framework for evaluating and approving medicines in the European Union (EU) has helped facilitate and expedite access to the European market, reimbursement decisions on medicines, as well as any pharmacoeconomic assessments underpinning those decisions, have always been left to individual EU member states. This can cause sharp disparities between markets that are then exacerbated by regional and local assessments, which often results in significant delays to launches and uptake or, at worst, wholesale withdrawal from the market.
Efforts have been made to resolve these differences, but in recent years, the focus has shifted towards creating a mandatory, centralised joint clinical assessment (JCA) system. This would be limited to relative-efficacy assessments, still leaving considerations such as drug value and budget impact to individual member states. In January 2018, the European Commission adopted a proposal for a regulation on HTA to eliminate duplication and streamline some HTA elements. These goals are especially relevant during the pandemic, which has underlined the need for efficient collaboration to help health systems meet demand and give patients timely access to the necessary vaccines and medicines.
The evolution of a Europe-wide JCA framework highlights broader issues with HTA systems as they are adopted worldwide. Not only are these systems in different stages of development, but they examine different elements of a drug's value proposition ‒ for example, only some consider the degree of innovation offered by the product, its cost-benefit equation or its budget impact. They also often overlook direct (eg. transportation, day care) and indirect (eg. time out of work) non-medical elements, as well as intangibles such as pain and suffering or unintended societal consequences (eg. grandparents no longer able to look after their grandchildren).
Companies are increasingly seeking a more holistic understanding of drug innovation that goes beyond the relatively narrow value judgments currently applied by HTA agencies. This would hopefully recognise the full range of long-term cost offsets and societal gains available from products that truly expand the boundaries of medicine.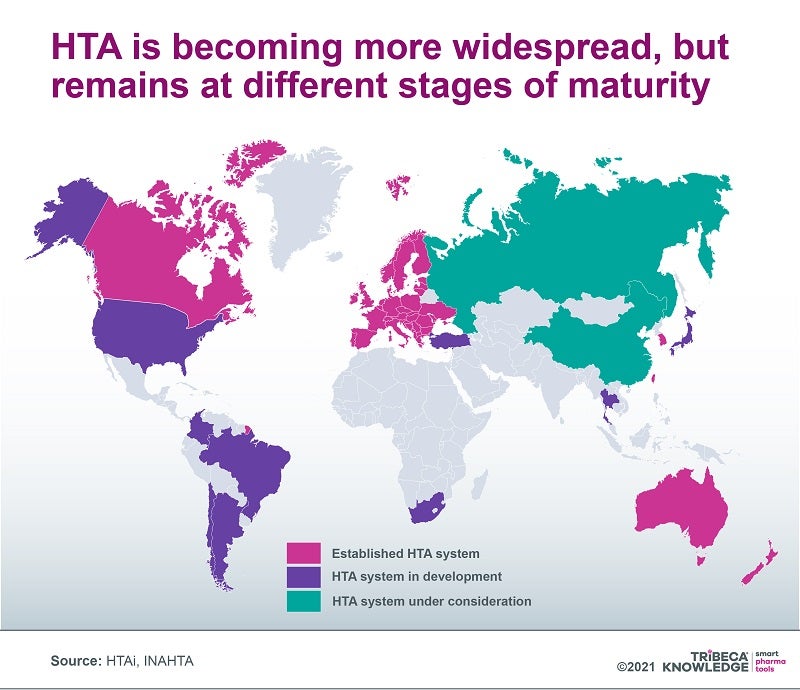 Trend 3: US drug pricing ‒ winning the political battle but losing the war?
As Covid-19 continues to put healthcare systems under unprecedented financial and operating pressure, government concerns over rising drug prices are still a pressing issue. Especially pertinent are speciality drugs targeting rare disease indications, as well as the more recent emergence of costly 'one-shot' cell and gene therapies.
For decades, US administrations have tried to control prices in what is still essentially a free market for medicines. Estimates suggest drug companies generate 75% of their worldwide profits in the US, so the market's influence on global pricing and R&D investment cannot be overstated. Like his predecessor, President Joe Biden campaigned on the promise of managing drug prices, yet his administration has found it similarly difficult to drive these drug pricing measures through the US Congress.
Biden has secured the Democrats' agreement for a revised proposal that would allow Medicare to negotiate prices for high-cost prescription drugs in Medicare Parts B and D. This would, however, only happen gradually and after a set period on the market (nine years for small-molecule drugs, 12 for biologics). Biden's compromise plan would also include tax penalties if pharma companies raised prices faster than inflation, a monthly cap on out-of-pocket costs for insulin, and a more general $2,000pa cap on out-of-pocket payments for pharmacy-dispensed Medicare Part D medicines.
Payers worldwide will continue to insist on demonstrable value as a condition of market access while US commercial insurers apply a range of measures to keep costs down, as well as pay growing attention to ICER cost-benefit evaluations. With potential value-based pricing constantly on the agenda, the pharmaceutical industry will be watching carefully in 2022 to make sure it does not win the battle but lose the war in what remains a critical market for revenues, margins and innovation.
Trend 4: Speciality medicines targeting indications beyond rare diseases
The pharmaceutical sector has had cost concerns over speciality medicines for years, but these have been amplified by the rise of premium-priced targeted therapies for niche indications. This might involve a succession of more narrow indications inside broader therapy areas such as oncology.
'Salami-slicing' or 'indication-stacking' is a well-established strategy in the speciality drugs space, as manufacturers look to the long game on market entry and lifecycle management. It allows companies to make use of orphan-drug incentives and lock in premium prices, geared to uptake in small, precisely defined populations, across multiple new indication launches. The trend towards speciality drugs continues and payers are feeling the heat of products emphasising value over volume, but they have not abandoned volume as a long-term ambition, especially with cell and gene therapies (CGTs) emerging as a serious medical and commercial consideration for rare diseases.
As CGTs rapidly evolve and industry invests more in the technology, the focus is shifting from autologous to allogeneic or 'off-the-shelf' therapies and stem-cells. Similarly, although CGT pipelines were initially concentrated on oncology and other rare diseases, they are now shading into far more prevalent conditions, such as Alzheimer's and Parkinson's disease, HIV/AIDS, multiple sclerosis and heart conditions.
Manufacturers will need to be realistic about the budgetary tolerance and available resources in healthcare systems for speciality therapies, especially with Covid-19 weighing so heavily on overall capacity. Informed, open-minded dialogue with governments, payers, health systems and other stakeholders will help to avoid speciality therapies running into a brick wall in their efforts to increase their market share.
Trend 5: Omnichannel as the next step in digitally enabled customer engagement
Digital transformation, prompted and expedited by the pandemic, has galvanised the pharmaceutical industry at almost every level. The rapid uptake of digital solutions in marketing, advertising and customer engagement has radically altered the competitive landscape, resetting customer expectations and patterns of demand while allowing access to wide-ranging, independent sources of information on medicines and health.
Concurrently, the industry's customer/stakeholder base is being increasingly diversified. Key arbiters of product choice such as prescribing physicians are becoming harder to access via conventional channels, while digital advancements are allowing more precise customer profiling and targeting, as well as networked communications across multiple channels. Digital transformation has also caused a sea change in the scale and sophistication of consumer marketing, spearheaded by retail giants such as Amazon. These strategies may leave pharma's claims to patient centricity looking thin.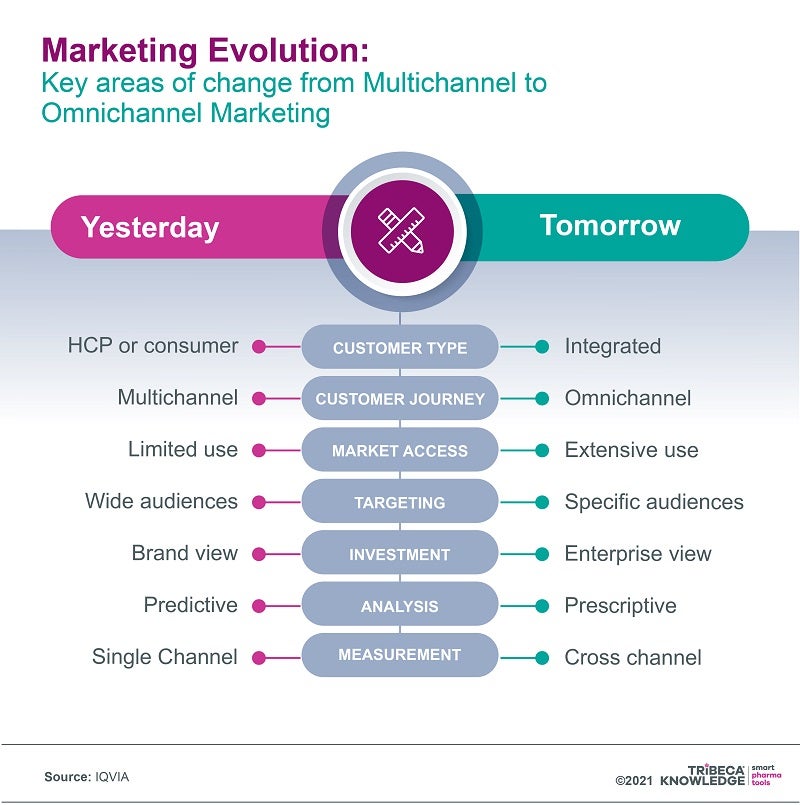 Restricted in-person access has encouraged patients to embrace digital tools, take more charge of their own health management and develop new relationships with health systems or healthcare professionals. While patients investigate the full range of information sources on conditions and treatments, healthcare professionals are also becoming more comfortable with digital devices, media and interaction. The industry must ensure these upheavals are worked into new ways of engaging with a broader, richer customer base rather than losing its influence and authority.
One way of doing this is by transitioning from a multichannel to a more integrated omnichannel marketing model ‒ moving beyond simply using all the available channels for sales, marketing and communications towards creating a harmonised customer experience that exploits the links between those channels. With a carefully designed omnichannel strategy, companies can do justice to increasingly complex innovative medicines by mapping customer journeys and tailoring their marketing to all the available customer touchpoints.
Trend 6: Agile workflows boosted by the pandemic
Both the Covid-19 pandemic and its resulting digital transformation have stimulated and enabled more agile ways of working and thinking in pharma. The rapid development and approval of Covid vaccines, optimisation of collaborative efforts and strategies such as parallel phases of clinical development represent one example of agile teamwork in action.
More widely, agile project management reflects the industry's need to maximise its creativity, productivity and efficiency, indicating the increasing concern for managing drug costs. Agile working also provides the flexibility and responsiveness needed to refine the real-time value of products and services. Today's pharma market is in constant flux, serving an ever broader, more heterogeneous, digitally enabled and demanding customer base.
By restricting face-to-face contact while quickening the uptake of digital technologies and media, the pandemic has encouraged pharma to completely rethink its approach to business. One consequence of this is a transition from digital to agile and back again, as the needs of agile working prompt further digital innovation. We see this in clinical development, where limited access to trial sites under Covid restrictions has fast-tracked the adoption of remote or hybrid clinical trials. Digital solutions have allowed companies to better identify and segment potential clinical trial participants upfront, then shape trials according to individual patients' preferences or abilities.
Interactive data flow, remote monitoring, home care and mobile devices for recording real-life patient outcomes in virtual/hybrid trials all create possibilities for new digital endpoints in clinical trials. They may offer more accurate, timely and comprehensive measurements of a broader range of outcomes that better reflect the full range of patient experience.
Trend 7: A new lease of life for monoclonal antibodies?
By today's standards, monoclonal antibodies (mAbs) are reliable warhorses that have revolutionised the treatment of a range of conditions, including cancer, cardiovascular, inflammatory and infectious diseases. Although they have been on the market for more than 30 years, mAbs continue to be a mainstay of the pharmaceutical market's dominant biologics segment, particularly in treating cancer and rheumatoid arthritis. They also remain a compelling presence in R&D pipelines, with 2,484 products in development as of last February.
According to one estimate, the global mAb market was worth $39.1bn last year and could reach $50.6bn by 2026, delivering a compound annual growth of 5.3%. Another source was significantly more bullish, valuing the market at around $115.2bn in 2018, with the potential to hit $300bn by 2025. And along with new possibilities in treating Covid-19, there is hope that mAbs will make headway against other infectious diseases over the coming years.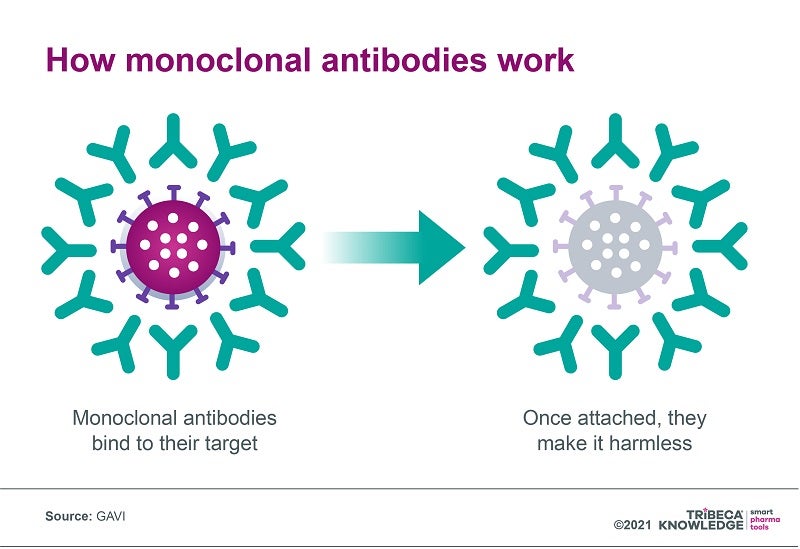 Despite their multiple advantages, mAbs can be complex and expensive to manufacture, which has resulted in high prices (anything from a median $15,000 to $200,000 per year in the US, according to GAVI) and limited distribution focused on high-income countries. At present, almost 80% of monoclonal antibodies are sold in Europe and North America, and even where mAbs are registered in low to middle-income countries, they are often unavailable through public health systems.
New applications for mAbs carry the promise of significant therapeutic advances in tackling truly global health challenges. But for that to happen, access and affordability will need to be part of the conversation, be it through manufacturing efficiencies, accelerated registration in low-income countries, genericisation, differential pricing or voluntary licensing.
Trend 8: A remedy for climate change? How pharma might reduce its carbon footprint
Climate change and health are fundamentally interconnected, beyond the basic economics of managing disease in countries where global warming has diverted limited resources to tackle environmental disasters. Sanofi has noted that vector-borne diseases associated with mosquitos, fleas and ticks are influenced by factors such as varying temperature and humidity levels. Air pollution is also a major risk factor for respiratory and other diseases. This, in turn, means that climate change poses commercial risks for companies and the wider pharmaceutical industry.
Although global responses to the outcomes of last year's United Nations Climate Change Conference of the Parties (COP26) were at best equivocal, the pharmaceutical industry was keen to emphasise it was on board with the conference's objectives. Ahead of the conference, a joint statement by national and pan-national pharma associations insisted the industry was fully committed to partnering globally with governments and health systems to tackle climate change. According to these associations, 80% of their largest member companies have set net-zero or carbon neutrality targets, while many more have committed to 'ambitious' short-term reduction goals for greenhouse gas emissions.
While these efforts are commendable, the industry may still have a long way to go before it can deliver collectively on its sustainability commitments. Researchers disagree on just how much environmental damage pharma does, with some claiming it is more carbon-intensive than the automobile industry. In addition, the complexity and diversity of the industry's global supply chain mitigates against effective action at all levels, while regulatory requirements may also limit the scope for sustainability gains.
Nonetheless, climate change is increasingly integrated into the regulatory framework for pharma, along with corporate social-responsibility policies and business strategies. Ultimately, green policies in pharma are not just about playing to eco-conscious shareholders, ticking regulatory boxes or enhancing efficiency. They may also help to broaden and deepen industry's role globally as a comprehensive and conscientious health provider.
Rising to the challenges of 2022
The coming year presents pharmaceutical companies with more significant challenges and opportunities, reflecting both organic market developments and the disruptive impacts of the pandemic. Covid-19 has, inter alia, deepened uncertainty over timelines and outcomes in the HTA, pricing and reimbursement procedures that increasingly shape pharmaceutical market access.
A digital tool such as SmartAccess™ can help to manage these shifting timelines more efficiently while providing real-time visibility of pricing, reimbursement or HTA status. Given the rapid pace of change addressed here, companies need to be all the more confident their products can be launched and taken up in the marketplace with the best available impact. This means optimising digital solutions to maintain alignment across the board in launch and market access plans and execution.
A 360-degree, real-time view of progress and challenges from market to market will help to ensure that 2022 is not just another year of wondering when the world can stop talking about Covid-19. With the correct strategies and technologies, it can be a year in which pharma builds on its pandemic-related achievements to reinforce a positive agenda of innovation, growth and a widening role in managing and maintaining health in all its many forms.
For more information on any of the above points, please read this article on TRiBECA Knowledge's blog.