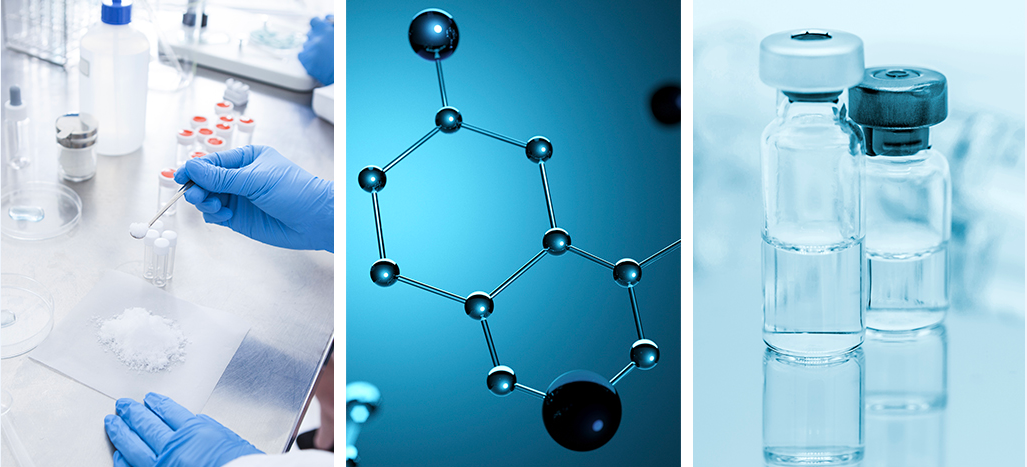 High-potency drugs present numerous opportunities for improved drug selectivity, efficacy and safety profiles, as well as representing a growing area of global development focus for oncology and hormone-based indications; and they have applications from niche, small-volume products to larger commercial scales. Although this class of molecule offers numerous benefits to patients, they require particular care and attention in ensuring the safety of those involved in their manufacture and handling, in addition to their inherent complexity.
High-potency active pharmaceutical ingredients (HPAPIs) include both small molecules and biologics, which are very specific and highly effective, even in much smaller quantities than other therapeutics products. They offer a significant set of advantages over traditional active pharmaceutical ingredients (APIs).
In occupancy exposure limit (OEL) classification, the potency of drug compounds is characterized in µg/m³; the lower the value is, the more potent is the compound. Typically, APIs that have an OEL of less than or equal to 10 µg/m³ are categorized as HPAPIs. Operations involving high-potency compounds, including cytotoxics and hormones, are conducted with the highest level of work safety and regulatory compliance. Only the right facility design, equipment, engineering controls and proper operation of facilities and equipment can achieve the desired level of containment for HPAPIs. Fully contained facilities featuring single-pass, HEPA-filtered air and pressure-differential airlocks provide physical controls to prevent particulate migration and cross contamination. At the beginning of the project, a strong toxicity evaluation is done in order to adapt the protection and the set-up of different procedures for each compound.
Eurofins CDMO has operated within high-potency drug development and manufacturing for years and has recently expanded and unified operations with the addition and alignment of services among its several facilities. The company presents a global offering for the development of high-potency drugs, from API development and production, to formulation and manufacture of clinical and commercial batches.
These niche services are founded on Eurofins' core strengths in innovative process research and development (PR&D), analytical development and its cGMP manufacturing expertise. We have developed a reputation for delivering quality services from APIs across a range of potencies, from high potency to high dosage, allowing the advance of a multitude of programs supporting our clients.
Drug substance (API)
Eurofins CDMO has significant experience in the technology development and scale-up manufacture of complex APIs. HPAPIs are frequently structurally-complex, requiring sophisticated process, manufacturing and analytical methodologies. The inherent toxicity of members of this drug class, in addition to the complexity of their manufacture and limited material availability, present particular challenges in analytical development, occasionally requiring control of impurities to single-digit ppm levels.
Safety is paramount in the HPAPI field, with associated challenges relating to safe containment and handling practices, including:
Engineering, environmental and cGMP controls in line with current guidance and best practices
Equipment and instrument cleaning procedures with associated analytical methods, frequently for analytically challenging targets with limited material availability and tight control criteria
Equipment change-over controls for multi-use facilities
Application of controls for sophisticated equipment, including preparative HPLC, lyophilizers, isolators and their auxiliaries
Institutional training, including general and product-specific standard operating procedures (SOPs)
In addition to establishing innovative synthetic routes, manufacturing processes and analytical controls, a Eurofins CDMO development program will evaluate and implement appropriate toxicity control strategies for HPAPIs.
Drug Product (Finished Product)
Eurofins CDMO also provides a wide range of drug product development services for HPAPIs, from early development to clinical, and further to commercial supply. We have successfully developed, transferred and supported the commercial manufacture and distribution of oral or topical and parenteral finished products, for cytotoxics, hormones and other high-potency products (OEL <10µg/m³).
In addition to their inherent toxicity, high-potency drugs frequently present formulation challenges requiring specific strategies, such as low-aqueous solubility, low-concentration, taste-masking, modified-release, pediatric forms, poor bioavailability, food effects and high inter-subject variability.
We can undertake sterile and non-sterile development and manufacturing of HPAPI's for liquid (solutions and suspensions), semi-solid (emulsions, micro/nano emulsions, creams, gels, ointments…) and solid dosage forms (capsules, tablets, mini-tablets, bi-layer tablets, orodispersible tablets, oral lyophilisates, powders, granules, coated tablets, coated beads… ). With batch sizes from 500g to 50kg. Many primary packagings are available: blisters, sachets, bottles, tubes… Stringent protective and containment tools limit the risks from handling powders and our ventilation, vacuum, HEPA filtration systems and safety airstream helmets ensure a complete protection of operators.
Thanks to containment facilities and specialized technologies, and with a strong track record in the development, Eurofins CDMO has set up specific tools for the formulation of high potency and poorly-soluble entities based-upon their specific molecular characteristics, and according to multivariate, design-of-experiment (DoE) approaches (Nemrodw software).
With the benefit of more than 20 years' experience and a robust project management, Eurofins CDMO is the preferred partner to bring your challenging highly potent drug product to market with optimized timelines.
Authors:
Drug Substance contribution: Graham McGowan, Ph.D., CMC Regulatory Sciences Group Leader, Eurofins CDMO (Alphora Research Inc.)
Drug Product contribution: Capucine Sorbier, Pharmaceutical R&D Manager, Eurofins CDMO Europe (Eurofins Amatsigroup SAS)